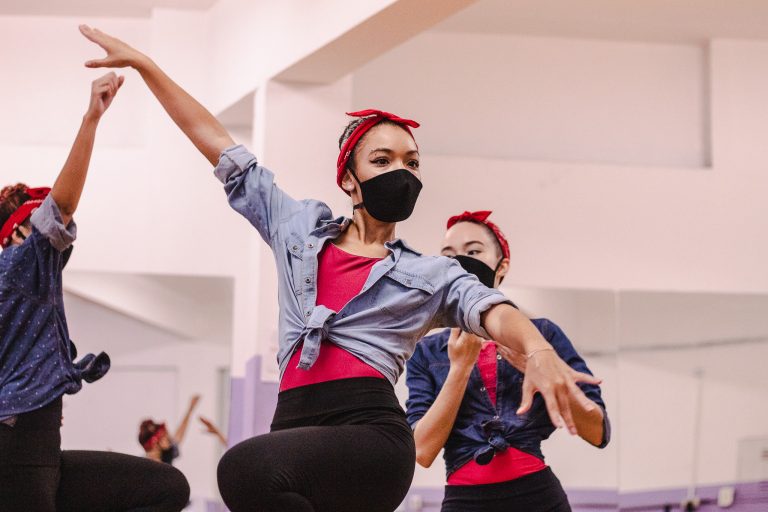 Photo credit (C) Ballet Manguinhos
Ballet Manguinhos: Providing Hope and Empowerment in a Rio de Janeiro Favela
15 April, 2021
Ballet classes in a Rio de Janeiro favela are helping empower a generation of dancers and bring hope to a neglected neighborhood.
Wanie Nascimento – a model, ballerina and university student – was born to two African immigrants in a favela in Rio de Janeiro. She always dreamt of being a ballerina, but never found a class willing to take her on. She was able to realise this dream in her late teens at Ballet Manguinhos, a dance school in Complexo de Manguinhos, a conglomeration of twelve low-income communities that grew until they became a single neighbourhood.
Ballet Manginhos was founded in 2014 by Daiana Ferreira de Oliveira who envisioned ballet as an anaesthetic to the harsh realities experienced by the youth in her community. Ballet Manguinhos began with Daiana teaching six girls and today has more than 250 students, with hundreds more on a waiting list.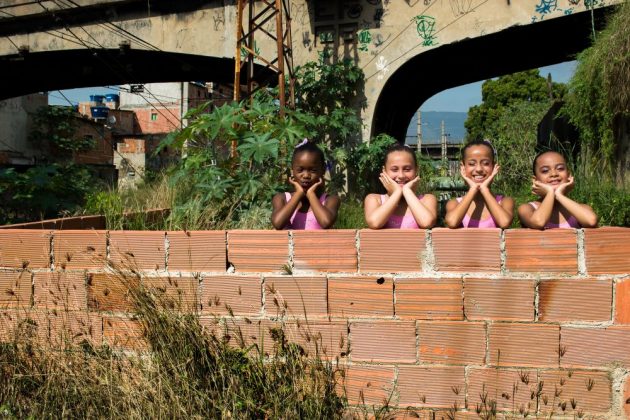 For Wanie, ballet is a form of personal improvement: "I feel incredible when I dance, but it's also really challenging. I push myself to my limits. I tell myself: I've done this before; I can do this. When I dance, I achieve things I never thought I could, I find out I'm capable of incredible things."
The classes are vehicles for social transformation. Edna Idarrah, Daiana's sister and the vice president of Ballet Manguinhos, believes activities like ballet break the cycle of drug trafficking and teenage pregnancy. As soon as the children have something to do, a place to go, a purpose, a dream, that cycle is ruptured, and they begin to nurture bigger ambitions.
Our conventional view of favelas is steeped in prejudice
Rio de Janeiro has over 1000 favelas, and they are home to around a quarter of the city's population. When it comes to communities like Manguinhos, in Brazil and abroad, fear is built in our collective imaginary, fear of the favela and of the favelado. There are various stereotypes of people living in these communities: they have to be uneducated, work as housekeepers, be drug traffickers, be so poor they don't have enough money to feed themselves, etc.
The reality is far more complicated than the reductive narrative seen in films like City of God. As Edna puts it, "The favela is like a separate universe. It has its own culture and history." Violence is a daily occurrence in communities like Manguinhos and it is perpetrated by gangs, militias and the police. 'Comando Vermelho' (Red Command), for example, the biggest criminal organization in Rio de Janeiro, started in and currently wields authority over Manguinhos. However, Edna emphases that at the root of this violence is a drive for survival.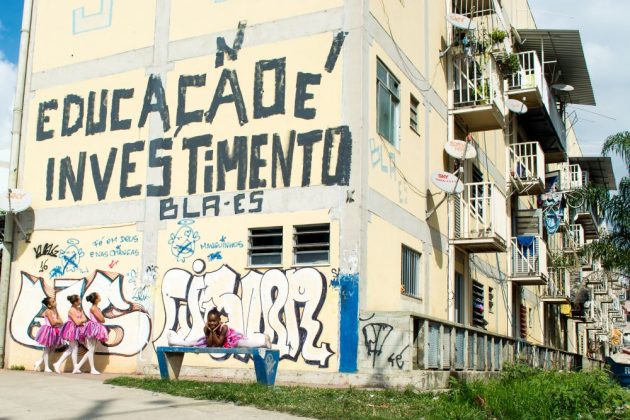 Historically, favelas were created as remnants of slavery: former slaves were given land to live on, but no other support and their needs were completely ignored by the State. Favelas were then further inhabited by people migrating from the sertão, a poor arid area of Northern Brazil.
Today, the government continues its policy of institutionalised neglect and many people living in favelas still don't have access to sanitation, water and electricity. However, not everyone lives in desolate poverty; favelas are home to university graduates, teachers and entrepreneurs. This doesn't, nonetheless, deny the struggle of these communities. In Wanie's words, "We don't have the privilege of losing. Losing isn't an option. If you live in the periphery of the city, if you're low-income, if you're Black, losing isn't an option."
"We don't just impact the ballerinas and their families. Our impact reverberates throughout the community." – Edna Idarrah
Ballet Manguinhos provides Manguinhos with a space for discussions that would otherwise not happen. Topics like feminism, LGBTQ+ rights and safe sex are tackled in an accessible format, and those conversations are then continued outside of the classroom, contributing to social and cultural change.
Machismo runs rampant in all of Brazil ­– over 70% of the Brazilian female population will suffer some kind of violence in their lifetime and Brazil is reported to have the highest LGBTQI+ murder rate in the world – and these attitudes are even stronger in communities like Manguinhos. Edna stresses that the same couple that could walk down Ipanema beach holding hands would have a very different experience in Manguinhos.
Ballet Manguinhos provides all their students with a space to express themselves in a judgement-free space. Out of their 250 students only six of them are boys and these students struggle with gender roles thrust upon them and prejudice.
The impact of such a project on at-risk students cannot be overstated. Edna tells me that one of the ballerinas in the programme, for example, was kicked out of their home for being gay and for questioning their gender identity. When they arrived at the ballet school, they were terrified it would be another place they wouldn't find acceptance, but Ballet Manguinhos opened their arms to them, accepting them the way they are.
Empowering their students to know their self-worth runs through all of Ballet Manguinhos' activities. They host discussion groups, run reading projects and employ a psychologist to support their students. Before the pandemic, they would take the students and their families on excursions to museums, theatres and cultural centres.
Wanie, as one of the older students, takes it upon herself to provide the younger students with a positive female role model: "I tell the younger girls we are free, beautiful and capable, and they stop and look puzzled. … It's the little things that count like telling a girl her hair looks beautiful. Being told how special you are, how powerful your voice is, changes everything for a little girl, especially for a little Black girl."
The Covid-19 pandemic has been deeply painful for Ballet Manguinhos  
Daiana Ferreira, a prominent activist in the community who founded and became the 'soul' of Ballet Manguinhos, sadly died in January 2021 after testing positive for Covid-19. The NGO had to simultaneously grieve and fight for its own survival, quickly restructuring its governing body and setting up structures and methodologies for remote classes to continue.
The transition to remote learning wasn't smooth. Students don't always have the tools necessary for the remote classes and their internet isn't always stable. Often there is only one computer or phone in the household that needs to be set aside for their parents' work or for their siblings' schooling. A mother, for example, needs to make a decision: does she bring her phone to work or leave it behind so her child can participate in a class? These are the same problems students in the public school system are facing during the pandemic in Brazil. Ballet Manguinhos is currently working to provide its students with technological solutions but the cost of providing a device like a phone to 250 students is high.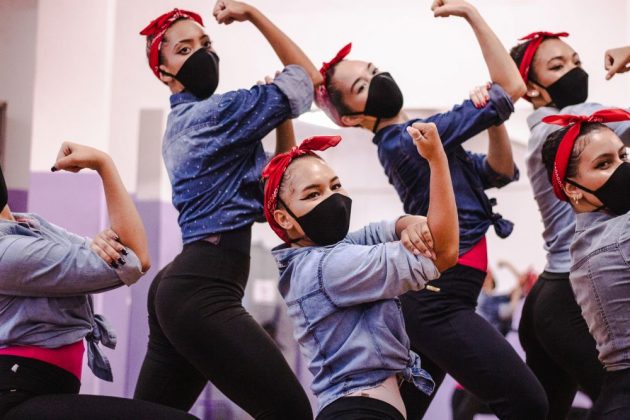 Nonetheless, the NGO is persevering and continues to host classes, check in with their students and offer them sessions with their psychologist. Having this support during such a difficult time is critical to ensure that young people feel cared for. 
"We aren't just preparing them for a career in dance, we are preparing them for life." – Edna Idarrah
Ballerinas who have graduated from the Ballet Manguinhos programme have gone on to dance professionally. Some have travelled internationally, and others have gotten into prestigious ballet schools. The ones who haven't, however, have still been inspired, empowered and changed by the programme. Edna stresses that Ballet Manguinhos is about much more than ballet: "We aren't just preparing them for a career in dance, we are preparing them for life."

Follow Sounds and Colours: Facebook / Twitter / Instagram / Mixcloud / Soundcloud / Bandcamp

Subscribe to the Sounds and Colours Newsletter for regular updates, news and competitions bringing the best of Latin American culture direct to your Inbox.
Share: