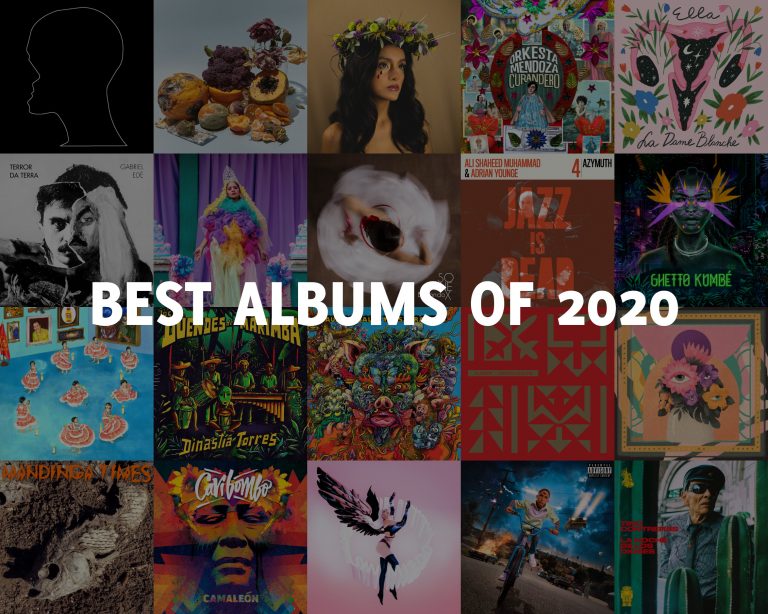 Best Albums of 2020
18 December, 2020
What a year!? It's certainly been like no other. Well… except for the amount of music that's been released, which appears to be as abundant as usual, if not more so. While some releases have certainly been delayed until 2021, their absence has been filled by other quarantine-recorded albums or some dropped early to bring a little bit of joy. All in all, the year left us with a list of 125 albums for consideration and that all of our writers voted on, to result in this final list, our Best Latin American Albums of 2020.
There are a few clear themes, one being that this is a year in which the most powerful statements came by women, with albums by Dame La Blanche, Lido Pimienta and Rita Indiana all asserting their sexual and racial identities in profound ways. Elsewhere, electronic music, and specifically bass-heavy music, continued to be a den of creativity, as evidenced by varied albums by Ghetto Kumbé, Quixosis and Caribombo. Although we often stay away from the mainstream, as our remit is creativity there was no way we could pass by this year without mentioning albums by Bad Bunny and Kali Uchis, two hugely-popular artists, but quite rightly if you ask us. Our final word goes to the Brazilian artists in our list who always do their own thing, whether it be samba-jazz (Azymuth), fragmented pop (Gabriel Edé) or Afro punk/folk (Kiko Dinucci). Russell Slater
20. Ati Lane – Miedo, Amor y Vida (Peru)
Ati Lane's latest release introduces us to a gloomy atmosphere that reminds of Aurora and Birdy. Fear, love and life (Miedo, Amor y Vida) are encapsulated in an intimate and fragile way across five songs. Her subtle and deep voice is joined with a precise and careful folk arrangement, guitar and bass being the main instruments. She welcomes us with a crown of thorns and flowers, as well as red tears that fall from her eyes as she sensitively expresses: "Life, what we have, what we lose, in this battle. Love, under my tears, under my skin, you always win. Hidden fear, you are not in my head". Zoila Antonio Benito
19. Gabriel Edé – Terror Da Terra (Brazil)
The music on Gabriel Edé's debut album is dark and inquisitive, its lyrics prodding at egoism, pulling apart autonomy and prophesising apocalypse. The eponymous opener prowls towards an arresting climax with funeral-march brass and strummed violão. Through twitching electronics and flurries of strings, "Terror da Terra" skulks towards a frantic crescendo. The rising drums rumble like a cavalry charging, gang vocals whirr and a wheezing saxophone puffs atop Edé's ominous lyric: "A unha do louco desenha na pedra, revela o que ninguém mais vê" ("the madman's nail draws on the stone, revealing what no one sees"). Joe Osborne
18. Sonex – Bailando (Mexico)
Innovating as they do with each album, Sonex delight us with Bailando, an album dyed with jazz, rock, soul, and their characteristic fusion positioned somewhere between Mexico (and their home city of Xalapa) and the rest of the world. The rhythm of son jarocho and the essence of fandango combine with violins and vocals to tread a balance between tradition and contemporaneity, the result being an authentic and surprising album by the four-piece. Marcelo Lara
17. Ghetto Kumbé – Ghetto Kumbé (Colombia)
Ghetto Kumbé's self-titled debut album is hypnotic, frantic and quite possibly unlike anything you've heard before. Caribbean house beats and electronic rhythms alongside a cacophony of traditional Colombian instruments, the gaita flute and most importantly the drum, tambor. Co-produced with a sprinkling of UK bass by The Busy Twist, this is a homage to the group's roots with a new lease of life. At a time when Colombia remains under strict lockdown, and with the country's politics crumbling, this tension spills over into the tracks on the album. Charlotte Mackenzie de Urrea
16. Caribombo – Camaleon (Venezuela)
Venezuelan producer Caribombo, currently based in France, heads out across the tropical bass map for this one, switching regions and tempos in a flash. Guest singers from the Democratic Republic of Congo, Togo, Mauritius, Venezuela and the UK all get involved, the album switching from fiery anthems like the post-rave "Warrior" and Afro-Latin house feel on "Moral Vibe" to take in the sounds of baile funk and Andean downtempo before heading into mysterious terrain on the chugging "Bin De Dam" and downtempo trap fusion "El Loco". Russell Slater
15. Nicolás Jaar – Cenizas (Chile)
Fans have grown accustomed to expect the unexpected from Nicolás Jaar whose main fidelity lies in experimentation and following his creative curiosity—wherever that may lead. Jaar's unwavering commitment to artistic exploration is prevalent once again in this intimate and hauntingly contemplative release. Cenizas, which means 'ashes' in Spanish, is an album of textures and sounds that represent the inner odyssey undergone by Jaar in the last few years. Rocio Cadena
14. Dinastia Torres – Los Duendes de la Marimba (Colombia)
Described as "mystical currulao music from deep into the jungle of the pacific coast of Colombia," there is no doubt, when listening to this album you will be transported to the Pacific jungle. Dinastia Torres, (The Torres Dynasty), are a family of musicians from the town of Guapi, home to traditional marimba music and many infamous marimba players, such as Pacho and Genaro Torres, the two marimberos featured here. They recorded the entirety of this musical collection in their home, situated on the river bank in Guapi. Should this be your first venture into traditional currulao, Los Duendes de la Marimba, will definitely not disappoint. Jenna Mackle
13. La Dame Blanche – Ella (Cuba)
La Dame Blanche is in full evolution. On ELLA, she seems looser, scaling back her dense flows, and adding more versatility, creating personas to accompany the different rhythmic variations without ever losing fluidity. The combinations of rap with dancehall, cumbia, ragga and various Latin elements show the roots of the singer, who is also a flautist, percussionist and daughter of Jesus "Aguaje" Ramos, trombonist and director of Orquesta Buena Vista Social Club. These sonic influences create the perfect environment for the Cuban rapper to celebrate the lives of women who have influenced her, especially her mother, while also stepping out of her father's shadow. Adailton Moura
12. Quixosis – Especies Afines (Ecuador)
Heavy on the detail, this album from Ecuador's Quixosis explores polyrhythms whose constituent parts are taken from trap, R & B, drum and bass, dub and countless other influences too numerous and fragmented to discern. In his previous work he had begun to experiment greater with granular synthesis and this is noticeable here in the extra detail afforded foreboding waves of synth and ambient swells. Always exploring new avenues, Quixosis has emerged as one of Latin America's most daring and hard-to-pigeonhole electronic music producers. Russell Slater
11. Raul Monsalve y los Forajidos – Bichos (Venezuela)
There's a certain visceral anger to be heard at times – the word bichos denotes a nasty piece of work in Spanish: the kind of people represented on the album by a roster of insects and animals that stand for greed, hate, corruption and other beastly characteristics helping to tear the world apart. On the other hand, the butterfly also features, as do more redemptive human qualities such as love, compassion and a capacity for friendship and collaboration. Such a mixture dictates a variety of musical moods. The glorious "La Mariposa" (butterfly), for example, with Monsalve on double bass on this occasion, is a joyous, skittish affair with flute and tenor sax twisting in and out of each other on the edge of free jazz. Arguably, the best is left for last in the form of "Pa' los Maestros", a loose-limbed descarga brimming with superb percussion. Mark Sampson
10. Azymuth – JID004 (Brazil)
Rather like the (Jazz) Crusaders, the estimable Brazilian trio never put a foot too wrong. They're always good and sometimes very good. The new album, with Adrian Younge and Ali Shaheed Muhammad, is a case in point: it's arguably the best so far of the Jazz Is Dead releases, with a tried and tested repertoire seasoned by the intermittent addition of horns and electric guitar. Mark Sampson
9. Bad Bunny – YHLQMDLG (Puerto Rico)
In comparison to his first full length X 100pre (2018), where he flipped the mainstream reggaeton formula, here el conejo malo has dished up a record that pays tribute to a classic sound. It's an album made as if the calendar has been dialled back to the mid-00s, to go side by side on the shelves with Daddy Yankee's landmark Barrio Fino (2004). This is reflected in the nods to reggaeton's initial explosion, to the DJ Playero mixtapes, as on stand-out "Safaera", that includes different riddims in a constantly-evolving collage that makes some crazy tempo jumps, adding up to a perreo symphony. David Bugueño
8. Mateus Aleluia – Olorum (Brazil)
For their 70s records, Os Tincoãs have become one of the most sought-after Brazilian groups for anyone interested in the interstices between Afro-Brazilian traditions and pop music. The group disappeared off the map when its members visited Angola in the 80s, and some of them decided to stay, Mateus Aleluia being one of them. He returned to Brazil in the early 2000s and has slowly began making music again, each release gaining in confidence and popularity. His latest, Olorum, continues his signature style of spiritual folk music led by guitar and voice, with an unnerving knack for writing catchy melodies, and it also accentuates some of the production flourishes that made Os Tincoãs' 70s records so compelling. The gorgeous "Amarelou" with its samba-jazz-erupting chorus being a supreme case in point. Russell Slater
7. Tino Contreras – La Noche de los Dioses (Mexico)
Contreras was born in Chihuahua in – and I had to double-check this – 1924. He may not have the muscle now of a Billy Cobham, put he plays the drums a little like the Panamanian master in so far as he uses the full range of the kit without ever showing off. He allows himself a little rhythmically unsettling drum feature on the second, possibly stand-out, track, "Máscaras Blues", but otherwise he keeps metronomic time throughout, swinging mainly in 3/4 time and steering the band through seven numbers that flow steadily like a river. Mark Sampson
6. Meridian Brothers – Cumbia Siglo XXI (Colombia)
The latest project from Eblis Álvarez: Cumbia Siglo XXI is a high-octane 1980s-respecting take on Colombia's most iconic genre, cumbia, yet it isn't just an album for die-hard Meridian Brothers fans or cumbia-loving music moguls, it's a critique on the society that we live and exist in. It's fresh, funky and keyboard-filled madness. While being both weird and catchy enough to charm your ears and provide some foot-stomping fun. Charlotte Mackenzie de Urrea
5. Orkesta Mendoza – Curandero (Mexico)
You can tell that Mendoza spent his own childhood alongside the US-Mexico border, with tracks on the new album blending lyrics in both English and Spanish, with boogaloo, rock and roll, cumbia and traditional ranchera style rhythms. It's boogaloo, that 60s rock and roll feel, with clanging guitar riffs, that gives Curandero a unique Tex-Mex feel. It's through using rhythms and sounds that are so inherently tied to each culture, such as mariachi-style trumpets, that Orkesta Mendoza's latest project continues to make you want to get up and dance. Charlotte Mackenzie de Urrea
4. Kali Uchis – Sin Miedo (del Amor y Otros Demonios) (Colombia)
All eyes of the alternative Latinx mainstream were on Kali Uchis this year, beckoning the arrival of her follow-up to the critically acclaimed Isolation. The teasers included hard hitting trap beats on "aquí yo mando", featuring Rico Nasty, and "la luz (Fín)" with Jhay Cortez, which seemed to signal a turn towards Latin urban radio friendly material, but the album managed to stay with the aesthetic and craftsmanship of her debut, with strong soul renditions like "fue mejor", alongside PARTYNEXTDOOR, and the trip-hop inspired "vaya con dios", giving us a balanced and contemporary pop gem. David Bugueño
3. Rita Indiana – Mandinga Times (Dominican Republic)
On Mandinga Times Indiana uses a powerful tempo allied to a brand of synth-electro-bachata-punk rock leavened by a drum ritual proposal that carries the rhythm that life and death dance to. La Montra (The Monster, as she is known) has some great collaborations on this latest album: Rubén Albarrán, MIMA, Sakari Janitti, Kiko El Crazy. They all contribute to an album that is rich in styles, going from boleros to hymn-like intonations, but always telling a story. Ana Trinidad Mazenett
2. Kiko Dinucci – Rastilho (Brazil)
Kiko Dinucci tosses into the mix samba, choro, música caipira and candomblé to create a fully-produced piece of art from just acoustic guitar and voice. The album opens with "Exu Odara", a traditional candomblé song, that Dinucci absorbed while sitting amongst the beating atabaques of Ilê Leuiwyato during the rituals in the house of Ketu. This sets the tone for where we will be for the next half hour, engulfed by Afro-Brazilian culture. "Olodé" features guitar so shockingly percussive that it resembles a one-man samba school, its female-led chorus pushing the player on in a meeting of punk aggression and candomblé. Andy Cumming
1. Lido Pimienta – Miss Colombia (Colombia)
The sound of Miss Colombia is distinctly Lido, related to all of the projects that have come before – with simple yet distinctive melodies, a focused repetition that gives to a feeling of elevation or even transcendence, and always a clear message in her lyrics. This record is instrumentally rich, with the lightness of steel pans, rhythmic, hearty brass and modern beats with traceable heritage. The tone is at times warm, delicate, defiant and celebratory. Lido melds urban industrial sounds in the darker club beats of "No Pude", emotively layering voices with a certain anger, yet there is bouncing Caribbean warmth on "Te Quería" and the sound of traditional Palenquero freedom on "Quiero Que Me Salves" and "Pelo Cucú". The considered production and its many layers present both Colombia's and Pimienta's own hybridity, placed firmly in the now. Rebecca Wilson
Chosen by Adailton Moura, Amanda H. Chartier Chamorro, Ana Claudia Bendezu, Andy Cumming, Carolina Amoruso, Charlotte Mackenzie de Urrea, David Bugueño, Debora Baldelli, Diego Casimiro, Felix Higgins, Frank Kinsey, Gabriel Francis, Gabriel Rizzo, Gregorio Hernández de Alba, Humberto Loopz, Joe Osborne, Juan Data, Marcel Marquéz, Marcelo Lara, Marco Pisciotti, Mark Sampson, Mikołaj Kierski, Olivia Arigho Stiles, Patrick McMahon, Paulo Sruelvitch, Rebecca Wilson, Russell Slater, Valdomiro Valle, Victor Meyer and Zoila Antonio Benito
Listen to a playlist of tracks from our choices below:

Follow Sounds and Colours: Facebook / Twitter / Instagram / Mixcloud / Soundcloud / Bandcamp

Subscribe to the Sounds and Colours Newsletter for regular updates, news and competitions bringing the best of Latin American culture direct to your Inbox.
Share: