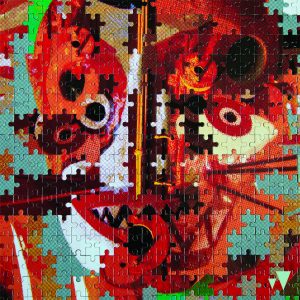 Review
Bixiga 70 – Quebra Cabeça
It's big, brassy and Brazilian. It's Bixiga 70, back in the socket for their fourth album and their second for Glitterbeat. If the formula remains largely the same, there's no denying the potency. Like other little big bands of their ilk– Femi Kuti's Positive Force, Ottawa's Souljazz Orchestra, the KutiMangoes from Copenhagen, to name but three – this 9-piece collective from São Paulo mix enough elements of jazz, Afrobeat and urban dance-floor music to knock you for six. As baritone sax player, Cuca Ferreira explains, "The whole idea of the band has been to take all these different elements that form us, from Africa and Brazil, and create a hybrid from them".
And what a compelling hybrid it is! Befitting a band that thrives on touring (and supporting the likes of golden-voiced Ghanaian highlife singer Pat Thomas, Afrobeat veteran Orlando Julius, and octogenarian Brazilian pianist João Donato), Bixiga 70 have always preferred to record live in the studio. But this time around, the band decided to recruit Gustavo Lenza as co-producer in order to explore what the tricks of the trade could offer. The results are there to hear from the off: on the title track, a subterranean synth bass adds an element of alien menace to the roiling Afrobeat. Synthesized keyboard sounds are very much in evidence on the following "Ilha Vizinha", chattering over Cris Scabello's insistent funky guitar and the thunderous propulsion of percussion, horns and guttural bass. Next up, on the multi-layered "Pedra de Raio", it's a ringing Congolese guitar sound that helps to contain the melodic swell of the horns. "4 Cantos" turns the spotlight onto Mauricio Fleury's keyboards and the trumpet of Daniel Gralha, who solos briefly but memorably over the staccato rhythm of Decio 7's snare drum. At under four minutes, "Areia" still finds sufficient time to insinuate a big melody. Tearing along like a midwife in a hurry, "Ladeira" manages to offer enough space for a spluttering baritone sax solo. After which, the melodic shifts of "Levante" bring some respite before interplanetary synth sounds and a thunderous heavy-metal guitar turn "Primeiramente" Japanese – in a Godzilla kind of way.
There's a wonderful shift that takes the ensuing "Torre" briefly onto an ethereal plain before Daniel Nogueira's tenor solo brings it right back to earth. "Camelo" approximates what Fela might have sounded like with Joe Meek behind the desk, while the concluding "Portal", the longest track on the album at a tad under six minutes, is possibly the best of all. Starting with a terrific slightly skewed drum solo, it's slower than most, but the melody carried by the horns is moody and ominous, with a filmic quality that suggests the US marshal doesn't have much time to spare before the baddies arrive at high noon.
The beating heart of this fabulous album is Afro-Brazilian, but "what we put on top of that is essentially urban São Paulo music", Cuca Ferreira continues. "This city has been a huge influence on us. It has that sense of urgency, always running to catch up." Indeed, Quebra Cabeça would serve as music for driving at speed in the outside lane of an urban motorway: it's restless and relentless and you need to keep your wits about you. Bixiga 70 have delivered the goods once more with their now customary verve.
Quebra Cabeça is released by Glitterbeat and available on Bandcamp

Follow Sounds and Colours: Facebook / Twitter / Instagram / Mixcloud / Soundcloud / Bandcamp

Subscribe to the Sounds and Colours Newsletter for regular updates, news and competitions bringing the best of Latin American culture direct to your Inbox.
Share: