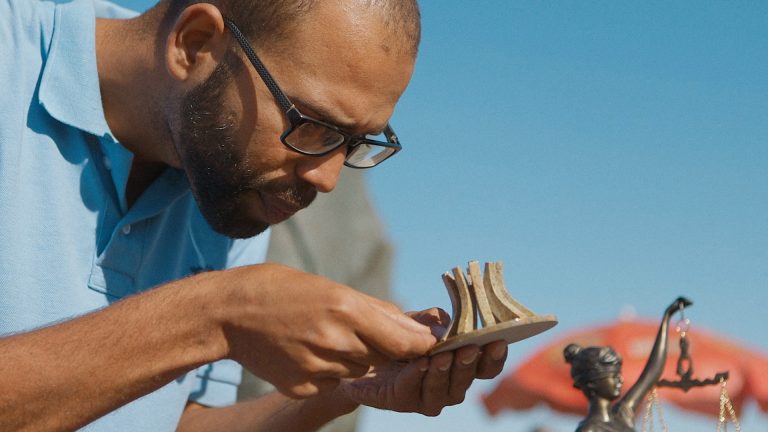 Brasilia, Life After Design
19 April, 2018
In Brasília: Life After Design, film-maker Bart Simpson allows the sinuous curves of renowned architects Oscar Niemeyer and Lucio Costa's bird-like urban design, called Plan Piloto, tour viewers around what it's like to live in Brazil's capital. Built in 1956 and inaugurated in 1960 Brasília took on multiple challenges. In 1987 it would be designated a UNESCO World Heritage site. Director Simpson visually captures the intimate feelings by those whom live in the city. Constructed as a model city, it was an attempt to showcase Brazil's progress into modernity. For Brazilian president Juscelino Kubitschek (1956-1961), "Brazil cannot remain a territory of emptiness with abandoned territory." Kubitschek came to see Brasília as the project of the century.
The documentary pans across a city built unlike any other urban metropolis across Latin America. Architect Niemeyer believed the construction of the new capital would lead men to become equal. It is a city built on columns for the easy flow of pedestrians walking to and from their destinations. Pedestrians were able to visualize their paths. Brasília included underground passages and very limited street signs for the continuity of automobile and public transportation. The spacious organic design included a metropolis garden embedded throughout the city, no center; no plaza dominated the urban landscape or any opulent protruding skyscraper. It is a city whose architecture resembles a living sculpted landscape. The sacrifice endured by the candangos (workers) who built Brasília has been enshrined with a monument to serve as a reminder that no city can be built without the hands of the laboring force.
The narratives in the documentary reveal some of the challenges of a highly organized city constructed not to grow, but to multiply in super blocks. There is a sense of missing conviviality as described in the film by those who live in Brasília. Many workers came to the capital to build a piece of their future in this new city. As the film shows, popular resistance movements struggle for the right to housing and employment. A student named Gabriela describes, "If Brasília were a person, it would be a woman, under burden but chic, well dressed, elegant, and morena (brunette)." William, a local vendor, came to the city with the hopes of change and opportunity. However, like other residents he was met with the pressures to maintain a job and career. The dwellers that worked in the city were unable to sustain residence and instead forced to settle in nearby satellite towns.
There's no doubt the design of Brasília is an attempt to address urbanization with a more humane approach. This is not a utopian city, it is a real city. Any shortcomings of such a grand project allow for the consideration of how to improve the living conditions and plan sensitively to the environment and people.
It was no coincidence before viewing the film that I would share the first name that came to mind, Oscar Niemeyer, one of Latin America's most renowned architects, with a fourteen year old boy at a local gas station as he was fundraising for a school field trip. His desire was to become an architect. If I could see him a second time I would encourage him to watch the film for the following reasons: a) the importance of designing and engineering today with a humane and social awareness, b) that nature is a living being and not construction material, c) to build with a sensitivity from a non-hierarchical reference, d) every building does not have to be square nor insensitive to its immediate surroundings, e) to be cautious of urban expansionist policies (aka, gentrification), f) be attentive of projects that are more about the dollar than people.
Brasília: Life After Design will be screening at Rich Mix in London on 26th April 2018 as part of the East End Film Festival. Tickets and details at eastendfilmfestival.com/programme-archive/brasilia-life-after-design
http://vimeo.com/213263235

Follow Sounds and Colours: Facebook / Twitter / Instagram / Mixcloud / Soundcloud / Bandcamp

Subscribe to the Sounds and Colours Newsletter for regular updates, news and competitions bringing the best of Latin American culture direct to your Inbox.
Share: