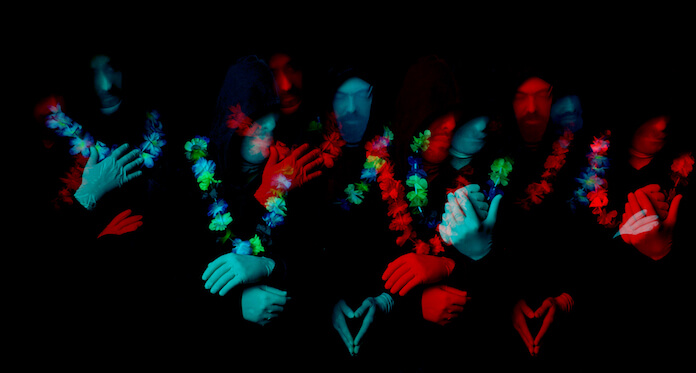 On The Margins – Brazilian Music Round-Up (BaianaSystem, Buguinha Dub, Thiago Nassif, Ava Rocha, RAKTA, Satanique Samba Trio and more)
05 June, 2020
It's not all coronavirus, right-wing disaster capitalism, doom and gloom here in the tropics, there are some outstanding releases from Brazil that are well worth your attention, let me help you find your way round these spoils of richness (but with 2 metres distancing, please).
BaianaSystem & Buguinha Dub
BaianaSystem's O Futuro Não Demora from last year has been given the dub treatment by Buguinha Dub on Futuro Dub. This producer originally from Olinda has had a long career in independent music in Brazil, remixing a huge cast of national indie stars, and here he dismantles this massively popular album, giving it a pounding sound system overhaul. It's a very effective partnership. Emphasising the reggae in BaianaSystem's samba-reggae influences, those heavyweight Salvador drums patterns come to the fore and the album is quite a blast. I love dub workouts of Brazilian albums, Mad Professor remixing Marcelinho da Lua and Nação Zumbi being some other examples.
Ava Rocha & Los Toscos
I haven't listened to Ava Rocha since her superb 2015 album, Ava Patrya Yndia Yracema, which is a shame since it was such an exceptional collection of songs, one the those rare albums that truly updated the tropicalia sound. Her new release Caminando Sobre Huesos (released by NYC Trust in the US and by YB Music in Brazil, under the title Sal Gruesa) is a smart looking 7″ single with Ava singing in Spanish backed by the punk cumbiero all-stars Los Toscos. She delivers her sly political message, which I interpret as her walking over the bones of the dead, killed by the South American dictatorships, in a chanteuse style over this woozy, sleazy, psychedelic number.
Let's see what the Neo-Tropicalia kids are doing:
Banda Cisma
Banda Cisma who are led by Luisa Buarque (Chico Buarque's daughter), and include contributions from players like Moreno Veloso and Ricardo Dias Gomes, have a debut called Cisma/Requiem. It's a mixed bunch that goes from charming, acoustic bossa nova tunes to MPB with interesting touches of electronics and programming that give the arrangements an atmospheric twist.
Thiago Nassif
Thiago Nassif has a new album Mente. Lead single "Plastico" features arrhythmic guitars and sporadically-timed synth patterns accompany Thiago's part-spoken, part-sung Portuguese vocals, with the great Vinicius Cantuaria on drums a Brazilian reminder of this music's origin. Mente was co-produced by No Wave legend Arto Lindsay (DNA, Lounge Lizards) and this makes a lot of sense as it sounds like the albums Arto produced for Caetano Veloso in the late 80s and early 90s, skronk guitar patterns with atonal touches giving it an avant-garde pop feel.
Mente will be released by Gearbox Records on July 3rd
Estranhos Românticos
Indie quartet Estranhos Românticos release their new album Só, with another following up soon, it's a mix of indie rock, post-punk and new wave with touches of electronics, Second track "1988" sounds like it was recorded in, er… 1988, and it could be Fellini if they had got hold of a decent synthesizer.
Numa Gama
Me Redesenho is the latest release by Numa Gama who is a non-binary multimedia artist, singer and producer based between Berlin and the south-east of Brazil and is an interesting indicator of what Brazilian music can do in these times when it's entirely electronic but still wants to sound non-synthetic, and the result is like Fourth-world organic vapor wave emanating deep from the Amazon jungle. In fact "Twig People" could be Swordfishtrombones-era Tom Waits but if he had been listening to Guaraní tribes and not Harry Partch.
Satanique Samba Trio
What if Capt. Beefheart had commandeered his own samba school? What if Trout Mask Replica had been recorded in the hills of Rio de Janeiro, the result would be this album, Instant Karma by Satanique Samba Trio, with all of its tracks between 13 and 15 seconds. Basically, it's clattering, attention deficit, samba, forró and free improv. It's noisy, accessible, excellent and at only 7 minutes whizzes by quicker than we can change a health minister. All art should be like this! (available on Bandcamp)
Objeto Amarelo
Another experimental find on Bandcamp is Objeto Amarelo's latest album Total. I've been listening to Objeto Amarelo, which is visual artist/musician Carlos Issa, for over 20 years now and he started with a kind of faux naif outsider sound, then went full noise/drone about 10 years ago. This latest release sounds like he's got together with Jeff Mills to make wonky looping out-of-synch techno, always interesting.
Pessoas Que Eu Conheço
Also on Bandcamp you can find 40% Foda/Maneirissimo, an exclusively electronic label based in Rio de Janeiro. I admire the fact that all their releases have a physical format as well, being available as a CD in a minimalist gatefold sleeve with info and BPMs. 40% F/M specialise in smoothly produced deep house, downtempo and breaks influenced by video-game music. You won't find the out-thereness of Objeto Amarelo's electronics, but on the latest release Idealogia Chinesa by label founder Lucas de Paiva's project Pessoas Que Eu Conheço there are plenty of velvety lush chords and jazzy skipping garage rhythms – and there's absolutely nothing wrong with that. I also recommend listening to their previous release by Rabu Mazda, Tudo Mundo Sabe, which sounds like the Backyardigans going kuduro.
La Petite Chambre Records
La Petite Chambre Records, an experimental label that started life in Belo Horizonte. Brazil, is releasing two tracks by a new artist every week during the quarantine for the listener to isolate to. The last two releases include chiming ambient guitar by Tropiques and droning ambient field recordings from Grotta Veterano, certainly worth dipping into if that's your bag. I found them to be charming and engaging and will certainly look into more. Go to their site and you can see their beautifully produced physical products which look stunning.
Bresciani
More field recording shenanigans can be found on Tudo Existe Num Instante by Bresciani, a Brazilian sound artist and composer, recorded in both São Paulo and Pietrasanta, Italy. It contains songs, field recordings and overlapping sounds, and can veer from pastoral ambience, street scene cacophony to dense hellish soundscapes sometimes in the same track.
Blue Beast
Duo Blue Beast have a new album, Roaring, and show there's more to a Brazil/USA partnership than just agreeing on the use of hydroxychloroquine. Post punk pioneer, Miguel Barella and electronics mage Truus de Groot come together for this second outing of driving experimental electronica. Truus provides lyrics, vocals and electronics while Miguel plays guitar, devices and home-made electronics. The album is recorded in a back and forth process between the players and they deserve more recognition as the sounds they produce on this album really fizz and pop in this collection of seductive tunes.
Black Snake 808
Black Snake 808, aka Ricardo Pereira, is linked to the Hurtmold/Submarine Records crew and has a new 2-track release with the apt title of Apocalipse Moderno. Leading track "Friends and Plants" is a fine slice of house music with a touch of Sun Ra, truly groovy and soothing music for the soul. His mixtape of outtakes on Soundcloud is stripped down and funky and also well worth hunting down.
Ratka & Deaf Kids
Ratka and Deafkids have a joint live effort released by Selo SESC and available on Spotify. It's recorded at that temple of accessible arts, SESC Pompeia, in São Paulo. The importance of SESC in making all types of culture available throughout the state of São Paulo cannot be overstated, they'll take an artist like Smog and drop him in the middle of nowhere where he'll be watched by an appreciative audience of 20 (I know, I was one of them). Anyway, if you know the work of these two bands you know how they both work with noise and density and then you can double that and you have a head-rattling, bone-shaking set of turgid echoing noisiness that includes tracks from both bands, a match made in hell.
M. Takara and Carla Boregas
Last, but certainly not least, M.Takara and Carla Boregas' Linha da Agua on Desmonta.
Takara's day job is drummer in post-rockers Hurtmold, São Paulo Underground etc., and Carla Boregas does electronics in the aforementioned Ratka. This album is the result of two years of collaboration, but just one day in the studio. If you like the sound of Carla's long tension-inducing clustered chords and drones punctuated by Takara's searching, jazzy drumming then this will be right up your street.
Carla Boregas certainly seems to be someone worth following at the moment, her water–themed mix for the always interesting Veneno.live is an absolute gem.
To finish, here is a Spotify playlist featuring tracks from the round-up:

Follow Sounds and Colours: Facebook / Twitter / Instagram / Mixcloud / Soundcloud / Bandcamp

Subscribe to the Sounds and Colours Newsletter for regular updates, news and competitions bringing the best of Latin American culture direct to your Inbox.
Share: