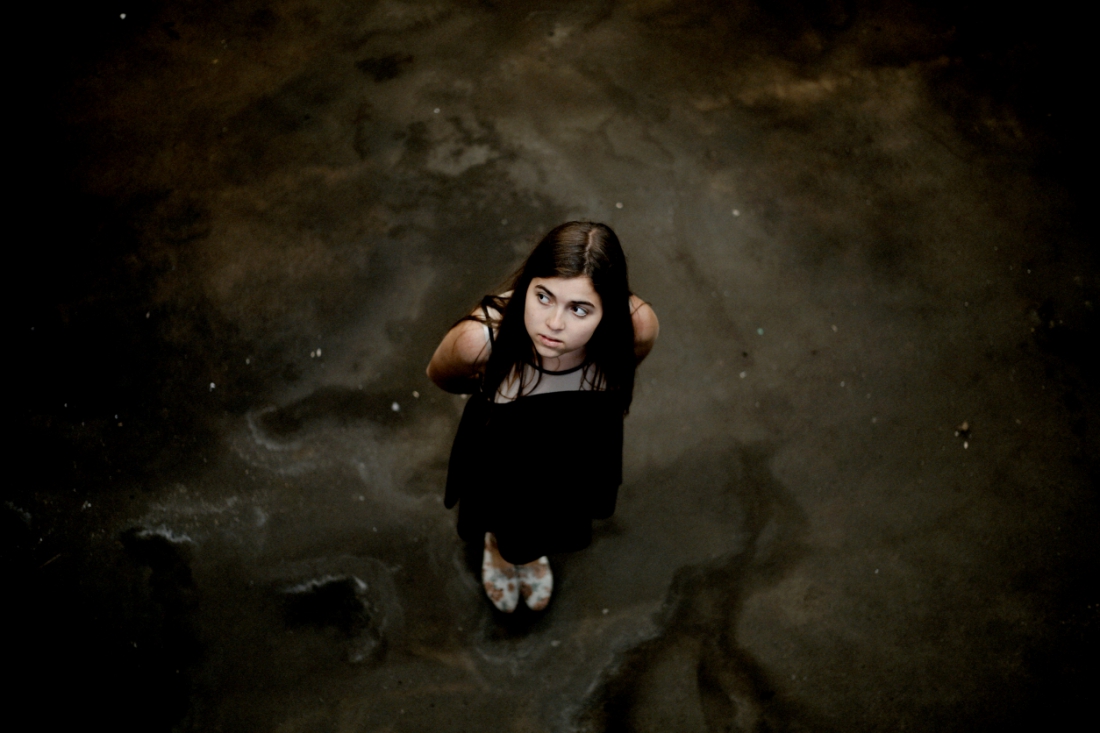 Bringing It All Back Home: An Interview with Dom La Nena
19 December, 2013
When Dom la Nena released her debut album Ela ("She" in Portuguese) earlier this year, she opened an ever-expanding arc of musical expression shadowed inevitably by the Brazilian rhythms of her birth. With a growing earnestness to create, she followed Ela with the EP Golondrina ("Swallow") in October.
Classically trained, Dom La Nena (or simply Dominique Pinto as she was known at that time) was born 23 years ago in Porto Alegre, in the south of Brazil. She began studying piano at five, before discovering the cello at eight. Her love for the instrument would flourish when her family moved to France shortly after, the young Dom pouring the same devotion into her instrument that other children might invest in video games or Harry Potter books. She listened only to cello, practiced religiously and haunted music shops looking for recordings of other cellists to emulate. Jacqueline du Pré was foremost among them: "I went around saying, 'I want to BE Jacqueline du Pré," she confesses.
Her travels resumed when, at 13, she went to Argentina to study with cello virtuoso and master teacher Christine Walevska. It was there that Dom acquired the nickname, "la nena", or little girl. While both she and her artistry have greatly matured in the 10 years since, there is, felicitously, still much of "la nena" in her.
Back across the Atlantic, she spent some years — Dom says she can't remember the precise number — touring with Jane Birkin and Jeanne Moreau, now devoting their professional lives to music rather than the acting for which they had been principally known. The experience allowed her to see more of the world, her enduring source of wonder and nourishment.
"I was very lucky to grow up in the two hemispheres because I got the structure and the "exigence" [rigours] of Europe and the pleasure of South America," she says. "In fact, it was very important to start my life in Brazil where you learn to be happy and to do things as you like to do them." (Argentina, typically, represents a middle ground for her, not quite European, and not wholly of the Americas.)
While touring with Birkin and Moreau, Dom began to consider embarking on her own career, though not without trepidation. So she approached it as fun, putting some instruments together until they "sounded like a song." Then came the lyrics, and then her vocals. She'd never sung before, feeling that her voice was "fragile," but she has learned to enjoy its delicacy by emulating Brazilian artists of the 60s and 70s, such as Chico Buarque, Tom Jobim and Joao Gilberto, their voices smaller, their musicality grand and to cultivate the contrast between the lightness of her voice and the command of her cello. "It's something that I really like and I want to keep," she observes about the contrast, "and I think it's an interesting mix." As she worked, feeling her way through composition, arrangements and vocals, she found that the more her music reflected her own experiences and thoughts, the happier with it she became.
Ela was released after she befriended Piers Fraccini, whom she'd long been a fan of. The Italo-English singer/songwriter helped her find a record company, assisted with the arrangements, contributed guitar, percussion and vocals to the disc (as did France's Camille and others) and turned Dom loose like a kid in a candy store in his recording studio. Tweaking, embellishing, paring and adding and modulating dynamics was electronic putty for Dom. As she worked, honing her skill and the sound of the disc, she began to see mixing as a further frontier of her artistry. Fraccini lent a hand to the final mix and Ela garnered broad critical acclaim.
One tune especially, "Sambinha," encapsulates Dom's ingenuousness, the spontaneous, more Brazilian side of her; she's mostly playing with the confession, over an understated samba beat, that she can't dance. The tune's video, shot by her husband, Jeremiah, belies the disclaimer, as she's up, beatifically smiling and dancing in the easiest way with family – including her grandparents, friends and strangers – indoors, outdoors, daytime, night, on sunny streets, in the rain.
The videos, all of them shot by Jeremiah in a rash of spontaneity with little or no staging, are extensions of the music and Dom's puckishness rather than separate market items engineered to sell discs and downloads. They represent the ever-broadening bounds of her art and her ultimate integrity as an artist rather than a pre-packaged performer.
The four-track Golondrina, with pared down arrangements, testifies to the harmony of cello and voice. The title song would seem her signature. It wistfully, almost melancholically – all Brazilians are said to be tinged with "saudade," a sense of nostalgic longing – calls to an elusive traveller, free, whose return, and constancy, can be predicted but not assured. Dom hadn't thought of herself when she wrote the song. "But now, I realize it's kind of my way to live," she confesses. "And I feel very close to the swallow." Swallows may travel far, very far, but they do return home.
Home for la Nena, her country as she calls it, is within. She has travelled so widely, has absorbed so many cultures, and speaks so many languages, that she's created a national identity within herself. "I have a kind of country, and my country is me," she explains. "I have a lot of places I consider a part of me, but I am the capital of that country," she says, concluding, "you become very flexible that way."
The three remaining songs on Golondrina are covers, including Lhasa de Sela's "Con Toda Palabra" ("With Every Word"). Dom has been compared to the late Mexican and North American singer/songwriter. She hesitates to own the comparison because, for her, Lhasa "is one of the greatest singers I've ever heard." At the same time, she feels that the two women express a fundamental sense of being defined by their enriching vagabondage (Lhasa's early years were spent in a converted school bus as "home," traipsing between the US and Mexico) and of having Latino/a sensibilities at the core of their music.
Dom is currently on the road sweeping through Western Europe, Canada and the Untied States. Travelling is an aspect of her career that very much engages her. Each theatre, each audience is unique to her, breathing the lifeblood of the country, province, village, neighbourhood in which it lies, and she wants to be able to absorb every scene, every scent, every nuance of being that differentiates them.
Ela is released by Six Degrees Records. You can find out more about Dom on her website and listen to her music on Bandcamp.

Follow Sounds and Colours: Facebook / Twitter / Instagram / Mixcloud / Soundcloud / Bandcamp

Subscribe to the Sounds and Colours Newsletter for regular updates, news and competitions bringing the best of Latin American culture direct to your Inbox.
Share: