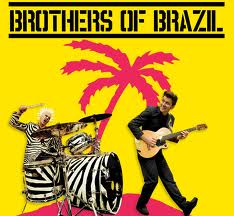 Review
Brothers of Brazil
Supla and João Suplicy have been touring in Europe and the U.S. as Brothers of Brazil since 2007 when they merged their previously independent music careers. Between 2008 and 2010, the duo also hosted a popular Brazilian television program. Still, it wasn't until 2011 that Brothers of Brazil came out with their first album, which they named after themselves. In order to appreciate Punkanova, Supla's and João's name for their blend of punk rock and samba and bossa nova, it helps to have a little background on their family and unique rise to fame.
If you are at all familiar with Brazilian politics, you already know the Suplicy family. Supla's and João's parents are former Senator and co-founder of Brazil's Labor Party, Eduardo Suplicy, and former Mayor of São Paulo and Minister of Tourism, Marta Suplicy. Choosing to pursue careers in music and entertainment, Supla and João, are apples that have fallen far from the tree.
João, despite his middle age, has the face of a young James Dean, and he performed bossa nova and Elvis Presley covers during his solo career. But his classic looks and good behavior garnered far less media than his brother's punk persona. In fact, Supla has such a rebellious personality and appearance (his spiked, bleach blonde hair is reminiscent of Billy Idol) that you would never expect him to come from a family of successful businessmen and politicians, even social liberals (Marta Suplicy began her career as an anchorwoman giving sex tips on a women's TV show).
Disregard for social norms and a do-what-you-want attitude are central themes in Brothers of Brazil, although Supla has been known for not paying mind to public opinion since long before he joined forces with João. In 2000, Sulpa's music video, "Green Hair," was featured on MTV Brasil's "Piores Clipes do Mundo" (World's Worst Music Videos), and the show's host described the work as "a masterpiece of trash." I certainly wanted to watch the video after reading that fact. Any publicity is good publicity, I guess. The following year, a second place finish on the first season of the celebrity reality TV show "Casa dos Artistas" further boosted Supla's celebrity status. In 2008, after the formation of Brothers of Brazil, João joined Supla on screen as co-host of "Brothers," a variety show for teens.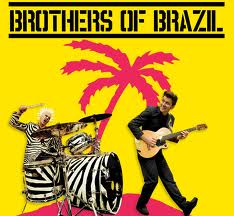 While "Brothers" stopped airing in 2010, I get the impression that in Brazil the Brothers are seen more as TV personalities than as a music group. Supla and João have toured mostly in Europe and the U.S., and 80% of their lyrics are in English. They even spell Brazil the English way, with a Z, a subtle slap in the face to their native Brasil.
Musically, Brothers of Brazil has great potential to appeal to both Brazilian and international audiences. The blend of samba and bossanova with punk rock is quite unique, as these genres are usually mixed with hip hop or electronic music. There's something cool about bringing together Billy Idol and Elvis Presley to play bossa nova. Still, the Brothers risk alienating Brazilians with their English lyrics and risk disappointing English-speaking Brazilian music lovers with their silly rhymes.
"Vanity Funk" is a song off Brothers of Brazil.
Repetitive, often nonsensical lyrics make it difficult to appreciate João's guitar work and Supla's innovative integration of a full drum kit into the bossa nova beats. "Punch You" is a musical manifestation of Supla's and João's sibling rivalry. Its overdone rhymes remind me of poetry I wrote in the 4th grade: "You drive me crazy/You make me lazy/Sometimes I want to punch you." Such recounting of personal experiences is the basis of most of the Brothers' songs, the exception being "Take the Money and Run Away to Rio," which addresses a topic of social currency: the 2008 collapse of Wall Street. Still Sulpa and João revert back to their tendency of to write simple themed songs in the last track on their album, "Brothers of Brazil," which could be the opener to a children's TV show:
We are the Brothers of the Brazil/I'm from São Paulo/And I live in Rio/Hello, hello. How you doing?/My name is Supla and I'm not fooling/I'm his brother/My name is João/Bossa nova's rock guitar/We are the Brothers of Brazil/It's a big country with different races, different accents, different faces…
The instrumental refrains and melody are far more sophisticated than the lyrics. If you can mange to ignore the words, the music will transport you to Rio's Copacabana beach.
So don't think too hard about the music, just have fun. The truth is that I wouldn't miss a chance to see the Brothers of Brazil live. Notwithstanding their unsophisticated lyrics, Supla and João are a musically talented pair. Their juxtaposed, extreme personalities and their non-stop joking are important reminders to relax, let loose, and go crazy once in a while. As the Brothers remind us in "Samba Around the Clock": "Just play the samba the way you want, man!"
Listen to the whole album on the Brothers' website: brothersofbrazil.uol.com.br/punkanova

Follow Sounds and Colours: Facebook / Twitter / Instagram / Mixcloud / Soundcloud / Bandcamp

Subscribe to the Sounds and Colours Newsletter for regular updates, news and competitions bringing the best of Latin American culture direct to your Inbox.
Share: