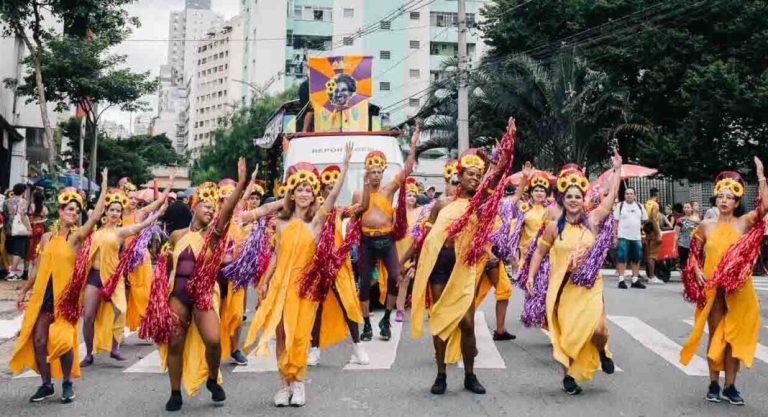 Carnaval in Brazil: Politics and Percussion
20 April, 2023
From bloco to bloco, local organisers at this year's Carnaval drew attention to some of the year's worst casualties and ongoing crises in Brazil. This article was kindly republished courtesy of Latin American Bureau. You can read the original here.
---
Beneath the feathered frocks and ornate headpieces at this year's Carnaval was a commitment to collective resistance. In the aftermath of a global pandemic and Bolsonaro's bygone regime, blocos of performers and party-goers paraded through the streets in simultaneous celebration and protest.
Blocos, or blocks, are a fundamental feature of Brazilian Carnaval, prevalent from the better-known streets of Rio de Janeiro, to the lesser-known state of Minas Gerais. Found in the latter, Zé Pereira dos Lacaios is the oldest active bloco in the country.
These local street parties are chaotic in comparison to the perfectly choreographed parades at Rio's Sambadrome. They are also, by nature, more reflective of their communities.
Tira o pé da minha Serra
'Não, não, não foi acidente! A Vale mata rio, mata peixe e mata gente!' shouted carnival-goers at Bloco da Praia, in the south-eastern state of Minas Gerais. Covered head-to-toe in clay, revelers marched in memory of the victims of the 2019 Brumadinho dam disaster. The faulty dam, owned by Brazilian mining company Vale, released a catastrophic flow of mud and toxic waste into the surrounding area, destroying the village of Córrego do Feijão and leaving 231 dead.
Having been reclaimed, the land is in the process of being restored, as the state's Federal Deputy Célia Xakriabá tweeted just after the end of celebrations on 25 February 2023:
'Today is the day to celebrate the resumption of the Xukuru Kariri people in Brumadinho. They complete a year in the territory. The area is land abandoned by the criminal Vale, which is now being reforested with our people. A day to celebrate the struggle.'
Progress must be celebrated, online and on the streets. Reforestation in the area is largely the result of legal-frameworks fought for by civilians and collective action groups including the aptly-named 'Tira o pé da minha Serra' (Get Your Foot Off My Mountain Range), whose prevalence was duly felt at the Bloco Quando Come se Lambuza last month:
Yet, by the end of 2021, there were still 40 dams in a state of emergency in Minas Gerais, according to Brazil's National Mining Agency, and the repercussions of the previous disasters have had a lasting impact. 'We still remember,' said local resident Cynthian Reis. 'We still buy water to drink, because the clay filter comes out of the tap that comes from the river… we still remember!'
From bloco to bloco, amidst the music and the optimism, there was a pervading sense of mourning at this year's Carnaval in Minas Gerais. It was the mourning of both life and land, a direct consequence of illegal mining in the region.
Em memória de…
Down in Rio de Janeiro, another bloco drew attention to the memory of lives lost. Bloco da Terreirada featured performers holding ornate banners, displaying the faces of human rights activists, both dead and alive.
One reveler used their platform to pay tribute to the lives of British Journalist Dom Philips and Brazilian Indigenous expert Bruno Perreira who, on 5 June 2022, were shot and killed by illegal miners. Their deaths concluded a four-day reporting trip in the Yanomami Indigenous territory of Javari Valley, in Amazonas State.
Philips and Perreira became emblems of the former government's violence against Indigenous people and their allies, but it does not end with them – over 500 Yanomami children died of malnutrition during Jair Bolsonaro's four-year presidency, according to a recent LAB report. This is due predominantly to the spread of diseases such as malaria, the consequence of mining in the gold-rich land:
'Mining creates pools of stagnant water where mosquitoes that transmit illness breed', according to the Associated Press. Miners also spread diseases to 'native people who possess low immunity due to limited contact with outsiders.' These conditions are only exacerbated by water pollution and environmental damage caused by the mines themselves.
Upon his visit to Roraimi, Amazonas' neighboring state, on 23 January 2023, President Lula da Silva described a 'genocide' against the Yanomami; 'a premeditated crime […] committed by a government insensitive to the suffering of the Brazilian people.'
Given the trials and tribulations still facing Indigenous Brazilians, homages to Dom Philips and Bruno Perreira draw attention to lives under threat, as well as those lost.
Afro-Brasileira/o
Over in Belo Horizonte, in the Brazilian state of Minas Gerais, Bloco Afro Magia Negra was in full swing using music, dance, and aesthetics to promote Afro-Brazilian culture.
In the northeastern city of Salvador, Bloco Ilê Aiyê moved to a similar beat. Located in Curuzu/Liberdade, one of the most populous Black neighborhoods in the country, its members are committed to challenging white-washing at the nation's biggest annual event.
Despite the myth that Brazil is a racial democracy, free from racial prejudice, divisions between Black and White Brazilians are blatant. 'Carnaval itself reflects the paradoxes of Brazil, for Carnaval is both a celebration and a denial of Brazil's Black roots,' says Carly Rodgers from the Wilson Centre. This paradox is palpable at Carnaval – a distinctly Afro-Brazilian cultural event underpinned by a traditional Christian practise (a festive precursor to Lent) brought over by Portuguese colonists.
By carving out their own spaces on the peripheries of the main event, blocos circumvent the confines of this paradox by writing their own rules.
By carving out their own spaces on the peripheries of the main event, blocos circumvent the confines of this paradox by writing their own rules.
Um Girassol na Avenida
For those living at the intersection between racism, queerphobia, and gender-based violence, Bloco Feminista in São Paulo featured a flag with the face of the former Rio city-councilor Marielle Franco.
Each performer wore a headpiece with three enormous sunflowers; an ode to the poetry anthology Um girassol nos teus cabelos – poemas para Marielle Franco (A sunflower in her hair – poems for Marielle Franco).These poems sprung up on social media after her assassination on 14 March 2018 by former military police. An ardent intersectional feminist and human rights advocate, Marielle's memory was duly felt by the bloco through this year's theme – Um Girassol na Avenida (A Sunflower on the Avenue).
Raised in the Complexo da Maré, a favela in the North Zone of Rio de Janeiro, Marielle had positioned herself as a representative for the city's poorest and most vulnerable groups. Her legacy lived on at this year's Carnaval, in the presence of locals and civil society groups such as Redes da Maré – a non-governmental organization committed to improving the lives of residents in the favela.
'Even in the face of violations of rights experienced by residents on a daily basis, Carnaval here is like anywhere else, because joy IS ONE, when we can experience it,' reads the caption below an image of Maré residents from 22 February.
Nós somos a Orquestra Voadora
O Futuro é Anticapacitista (The Future is Anti-Ableist), was the theme of the Orquestra Voadora's bloco this year.
In true Carnaval spirit, Brazilians of all abilities dressed in kaleidoscopic costumes, waved technicolored flags, and danced alongside eccentric performances by acrobatic troupes. A joyful and inclusive environment, yet built on the condition of responsibility to some of Brazil's most isolated and stigmatized citizens.
The last two governments posed a particular threat to the rights of disabled people, according to a report published by the Oxford University Press in 2022. After outlining 'the implementation of the fiscal austerity policy' under the Temer government, and Bolsonaro's 'chronic underfunding' of the health service, it highlights specific repercussions for people with disabilities. Even when one recalls the former governments of Lula and Dilma, which were both more favorable to the cause, they were still not far-reaching enough, according to the report.
Change during Lula's second Presidency thus remains to be seen, but the crowd is optimistic – the future is anti-ableist.
LGBTQIA+ pride
Despite attempts to scorn them, Carnaval has long been home to Brazil's LGBTQIA+ community, and this year was no different.
LGBTQIA+ rights are in grave danger in Brazil. In fact, just last year, in May 2022, Human Rights Watch released a report into a review of 217 legislative proposals to ban 'gender ideology' in Brazilian schools. Many of these proposals were bolstered under Bolsonaro's leadership – hardly surprising from a man who once described himself as 'homophobic yes, with great pride.'
Down at the Bloco Minho Queens (My Queens), a sea of sequins cascaded down the Avenida Ipiranga into the Centro Histórico de São Paulo – both a declaration of pride in the face of adversity, and a demand to be seen.
Carnaval is a melting pot of identities, inequalities, and irritations with the status quo. But holding together the anger and the joy is a commitment to collective resistance – a commitment which will persist in the face of adversity for years, and years to come.

Follow Sounds and Colours: Facebook / Twitter / Instagram / Mixcloud / Soundcloud / Bandcamp

Subscribe to the Sounds and Colours Newsletter for regular updates, news and competitions bringing the best of Latin American culture direct to your Inbox.
Share: