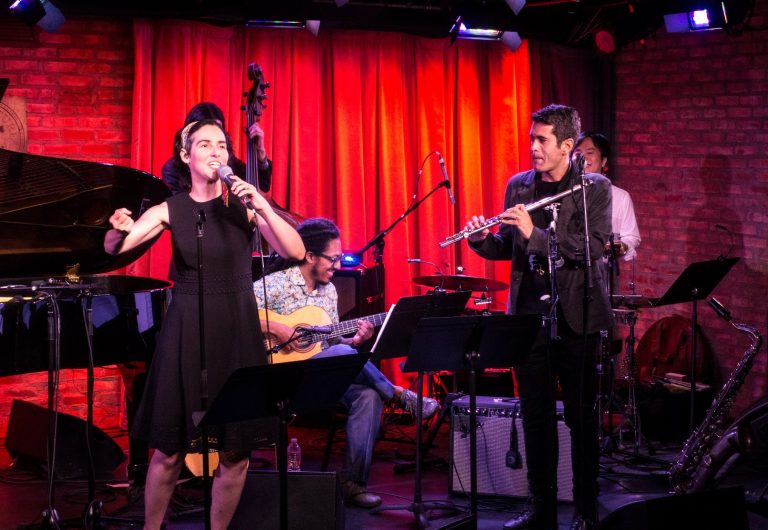 The Crazy, Sweet Life of Clarice Assad
31 May, 2018
"Today was a crazy day," announced Brazilian musician, Clarice Assad, before adding, "but sweet." Clarice had come to the City invited by the New York Festival of Song to arrange and perform tunes from the Brazilian songbook, on May 4th, a Friday evening. Her show was set in a cozy NoHo performance space, Subculture. She'd spent the day prior to our meeting teaching, with two other women musicians, a master class at Hunter College normally taught by her longtime guitarist, João Luiz, who like Clarice is a Brazilian who settled in the US to make music. The class, during which they explored, for example, how to make two voiced sounds at the same time, was for Clarice clearly "sweet", because she loves taking music from the stage to ground level, where she can take part in and impart music's many rewards, while "crazy" describes her whirligig life engaged in sound, creating and performing in genres as diverse as classical, new music, jazz, and Brazilian pop, all of which she does exuberantly, masterfully, with erudition, and with a purpose.
Clarice was born into the highest echelon of Brazilian virtuosi: her father, Sergio, along with his brother, Odair, are master classical guitarists who, for the past 40 years, have effectively monopolized the Latin world's guitar repertoire. Their sister, Badi Assad, is a guitarist and singer-songwriter masterful in her own right; Odair's daughter, Carolina, is a well-known vocalist in Brazil, and Clarisse's grandfather, at the top of the pyramid, was a mandolin player. As a clan, the Assads host an annual free music festival in the state of São Paulo called Festival Assad. Clarice relishes her roots, happy to play with any and all of her living relatives. At the same time, she is exploring music in ways comparable to no one.
For the New York concert with Clarice and her quartet, Off the Cliff (Clarice Assad, piano, vocals; João Luiz, electric guitar; Shin Sakaino, bass; and Keita Ogawa, percussion; with Jorge Continentino sitting in on wind instruments.), she'd fashioned a playlist that stretches over more than a century, sampling Joyce, Luiz Gonzaga, and Dolores Duran, for example, beacons of MPB (Música Popular Brasileira). Also on the manifest were slots for the more socially-engaged MPB of Gilberto Gil, Milton Nascimento, and Chico Buarque. Clarice included one of her own compositions, written with Daniel Basilio, the jazz-inflected, "Perto do Luar" (Near the Moonlight).
From the opening song, when, abandoning the piano, she beckoned the audience to participate in a call and response refrain of Gil's "Patuscada de Ghandi", and thus tap the African bloodlines running unabashedly through all of Brazilian music, the room was palpably hers. She'd arranged each tune by imprinting it with her lovely quirkiness, as in Milton Nascimento and Fernando Brant's "Maria, Maria". The song is a tribute to a woman — possibly referencing the Madonna —who's burdened under a hard life, yet can still find "alegria". Clarice revs the tempo, and accents the melody with plunky-sounding vocals so fast that the words trip over each other, dissolving into the sound of bubbling water. Breathe…. And then she pulls it way back for a solemn liturgical interval of Franz Schubert's "Ave Maria", rendered in ceiling-scraping falsetto. Throughout this far-reaching pastiche, though, one can't help but hear Milton's echo. Her interpretations don't try to own the originals she covers, but she probes them deeply and reverentially to add dimension.
Clarice's vocals pull from a barrel of high jinks that find precedent in the number of Brazilian vocalists, such as Flora Purim, Tania Maria, and Badi Assad, who have taken their cue from the American scat-singing divas of mid-century. She even composed a concerto for piano, orchestra, and scat singing, called Scattered [see below]. Taking her imperative to explore human sound even further, she 'plays' various parts of her body for their tonal possibilities, almost like a one-woman Zap Mama. Her sounds, no matter their provenance, nor the boundaries they push, are never unpleasant.
Being captured by music and the daughter of a musical giant seems a gift of the gods, but family difficulties impinged when she was a young child, nearly breaking the spell. Her parents met when young, fell in love, and suddenly there was Clarice. The union lasted long enough for father and daughter to share formative hours making music, but these were over too soon.
Sergio Assad left when Clarice was around 8, off to Paris seeking success on virgin but savvy turf, and putting on indefinite hiatus those cherished sessions together. Infrequent visits couldn't reattach the torn ligatures, and Clarice abandoned music completely. "For so long," she remembers, "I didn't even touch the piano, or make any music at all because I connected it with him." After a time, though, she began to play again. "I realized I was doing it for myself," Clarice explains. The urge to continue her development was too great, the Assad legacy in her DNA.
Father and daughter began playing together again a number of years later when circumstances allowed. Their reunion has borne exquisite fruit. In 2016, they released Relíquia (Relic), an album of just Clarice and Sergio Assad (save spot appearances of clarinet, mandolin, drum and percussion). It's "about my urge to be with him… It's like a love story. Very emotional."
After just one or two plays the songs became familiar to me; they seem to mysteriously recall my own experience; and it's even as if I had been privy to Clarice's tender conversation with her father. "Ventos" (Winds), written when she was 13, perhaps her first finished composition, is zephyrean, with just a hint of turbulence, a languid and fulfilling integration of piano, guitar and voice.
Also on the album is "The Last Song", commissioned by Yo-Yo Ma. The song straddles the line between modern classical and popular music, as does a good many of Yo-Yo Ma's playlist, and he has performed it on numerous occasions. Relíquia, the album, is today's heirloom, intimate, elegiac and intelligent.
Off the stage, Clarice works with young people in schools in the US and Brazil under her initiative, Voxploration. She has led workshops with Middle School girls in Albany, New York, for example, using Lorde's Royals as a pivot, helping them to gain the confidence needed to express themselves freely, and in Brazil, her focus has been on integrating music, theater and storytelling, resulting in, she says on her web site, "magical improvised performances".
In formation now is her project, Fronteras (Frontiers/Borders), taking shape with a number of other women musicians from bases as diverse as the Orquestra Sinfonica in Rio; MPB; Pop-Rock-World percussion; and there's the unclassifiable Clarice. Fronteras will awaken and build on the shared musical traditions between people on either side of the borders between Brazil and 10 other countries of South America. Investigating overlooked genres, instruments and voices will add fodder for her ever-expanding repertoire and technical innovations. "There's a lot of music there [on the borders]", she says, "A lot of creativity". And she concludes, "We want to do what nobody has done before".
"What nobody has done before," has been defining in Clarice's music. No doubt, the results will be groundbreaking, and her time probing the frontiers will be "crazy" and "sweet".

Follow Sounds and Colours: Facebook / Twitter / Instagram / Mixcloud / Soundcloud / Bandcamp

Subscribe to the Sounds and Colours Newsletter for regular updates, news and competitions bringing the best of Latin American culture direct to your Inbox.
Share: