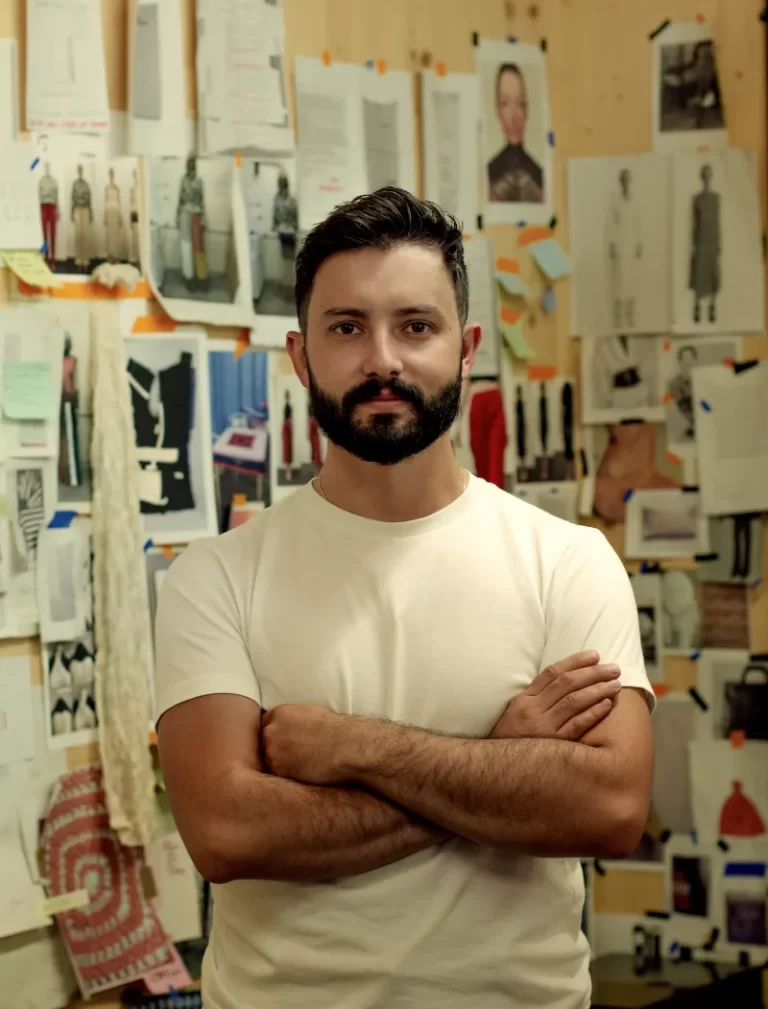 Brazilian designer Joao Marascin
Creating Ethical Clothing For All Body Types: A Conversation With Brazilian Fashion Designer Joao Maraschin
21 May, 2022
Joao Maraschin is a Brazilian-born designer based in the UK. His work focuses on social design and environmental accountability. He won the Graduate Award at Drapers Sustainable Fashion Awards on completing his MA in Fashion Design, an acknowledgement of his work to reduce the fashion industry's impact on the environment. He launched his namesake womenswear label at the start of 2020, and was invited by the British Fashion Council to present his work at the Positive Fashion Initiative during London Fashion Week in February 2020. With the UK going into lockdown shortly after, Maraschin was forced to re-think much of the strategy behind his launch as well as evaluating the purpose of his brand, leading him to further develop age inclusive designs, and deepen his partnerships with artisan and community groups in Brazil to re-purpose and up-cycle second hand materials as part of the supply process. 
He recently participated in the eighth edition of London Craft Week celebrating British and international creativity, where he led two hand-knitting workshops at the Mills Fabrica, using his upcycled materials.
I caught up with the designer to talk about the ethos behind his brand and how his Brazilian roots have influenced his philosophy.
Your designs provide for more mature women. I read that you had a project working with 20 60+ women in Brazil where they sent you 10 photos over 10 days of whatever they were wearing. Was this the seed of this focus for the brand?
Up until 2016 I'd been working with brands catering to a younger audience, which is who brands usually cater to.
But when I started my post-grad I became very much engaged with street photography – especially the work of Martin Parr – and started going to some of the places he photographed for inspiration. At the same time in order to have more of an intellectual engagement with the ideas that were emerging I decided to create a focus group. I worked with 20 women over a couple of months and we did interviews and fittings and I created prototypes around their bodies. Most of them were based in South Brazil – which is where I'm from – a few were in Sao Paolo and some in Belo Horizonte. I really wanted a diversity of women from all different backgrounds and ethnicities to celebrate women within the study and make sure I was looking into all possible directions in order to inform an outcome. The only thing the women had in common was the fact that they were all mature (above 60 years).
One of the things that came out of the design research was how certain lines on the body have to change because the body is changing. Sometimes very minimal subtle changes happen rather than a massive change. So I had to think about the materials we were using and what they can do. As a result I started looking at blend fibres to give me the leeway to achieve the outcome I'd identified was necessary.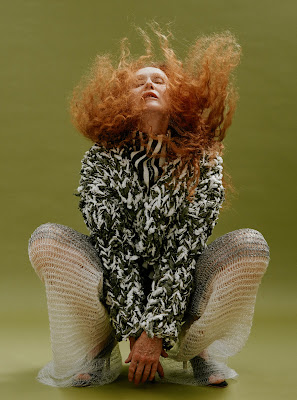 When you think of luxury womenswear young models market it, but the women who actually buy it tend to be older. So it's interesting that you're bypassing the younger models to sell it. How do you think that works and what has the response been so far?
There are still so many stereotypes in fashion that have to be unpacked and broken down. So far the consumer is receiving really well and I have people of all ages who are buying into the lifestyle of the brand. One of the successful outcomes that I've been having is that despite having the image of the brand on perhaps a more mature woman, there is a younger woman who is also aspiring to be that older woman. It's very much about shifting the narrative because the fashion industry has always looked at the more mature woman looking back and trying to be young. It's so rewarding for me to see the gap in the market and the opposite happening and the younger women looking at those women and aspiring to be them so buying into the brand for that reason. 
Considering this focus on plastic surgery and youth that is so prevalent in the world right now, and which we've seen so much of in Latin American culture, your designs are interesting because they are not sexy in that obvious way.
I think there is always that pressure of being sexy. Not only for the Brazilian market, but also globally. Because one of the weapons of the young is about being sexy brands always try and look in that direction in order to have a successful product to sell.
From an outsider's point of view I think women have always struggled because there's been that pressure of the size zero body shape and the conversation about body positivity and diversity is very recent. Many brands don't even acknowledge that still. Some of those more stereotypical ideas are being broken down and have been drifting towards much more positive signs in the last few years. It's always been something within the dialogue of my brand in terms of how do we challenge those perceptions and those ideas and pack them into something that has a vision and aesthetic but doesn't necessarily fall through the main categories that the market dictates.
Tell me a bit about your focus on environmental accountability and how that came about?
Through my work I've seen different approaches to craft and material and how you make a garment from beginning to end. One of the motivations I had when I decided to start this brand was what can I do differently, not just as a designer but also as a global citizen. The traditional way of working is that you buy the finished material that other companies have already developed or designed and then you work from that material. I wanted to look at the step before that. Instead of working with something that was already offered to me as a solution, I really wanted to go into the problem and see if I could perhaps discover another way of engaging with that specific problem. So that's why the agendas of social, cultural and environmental started to be so relevant. I started working with companies that had waste and didn't really know what to do with it. I also knew people that perhaps were approaching a retirement age but couldn't really afford to retire. So I started trying to tackle those problems and look at a collaborative way to work to find solutions to those problems.
On the environmental level I started collecting the waste from a few companies in Brazil that were already partners I had within the network of my business. Now their waste automatically goes from my studio and we work from there. So there is a pipeline that takes that waste into something that will become design afterwards. We take it from the supply chain and give it a second chance to become something else.
The materials range from fishing nets, to shirting material, to what's called selvage, which is the discarded edge of a piece of fabric. All the yarn that we bring into the embroidery is also from dead stock that we buy from second-hand sources to avoid buying from shops as a raw material.
I haven't reached a point where we're 100% sustainable yet- I think it is very difficult to be that completely – but there are things you can do to improve and do better, especially bringing second hand materials into the picture.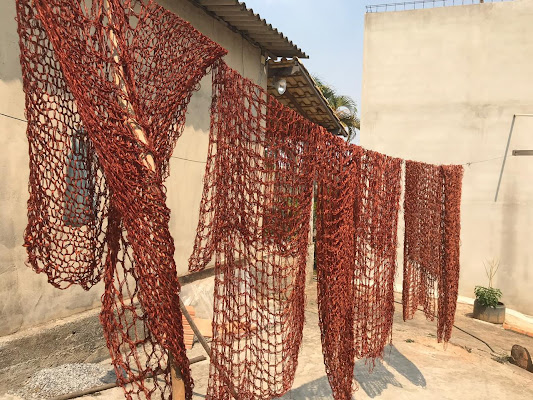 You've been described as a "community-led brand", how would you define that?
Brazil is such a huge country and there is craftsmanship everywhere. So one of my other intentions was not only to look back to Brazilian heritage and look to how those crafts and techniques have travelled to contemporary fashion but also to celebrate it by giving it an opportunity for it to be showcased in a bigger window perhaps.
So for instance I work with an embroidery community in Itabira, in the countryside of Minas Gerais in Brazil. They are skilled at their craft but need the bridge of design in order to find a new space in the market for those skills. So through our work with them we've found a new way to turn that traditional knowledge into contemporary fashion. We have a long-standing relationship and have been working together for over three years. For the people themselves, it's also a way of crafting clothing in a way that is ethical and rooted in the culture of a place.
What are the local groups you work with in Brazil?
There are two groups that re-work materials in order to make it into something we can knit with, another group works with fishing nets, the one with embroidery, and two with handmade knitwear (knit and crochet).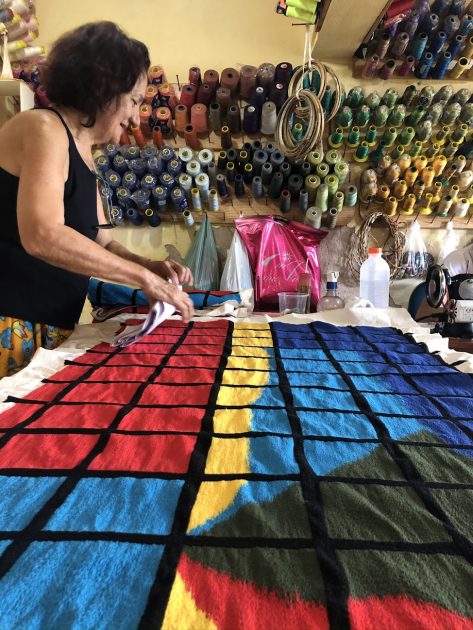 You worked in the fashion industry in Brazil for five years prior to coming to the UK – how did that impact your career?
I launched my first fashion label in Brazil in 2011 working for the local market. The product was contemporary but not handcrafted in the way my designs are now and we were working mainly with single-source materials such as jacquard and cotton. After a few years I decided to come to the UK to continue my studies. Studying at the London College of Fashion was the opportunity to create a bridge between what I'd been doing in Brazil while at the same time introducing some new ideas into fashion. 
Given your connection with Brazil, would you describe yourself as a Brazilian designer?
I love Brazil: it is where I am from and where I draw my main concepts and inspiration. But I live in Europe where the market is different and I have design codes of what people like here which are very different to ideas in Brazil. So I think its very much a kind of hybrid thing. I see myself as a hybrid to merging Brazilian culture with European culture. I create fluid and simple shapes but the colour and materials are informed by my Brazilian heritage.
Joao Maraschin will be launching his fourth womenswear collection at London Fashion Week in September 2022. Follow him on Instagram @joaomaraschin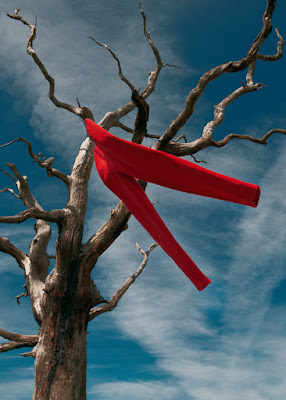 Follow Sounds and Colours: Facebook / Twitter / Instagram / Mixcloud / Soundcloud / Bandcamp

Subscribe to the Sounds and Colours Newsletter for regular updates, news and competitions bringing the best of Latin American culture direct to your Inbox.
Share: