Review
CSS – La Liberación
São Paulo's CSS are back after a three-year break with La Liberación, a third album which attempts to address the criticisms faced by their previous two. Their self-titled debut – released back in 2006 – was firmly positioned as a posturing throwaway, all sweary and light; 2008's newly-sober but somewhat weary Donkey, though, stripped CSS of their fun and outsider-ness. Here, the five-piece reclaim their sense of enjoyment and attempt to broaden their sound – but the sprawling experimentation of La Liberación isn't quite the best recovery strategy.
The 11-track set sees front-girl Lovefoxxx return to a brighter stomping ground, leading an overly eccentric CSS through the suburbs and out into the city. If this sounds familiar, it's because it's the premise their music's always been centred on; but here it attempts to push further forward, into a vulnerable mix that's more mature than their minor 2006 hit "Alala" and similar tracks' alternating mix of fragmented words and musical shards.
Lyrically, the sentiments throughout La Liberación come over as little better than inexperienced teenage emoting. The sincerity of break-up song "You Could Have It All" wilts into blandness, while the eccentric character in "City Girl" feels so over-trodden that they're contrite. Ideas run dry right at the beginning, with "I Love You" rather too Bridget Jones for its own good, and later on "Ruby Eyes" is an ode to spliffs not nearly interesting enough to merit its creation.
CSS's attempt at stretching their sound deserves some praise, but their success is limited. An unsuspecting venture into jaunty reggae, "Hits Me Like a Rock" – an unlikely duet with Bobby Gillespie – is a summery treat, all nimble and light. "Echo of Love" sounds like XTC doing the conga, while the title-track's flighty two minutes sit in welcome contrast to its heft – "La Liberación" translates as "the women's liberation movement". On a less positive note, "Partners in Crime" sounds messy, and the effortless grunge of "Rhythm to the Rebels" fails to engage.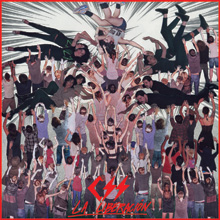 The experimentation here feels too concerned with that popular idiom of creating something for everyone, and the album as a whole suffers for its restlessness. La Liberación is so fixated on exhibiting its sense of fun that it forgets how to finish ideas in the process. And despite the vigour and intensity that CSS have aimed for, it's hard to see their dancey bungle coming anywhere close to the efforts of Sleigh Bells, Marina Gasolina and New Young Pony Club.
You can buy La Liberación from Amazon and iTunes.
Review originally published on BBC Music

Follow Sounds and Colours: Facebook / Twitter / Instagram / Mixcloud / Soundcloud / Bandcamp

Subscribe to the Sounds and Colours Newsletter for regular updates, news and competitions bringing the best of Latin American culture direct to your Inbox.
Share: