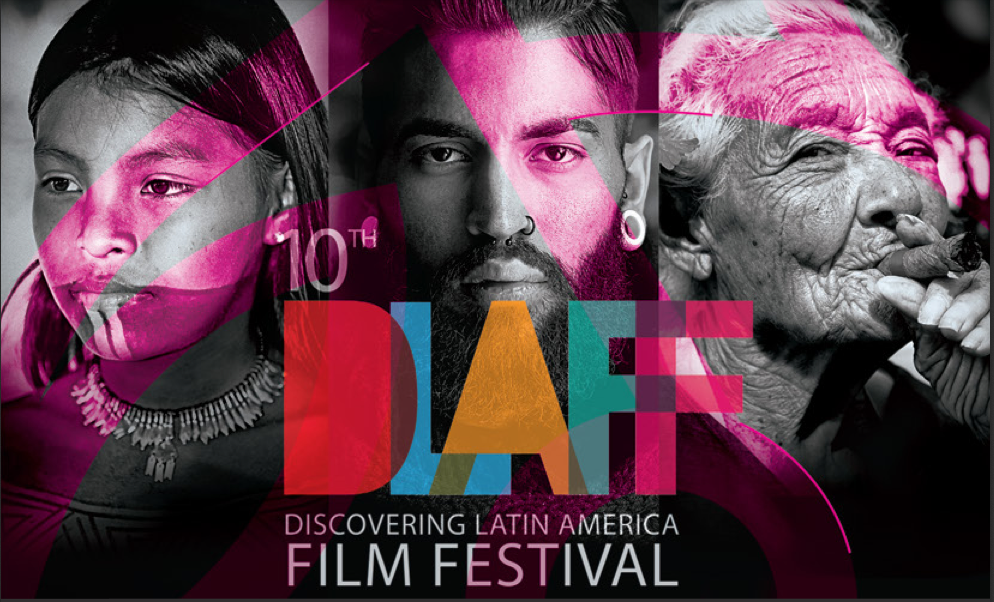 Discovering Latin America Film Festival comes to London from 27 Nov – 4 Dec
24 November, 2014
With several films making their UK premiere and as a platform for several of the region's most intriguing recent films, the Discovering Latin America Film Festival arrives in London this week, running from 27 November until 4 December and looking to highlight the growing global profile of regional cinema. For those of us stuck in London, while most of Latin America bathes in summertime or year-round tropical weather, it promises brief respite from the cold, not to mention the Central London goblin hordes doing their Christmas shopping way too early.
As the DLAFF celebrates its tenth anniversary in the capital, it will be working in association with and donating proceeds to a Latin America-based charity, Casa Alianza, which helps vulnerable children in Honduras, Mexico, Nicaragua and Guatemala through social programmes, structural support and legal aid. The festival is collaborating with a project entitled 'No child and their new born baby deserve to live on the street: supporting victims of trafficking in Guatemala through education and health provision'. The project aims to help some of the estimated 15,000 girls forced into the sex trade each year, almost all of whom come from impoverished communities with little or no legal representation and are lured by fake offers of employment.
With festival proceeds channelled towards assisting the less fortunate, not only will repeat visits acquaint you with a diverse spread of compelling filmmaking, it will also bring you a healthy dose of good karma. Full film details can be found on the DLAFF website, but here's an overview of what you can expect to find in the different sections.
Gala 
This section includes four critically-acclaimed films from the past year or two. You can read our review of Argentine director Lucia Puenzo's Patagonian thriller The German Doctor (Wakolda) here. Alejandro Fernández's Chilean noir To Kill A Man won the Grand Jury Prize at Sundance earlier this year and will appeal to aficionados of the gritty social realism bathed in palpable menace beloved of directors such as Shane Meadows and the Coens, while it also resembles recent US revenge thriller Blue Ruin. Orphans, from Costa Rican director Guita Schyfter,is a tale of forbidden love set under the choking conservative dogma of colonial Mexico. Ecuadorean representation comes in the form of Porcelain Horse, as two slacker brothers rob their own father in order to fund their drug habit, an act which will have serious and far-reaching implications.
Blockbusters
While hardly blockbusters in the James Cameron sense, the films in this section represent some of Latin America's best-received movies of the year. Daniel Ribeiro's The Way He Looks is a Brazilian human drama centred on 16-year old Leonardo, a blind teenager, and the impact the arrival of a new boy in class has on his friendship with Giovana. S&C recently reviewed the film, although my personal diagnosis was that it's much too sugary. The flaws and insecurities of the film reviewer are dissected in Argentine drama The Critic, from first-time director Hernan Guerschuny, while Selton Mello's philosophical Brazilian tragicomedy The Clown reinforces the view that life is a circus in which we are all participants, willing or not. The final film in the section, Colombian social treatise The Beach D.C., has received a lot of attention for its examination of the terrible internal conditions that have resulted in the displacement of entire communities. It sees teenage Tomás forced to flee his war-ravaged Pacific home region for the seething prejudice and mistrust of the big city.
Indie
The Indie section features another Colombian film with plenty of buzz about it. Dust On The Tongue follows an elderly man who, rather than die slowly of old age, wants his two grandchildren to kill him. With striking cinematography of Colombia's rural landscapes, Juan Andrés Arango's film riffs on family dissonance and carries a constant sense of looming violence, both physical and abstract. The second Colombian Indie selection is Chasing Fireflies, which centres on Manrique, a surly and exhausted mineworker reenergised by the appearance of his young daughter. A starker father-daughter relationship is featured in Guatemalan film Distance, which follows Tomas Choc as he prepares to be reunited with his daughter who was kidnapped by the army twenty years earlier. The film is presented in collaboration with the Casa Alianza organisation. Michael Lipkes' Malaventura focuses on the emotional shifts of an elderly man who wanders the streets of Mexico City lost in a fog of retrospection. Cuban film Green Green, by Enrique Pineda Barnet, is an urban essay set amid the backstreets and gay bars of downtown Havana. The same city is captivatingly portrayed in Daniel Diaz Torres' humorous drama Ana's Film, in which a local actress finds herself at a crossroads in life.
Documentaries
With such an impressive stream of documentary filmmaking coming out of Latin America in recent years, it takes something special to be selected among the three films in this section. The first is Juan Diego Kantor's Looking for the Huemul, a road trip through Argentina's Andean cordillera in search of the highly endangered deer and national symbol, the Huemul, which becomes a study of indigenous identity in the country. Bloomberg's Secrets, directed by Rafael Barriga, revisits Swedish explorer Rolf Bloomberg's travels to Ecuador and the Galapagos Islands during the 1930s, a period in which he documented many aspects of the country's indigenous culture and natural diversity. The final documentary on show is Adrian Arce and Antonio Zirión's Out of Focus, a look at the daily goings-on inside a juvenile detention centre in Mexico City and filmed during various workshop sessions with the young inmates.
One of the special events taking place is the Meet My World project, the realisation of a series of short films made by indigenous children from Peru's Andean regions, in association with the Amantani organisation which works with young people in the country. The films promote indigenous culture and educate audiences about life in these communities. Through film and other initiatives developed by the communities themselves, Amantani seeks to counter the often condescending attitudes that exist towards indigenous groups.
Finally, the festival will host a series of screenings and talks with Colombian filmmaker Luis Ospina. Ospina is the filmmaker behind the Grupo de Cali (The Cali Group), a film collective formed in the 1970s with a focus on experimental and social feature films and documentaries that is still running today. In association with Tate Modern, and taking place in the gallery's Starr Auditorium, these films address various aspects of Colombian and regional culture. Featured films include Grupo de Cali's earlier works See/Hear, Andrés Caicedo: Unos Pocos Buenos Amigos and The Vampires of Poverty, all directed by Ospina and Carlos Mayolo, through to Ospina's A Paper Tiger from 2007 and this year's Semper Fidel, directed by Robert Pietri. The events offer a rare opportunity to hear directly from one of Latin America's most important film collectives of the last few decades.
You can follow the Discovering Latin America Film Festival through Sounds and Colours. Check the festival website for full details of the programme, further events and all other DLAFF-related information.
Discovering Latin America Film Festival
27 November – 4 December
at Odeon Covent Garden and Tate Modern

Follow Sounds and Colours: Facebook / Twitter / Instagram / Mixcloud / Soundcloud / Bandcamp

Subscribe to the Sounds and Colours Newsletter for regular updates, news and competitions bringing the best of Latin American culture direct to your Inbox.
Share: