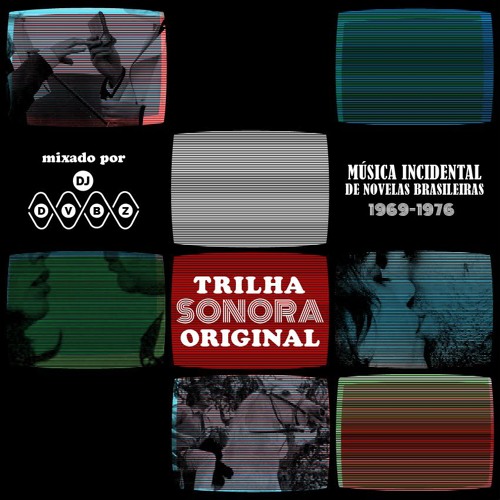 DJ DvBz's 'Trilha Sonora Original 1969-76' Brazilian Soap Opera Mixtape
10 August, 2016
Following on from his superb Tim Maia mixtapes from the last couple of years, Digital Vagabondz (aka DJ DBVZ) has put together this superb mix of tracks from Brazilian soap opera (or novelas, to use their Portuguese name) soundtracks.
Featuring 44 tracks from 1969-1976, all mixed from vinyl – this is some commendable crate-digging – the mix is a great journey through instrumental music from Brazil, including plenty of funk, pop, jazz and experimental contributions.
DJ DVBZ told us that he has been amassing novela records since he started DJing in the late 90s, finding they were "a cheap way to have a Kool and the Gang, Banda Black Rio, Gerson King Combo or a James Brown track to spin." In regards to those records he says that they "always have beautiful artwork, together with tracks sung by the stars of the time (or the artists the record companies wanted to turn into stars). The producers would also include some incidental instrumental tracks recorded for that novela. Sometimes it was the opening theme, a character's theme, or simply 'mood music'. Those were the tracks I started to pay attention to and that led me into doing this mixtape."
Here's even more from DJ DVBZ to describe the process. There can be no doubt that this one was a labour of love:
"These recordings were put together and arranged by maestros like Waltel Branco, Gaya, Chiquinho de Moraes, Rogério Duprat, Nonato Buzar, Erlon Chaves, José Briamonte and Arthur Verocai, that were employed by the TV stations for the job along with the producers and composers of the soundtrack. There were also great instrumental tracks recorded by bad ass groups and artists such as Azymuth, Wilson das Neves, Cesar Camargo Mariano, Chico Batera, etc.

In those recordings you can hear the influence of western spaghetti movies, blaxploitation funk, action TV shows, psychedelic rock movies, etc. The soundtracks of international movies of the time for sure served as reference for our artists and maestros to create their own soundtracks, but were composed and played with a special mojo that makes them so unique and original.

So, about two years ago I started to assemble those incidental tracks together. There were hundreds of novela LPs released in Brazil, so it was not an easy job to do. A lot of time was spent crate digging and on research until I felt satisfied with the selection and until I was almost sure I had every record that had a track that fit into my concept."
And there you have it. Some serious dedication and research went into this one, and it shows. Here's Brazilian music as seen through the lens of the country's soap operas, a concept made all the better by the fact this features some of Brazil's finest producers, arrangers and instrumental groups.
Listen to more from Digital Vagabondz at soundcloud.com/digitalvagabondz
[soundcloud url="https://api.soundcloud.com/tracks/277538142″ params="color=ff5500&auto_play=false&hide_related=false&show_comments=true&show_user=true&show_reposts=false" width="100%" height="166″ iframe="true" /]
01 Free Way – Erlon Chaves – E Nós, Aonde Vamos?
02 O Semideus – Orquestra Som Livre – O Semideus
03 Tema do Caveira – Orquestra Odeon – Jerônimo
04 Tarcisiu's Theme – Free Sound Orchestra – Cavalo de Aço
05 O Homem Que Deve Morrer – Nonato Buzar – O Homem Que Deve Morrer
06 Ciladas – Pery Ribeiro – O Espigão
07 Abertura – Orquestra Odeon – Jerônimo
08 Abertura – John Barrymore – Os Inocentes
09 Tema de Tucão – Orquestra Som Livre – Bandeira 2
10 Verao Vermelho – Nonato Buzar – Verão Vermelho
11 Cavalo de Aço – Guto Graça Melo – Cavalo de Aço
12 Forgotten Tears – Free Sound Orchestra – Os Ossos do Barão
13 Poor Devil – Free Sound Orchestra – O Bem Amado
14 Waltel Branco – 200 MPH – Assim Na Terra Como no Céu
15 Irmãos Coragem – Nonato Buzar- Irmãos Coragem
16 Tema de Zorra – Waltel Branco – Irmãos Coragem
17 Victor Tema – Arnaud Rodrigues – Tilim
18 Mom Ami – José Roberto – Assim Na Terra Como no Céu
19 Apolo IV – Azymuth (Mil Milhas) – Véu da Noiva
20 O Rebu – Orquestra Som Livre – O Rebu
21 Agora – Orquestra Som Livre – Corrida do Ouro
22 Jornada (Tema da Selma) – Wilson Das Neves – Verão Vermelho
23 Melô da Cuíca – Azymuth – Pecado Capital
24 Makaha – Marcio Montarroyos – Pecado Capital
25 Pela Cidade – Bertrami e Azymuth – O Espigão
26 Rumpi – Waltel Branco – A Moreninha
27 Os Povos – Erlon Chaves – Pigmalião 70
28 Nanã – Orquestra Som Livre – A Escrava Isaura
29 Ritual – Marcos Nobre e Orquestra – Selva de Pedra
30 Diana – Waltel Branco – Irmãos Coragem
31 Psicose – Eklipse Soul – Tempo de Viver
32 Cuca Legal (Ha Ha Ha) – Chico Batera – Cuca Legal
33 Tema de Cristina – Erlon Chaves – Pigmalião 70
34 O Bofe – Som Ambiente – O Bofe
35 Tema de Kiko – The Youngsters – Pigmalião 70
36 ZIP – Orquestra Briamonte – A Próxima Atração
37 Abertura – The Youngsters – Véu da Noiva
38 Tema de Cathy – Cesar Mariano – Divinas e Maravilhosas
39 Perseguindo Linguinha – Orquestra Som Livre – Linguinha
40 Professor Borboleta – The Clowns – A Patota
41 Tema de Ricardinho – Waltel Branco – Assim Na Terra Como No Céu
42 Tema, R – Aloisio – A Viagem
43 O Trem – Orquestra Som Livre – Anjo Mau
44 Granizo – Orquestra Som Livre – Corrida do Ouro

Follow Sounds and Colours: Facebook / Twitter / Instagram / Mixcloud / Soundcloud / Bandcamp

Subscribe to the Sounds and Colours Newsletter for regular updates, news and competitions bringing the best of Latin American culture direct to your Inbox.
Share: