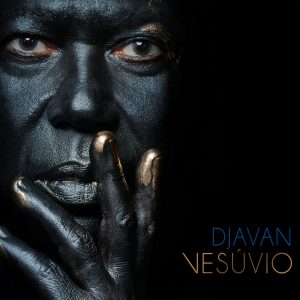 The ever youthful Djavan Caetano Viana is 70 now. It's 43 years since his first album saw the light of a Brazilian day. Understandably the pitch of his enthralling voice has dropped a little, but the march of time hasn't dulled his keen ear for a melody. The opening wistful title track confirms as much. In fact, the 10th of the 13 numbers on the album, "Meu Romance", is so gorgeous that the melody reappears as a bonus track – in the guise of "Esplendor" and with the participation of fellow vocalist, Jorge Drexler. It's as if Djavan is some kind of musical puppet-master: he knows exactly what impact his songs have and knows when and how to pull on the heart strings.
Sometimes in the past he has tugged a little too hard and ladled extra syrup onto the confection with strings and choirs and such like. He can be too knowing, laying him open to claims of banality. The beauty of this release lies in its simplicity and maturity. He has learnt over time that he doesn't need to over-egg the pudding. Just as the songs all come in at around a concise three- to four-minute mark, so the band is a basic, uncluttered combo throughout: permutations of bass, drums, guitar, keyboards and Djavan's own acoustic guitar or occasional viola. Beauty is the order of the day, and most of the tracks are built around a slow to medium tempo. But he can still funk for fun when he wants to: there's a hint of slapped bass, for example, on "Cedo Ou Tarde" and the organ and vibes combination on "Um Quase Amor" lends the number a dash of '60s Blue Note soul-jazz.
As a boy, Djavan listened to everything he could find – from Bach to Jobim to Miles Davis – in the collection of a school friend's father. It was Dr. Gatto and Djavan's mother, Virginia, who did the music world a service in steering the talented youth towards a recording studio rather than a football pitch. If the prodigy's songwriting facility in the past has occasionally led him off on an easy-listening tangent, there's nothing facile about any of the numbers here. Each song has its merits and betrays the many musical influences that have defined a long career at the forefront of Musica Popular Brasiliera. Whether the dominant note is rock, folk, funk, bossa or jazz, the majority are sung straight, with few embellishments, letting that remarkable voice do the business. He might scat around a bit on "Mãos Dadas", but it serves to remind us that his songs have been covered by everyone from Carmen McRae and Al Jarreau to Manhattan Transfer. fake id connecticut
In his native Brazil, all kinds of Hall-of-Fame artists have recorded Djavan numbers. Sony Records knew what they were doing in giving him his own label; his popularity is assured – and Vesúvio should reinforce it. The new album is one of his most consistent in years and for that reason one of his strongest. Buy it without qualms.
Vesúvio is released by Luanda Records and available on Spotify, Apple Music, YouTube and other platforms.
Djavan will be touring Europe in November 2019 with dates in London and Paris as well as Spain and Portugal. See all upcoming tour dates at songkick.com/artists/152789-djavan

Follow Sounds and Colours: Facebook / Twitter / Instagram / Mixcloud / Soundcloud / Bandcamp

Subscribe to the Sounds and Colours Newsletter for regular updates, news and competitions bringing the best of Latin American culture direct to your Inbox.
Share: