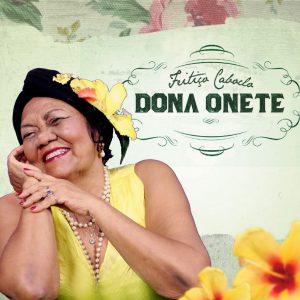 To introduce her by saying that Dona Onete is a 73-year-old singer who has just released her début album, doesn't quite do justice to an artist "entrapped" for decades in the body of a history professor and the Municipal Secretary of Culture of Igaparé-Miri. For that, believe it or not, is the reality.
Dona Onete kept her artistry and musicianship a secret (at least to those outside her town): preserving her talents for years until, in 2007, she was finally discovered by Coletivo Radio Cipó and bloomed like a well-nurtured seed.
Reading her lyrics and considering the way she interprets them, you might even say that she blossomed overnight like a wild rose. Because, Dona Onete talks and sings about love, passion and ardour and she does it like a teenager who still has faith in true love and sentiments.
She craves for kisses and amorous lips, but at the same time, she also discloses her life and her experiences. The Paraenense singer indeed is a skillful interpreter of her hometown reality: through her lines, which at times feel like inspired poetry verses, Dona Onete discloses the everyday life of the Northern Brazilian small town of Igarapé-Miri, a hundred miles from from the nearest big city, Belém.
She portrays the images and the rhythms of an entire state: the Pará State, which is a region that has hardly enjoyed musical tributes or artistic homages. But Dona Onete couldn't do otherwise. She was born and lived all her life in the North and she dedicated her soul to that land: hence, it was inevitable for her to reflect her homeland in her music. She has also spent years studying, protecting and spreading the traditional carimbó style, developing her personal variance called carimbó chamegado.
Feitiço Caboclo, her first discographic trace, is all that and even more. As, next to the traditional characters of the Amazonian land, there are also all the influences the so-called "Diva do carimbó chamegado" has gathered together in the last… 70 years. In Dona Onete's arrangements and textures there's an enviable richness. Her music is a treasure trove filled with tropical sounds, folkloric melodies, Latin vibrance and West African flowing dance tunes.
That's how, after the opening "Feitiço Caboclo", which introduces the listener to the heartfelt singing of the Paraense artist and the rumba-like rhythms characterising many chapters of the album, Dona Onete immerses her work in the most tropicalista atmospheres possible.
[soundcloud url="https://api.soundcloud.com/tracks/65357334″ params="color=ff5500&auto_play=false&hide_related=false&show_comments=true&show_user=true&show_reposts=false" width="100%" height="166″ iframe="true" /]
"Carimbó Chamegado" represents her trademark and her distinctive musical style, identified by lively harmonies, energetic percussion and shaking rhythmic decoration: an explicit invitation to dance. Feitiço Caboclo runs for more than 40 minutes on a genuine and fervent mood; passion and devotion for tradition go side by side and inspire a flavourful album in which Dona Onete finally exposes her talent.
Slow-tempo and melancholic serenades like "Poder da Sedução" and "Rio de lágrimas" alternate themselves to vigorous and dynamic songs like "Balanço Crioulo" and "Lua Namoradeira" and smooth moods like "Boi Guitarreiro".
After all, it is not surprising to find out that a juicy and delicious work like Feitiço Caboclo is the first album from a "newcomer".
[soundcloud url="https://api.soundcloud.com/tracks/66602105″ params="color=ff5500&auto_play=false&hide_related=false&show_comments=true&show_user=true&show_reposts=false" width="100%" height="166″ iframe="true" /]
Because, even if Dona Onete is a 73-year-old debutant, she has also lived all her life nursing her music and cultivating her piquant and distinctive style.
Feitiço Caboclo is released by Mais Um Discos and available from Amazon UK, Amazon US and iTunes

Follow Sounds and Colours: Facebook / Twitter / Instagram / Mixcloud / Soundcloud / Bandcamp

Subscribe to the Sounds and Colours Newsletter for regular updates, news and competitions bringing the best of Latin American culture direct to your Inbox.
Share: