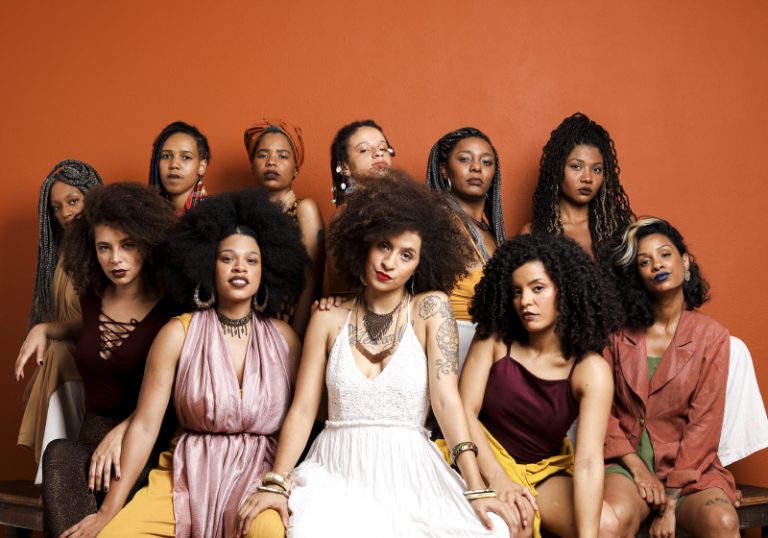 É Funmilayo! The Women Redefining the World of Afrobeat
02 April, 2020
Brazil's Afrobeat awakening is nothing new. However, for Funmilayo Afrobeat Orquestra, claiming their space on the global Afrobeat scene is something revolutionary.
Founded a little under a year ago, the eleven-piece group emerged as the world's first Afrobeat band composed of only black women.
In a genre that has typically restricted the role of women to choral vocalists and back-up dancers, this musical collective are widening the Afrobeat realm to encompass a black female sound. They were united by their common goal to take a stance and reclaim the stage, and together, the São Paulo-based women offer the irresistibly compelling key elements of the Afrobeat groove, with its dynamic percussion, energetic brass and bold vocals.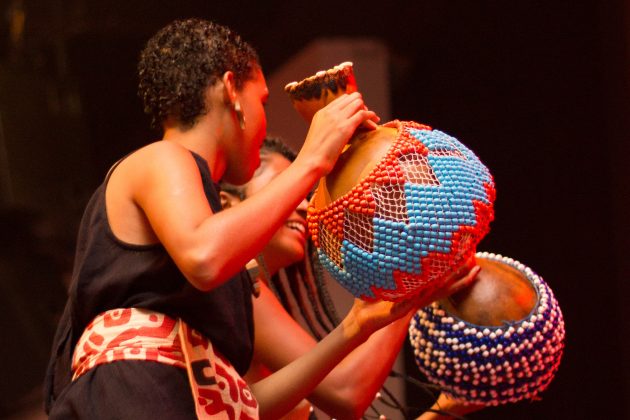 Beyond their instruments, their goal is to also play a functional social role. Funmilayo have emerged as a seed of hope at a critical point in Brazilian politics, embodying the struggles and ideals of women striving for a more equal world, and acting as a soundtrack to the rising resistance of a group that has long been subjugated.
"This is an impetus for other women to continue fighting and believing," say the collective.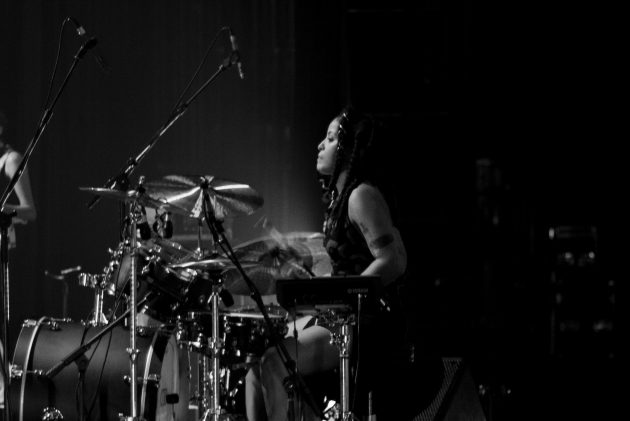 The name Funmilayo pays tribute to activist Funmilayo Anikulapo-Kuti, founder of the Women in Nigeria Association, a main figurehead in the women's struggle for freedom and right to vote, and mother of the legendary Fela Kuti – the Nigerian musician who popularised Afrobeat.
Stemming from West Africa, the genre is a cross pollination of Yoruba music, high life, funk and jazz. Its repetitive lyrics are often packed with political platitudes, alongside social commentary. Continuing the Afrobeat legacy, and Kuti's mission to not only raise consciousness, but fight for political and social change, Funmilayo are doing exactly that. This time, for Afro-Brazilian women.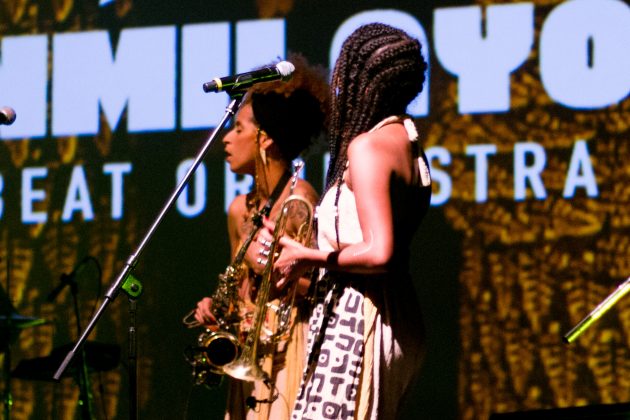 Influenced by the likes of Sueli Carneiro, Lelia Gonzales, Beatriz Nascimento, and Angela Davis, the eleven musicians that make up Funmilayo have set out to mitigate the lack of space and representation given to Afro-Brazilian women.
"We wanted to reclaim black protagonism in Afrobeat. Since the majority of the current groups are led by white people, carrying out this project at the hands of black women adds meaning to the search for female protagonism in a musical genre that owes a lot to women."
"Negração", their debut single was released last November in honour of Black Conciousness Day. It's a powerful song about building self-love as a black woman, whilst navigating the intersectional experiences of racism, sexism and classism in the society in which they live.
"Black women have historically played an essential role in social struggles, occupying different trenches. We are in difficult times with high rates of femicide (especially among black women), poverty and police violence increasing. We hope our music will spread a message of resistance and struggle, leading people to reflect and take a stand."
"Negração" is a song that embodies exactly what they're about. It's a powerful honouring to the late councilwoman Marielle Franco, whose name and image have come to embody the struggles and inequalities being fought by women of colour, not only in Brazil, but around the world. The song begins with the bone-quaking cries of "Marielle Presente!" (Marielle is here!) – a soundbite of the calls that have since reverberated through the streets of Brazil and beyond, decrying her death. It's a fierce and nostalgic song, echoing the tones of its predecessors.
"We wanted to help preserve the collective memory of Marielle. But we also wanted to reinforce that she was a black, LGBTQ woman of simple origin, and it was for these people that she fought. This is an important point in light of the symbolic disputes that exist around her image".
"Negração" powerfully sifts between its socially conscious political messaging and its eclectic poly-rhythmic instrumentation.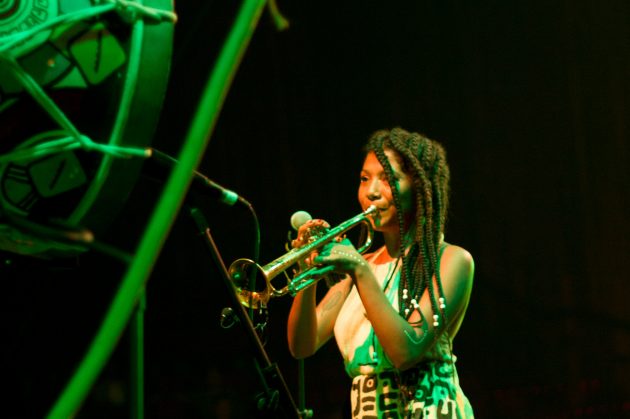 The welcoming trumpet introduces an energetic yet hypnotic melody. The heavy brass and saxophone solo strengthen its jazzy undertones, and it's beautifully upbeat rhythms reach a satisfyingly bold finish, making this a mesmerising piece of music.
Enlaced within the technicalities of the musical project itself comes a sense of collective solidarity. Afrobeat is free form, and composing as a group of eleven is no easy feat, each member contributing their individual personalities and flare. They have to connect to progress with improvisations, building a place of understanding. Funmilayo herald this creative freedom their group has to offer. "We add ideas and build the songs together, testing suggestions during our rehearsals until we reach something we're all satisfied with."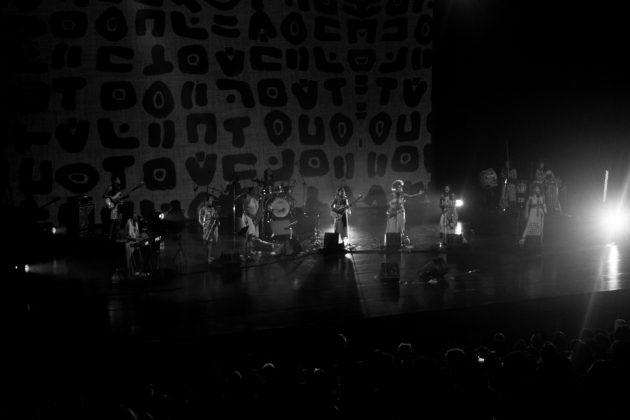 Discussing Brazil's emerging Afrobeat scene, they believe "the greatest contribution of these groups and ours, is in the mix of African references with Brazilian references, present in the instrumentation, themes and rhythms."
"Negração" is a just taster of what the group intend to do. Enthusiastically speaking about future collaboration, they expressed an interest in working with the likes of Elza Soares, Seun Kuti, Sandra Iszadore, Esperanza Spalding and Erykah Badu to name but a few.
Their music manages extraordinarily to be simultaneously fun and ferociously thought-provoking. It is a brave project, and a strong contribution to redefining the genre to include the female perspective.
As Funmilayo continue in their mission, there is no doubt that they are true bearers of the Afrobeat spirit. Expect more as they evolve.
Stay up-to-date with Funmilayo on Facebook and Instagram. "Negração" is available on Spotify.

Follow Sounds and Colours: Facebook / Twitter / Instagram / Mixcloud / Soundcloud / Bandcamp

Subscribe to the Sounds and Colours Newsletter for regular updates, news and competitions bringing the best of Latin American culture direct to your Inbox.
Share: