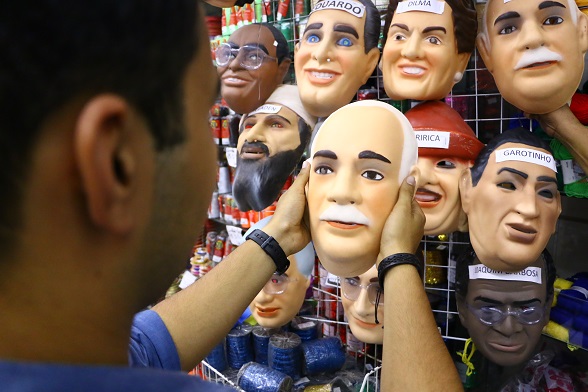 Economic Crisis and Zika Virus Threaten Carnival But Not Creativity
06 February, 2016
Think carnival and outlandish costumes, blaring samba beats and frenetic crowds under the blazing sunshine will probably spring to mind. However, the media focus this year has undoubtedly been on the hardships faced by Brazil in the run up to the five day celebrations. As an economic crisis and public health emergency cast a dark shadow over Brazil's annual dose of revelry; the media's portrayal of the run up to festivities has been ominous, spelling disaster for celebrations and the Olympics that lie ahead.
Carnival has been described as an 'explosive cocktail' for the spread of the Zika virus and security measures and educational campaigns are already in full swing.  Additionally, with the value of Brazilian currency drastically plummeting, budgets are being cut at every turn impacting the funds made available for blocos, the local street parties that characterise the nationwide event. Celebrations and parades have already been cancelled in areas such as Cabo Frio, Morretes, Irati, Lagoa Formosa, Porto Ferreira and Rolim de Moura, amongst others, to use funding for more basic necessities such as ambulances.  "We know how important carnaval is, but at the moment it's time to save," Luizão do Trento, Mayor of Rolim de Moura said. However, many insist that this year's challenges are actually bolstering carnival, not least in terms of creativity.
Lack of funds mean costume and float designers at samba schools are turning to recycled objects to create this year's parades sustainably and on a shoestring budget. "At the school we've always learnt the importance of reusing every material to create something new," Thiago Vieira, alumni of technical arts school Faetec, has said. People are coming together to give back to the community during this year's festivities. As blood donations are reported to reduce by half over carnival period, a blood donation bloco has been created to raise awareness of the increasing demand for donations and of shared social responsibility. Last year over 400 people gave blood, and it's hoped that many more will participate this year.
Samba artists are also drawing inspiration from economic hardship and political corruption in their music. This year songs inspired by the political landscape are set to be some of the biggest hits during carnival. In fact, out of the 611 songs entered into Rio Carnaval's competition, 120 criticise current leadership and many refer to Operation Car Wash, an investigation into the corruption of state-run oil company Petrobas.
For some, it appears that this year's carnaval is less a means of escapism and increasingly a forum for political expression. Olga Valles, owner of one of the largest carnival mask factories in Brazil, has said that each year different figures inspire different masks. Speaking with the Financial Times Olga said: "This year only our witch and monster masks are doing well… politicians are not having a good year." Organisers say that lack of funds is actually fuelling creativity as people are inspired by the economic climate. "We'll have carnaval no matter what, regardless of the crisis," says Rita Fernandes, president of bloco association Sebastiana. "It seems like economic difficulty adds to people's desire to go out into the streets and party."

Follow Sounds and Colours: Facebook / Twitter / Instagram / Mixcloud / Soundcloud / Bandcamp

Subscribe to the Sounds and Colours Newsletter for regular updates, news and competitions bringing the best of Latin American culture direct to your Inbox.
Share: