Ever wondered what it would sound like if Sao Paulo's underground scene decamped to the US, joined up with a number of jazz musicians and hip-hop MCs, and attempted their own unique version of Sly & The Family Stone? Ekundayo is pretty much what that would sound like.
In 2008, hip-hop MC and beatmaker Mike Ladd came to Sao Paulo to perform some shows with Sao Paulo Underground (Rob Mazurek, Guilherme Granado and Mauricio Takara) and Mamelo Sound System (MCs Lurdez da Luz and Rodrigo Brandao), under the title of Colaboratório. It was a chance for all involved to create something unique, a sound that used both electronic sounds and live instrumentation, that featured MCs with alternate New York and Afro-Brazilian flows, and that had a truly Brazilian rhythm at it's heart. Those shows have now transformed into a group and album called Ekundayo, which has also seen their ranks swell with legendary percussionist Naná Vasconcelos and producer/musician Scotty Hard joining the group.
The album starts with a squealing distorted guitar intro, before kicking off proper with "Macumbeiro Então", a song that perfectly showcases the differing vocal styles of the rappers involved; Rodrigo Brandao instantly snapping into his fiery tribal growl, Lurdez da Luz offering a little more sweetness but no less urgency, and then Mike Ladd, whose delivery could not be anymore languid in comparison. This trio of voices are at the heart of the album's signature songs, tracks like "$elva Do Dinheiro", "Em Nove" and "Family Thang" that perfectly fit into the Sly and the Family Stone influence mentioned earlier. It's that same mix of funk, jazz and psychedelic though updated to the noughties with hip-hop and avant-garde aesthetics added to the mix.
Rob Mazurek's cornet, which comes in and out of focus, as well as Naná Vasconcelos doing his normal routine of finding strange percussive textures, are key to the sound, with the others adding layers of beats and electronics. And at times the MCs are nowhere to be seen, and these moments herald some of the album's more subtle highlights. "Freak Rocker" finds a place between the industrial style of Granado's Bodes e Elefantes project and Mauricio Takara's percussive trio M. Takara 3. Even better though is "Just Love" with Granado's vibraphone and Mazurek's cornet at the heart of this killer slow jazz number. It's got one of the album's simplest melodies, played by alternating instruments until voices rise up in the background to take it on.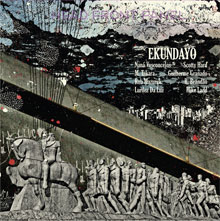 Rock does not have a great history with "supergroups", which ultimately is what this group is. There are normally just too many egos and the artists keep all their best songs for themselves. With Ekundayo there is no doubt that everyone is reading from the same page, and despite coming from so many backgrounds, they are able to produce an album which at times flies off the handle with it's hard-edged hip-hop, which at times delights in it's simplicity, but that remains fascinating throughout. It truly is one of the best collaborations you will hear all year. A triumph from start to finish.
Ekundayo has been released by Ropeadope records. You can buy the album as a vinyl/download at ekundayo.ropeadope.com/album/ekundayo

Follow Sounds and Colours: Facebook / Twitter / Instagram / Mixcloud / Soundcloud / Bandcamp

Subscribe to the Sounds and Colours Newsletter for regular updates, news and competitions bringing the best of Latin American culture direct to your Inbox.
Share: