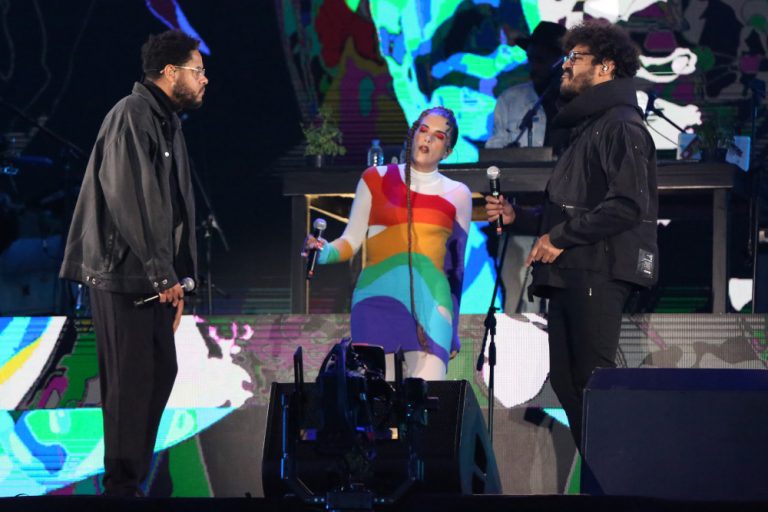 Denilson Santos & Francisco Cepeda
Emicida, Criolo & Céu Join Forces To Promote Message of Inclusivity at João Rock Festival
27 June, 2022
First off, the festival João Rock, set in Ribeirão Preto in the interior of the country, pulls off a remarkable feat in that it doesn't need any international names to bring in over 70,000 people to a 100% national music festival in a region where country music (sertanejo) is the dominant genre. 
The line-up is a mixed bag, where you have some of the real old guard playing gaúcho rock, jovem guarda(!), 80s Brock, and noughties pop punk – all no doubt bolstering their pensions – rubbing shoulders with the new Brazil trap/rap/funk crews like the charismatic Matué and Belo Horizonte's prime export Djonga, all of whom, frankly, blow the old geezers out of the water, music, performance, and relevance-wise. It's like your eternally unhip uncle who plays in a cover band has programmed a festival with his rap obsessed nephew. The only real concession to the interior in this line-up are Roça Nova (nice pun on bossa nova) who play rural rock music steeped in the dry sertão of Zé Ramalho, folk music from the interior of Bahia.
However, here we're in the agribusiness capital, prime Bolsonaro territory. Ribeirão Preto is a city whose wealth came first from coffee and when that collapsed the sugar and ethanol industry took over. It's a city of highly selective affluence.
Which is why this inaugural show of Céu, Criolo and Emicida was so intriguing. Rumours were circulating during the day that the show was going to be militant, but what we were treated to was actually more subtle and more humanistic than that.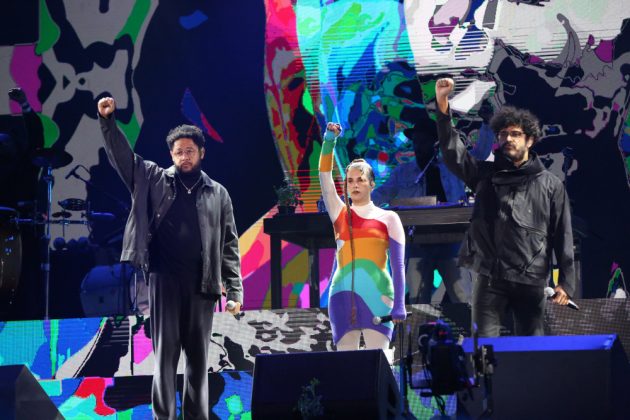 The show opened with raised fist black power salutes and a voiceover demanding food on the table for a country that deserves better. Just before stepping on stage, Criolo spoke on live TV asking everyone to remember the dead from COVID-19, citing the numbers, nearly 670,000, Emicida at his side, nodding gravely. This was an important reminder, the election is coming in October and here in the land of Bolsonaro over 72% of the population voted for him and I believe a substantial amount of these same people will vote for him again despite everything that has happened. Lest we forget, Bolsonaro acted out of pure political spite by deliberately blocking the COVID-19 vaccine that was developed by the internationally renowned Butanta research centre after they repeatedly sent official requests asking how many vaccines would be needed by the government. I am in no way exaggerating when I say Bolsonaro is personally responsible for thousands of deaths due his vaccine-delaying pettiness.
Even without the politics, there is the sheer bravado of artists like these headlining a rock festival. Tracks were evenly split between the trio's careers, taking in Criolo's "Convoque seu Buda", the political rap rock of Emicida's "AmarElo", the modern MPB of Céu and covers including the early samba of "Carinhoso" by Pixinguinha and "Nada Será Como Antes" by Milton Nascimento. Another cover, "Haiti" from Tropicália 2 by Gil Gilberto and Caetano Veloso still rings true, comparing Brazil's socioeconomic and racial situation to Haiti. The back projections showed the student protests of 1968 as well as icons of the black movement such as writer Sueli Carneiro and actor Milton Gonçalves.
The response may have been muted in the VIP area, but the inclusive and racially diverse crowd, who are the true heart of the festival, were all on board when Emicida asked them to send the trash back to the sewer where it belongs. The arts continue to be under attack and I'm so glad Brazil is producing pop stars like these: successful, adored but angry and political while ultimately spreading a message of love and understanding.

Follow Sounds and Colours: Facebook / Twitter / Instagram / Mixcloud / Soundcloud / Bandcamp

Subscribe to the Sounds and Colours Newsletter for regular updates, news and competitions bringing the best of Latin American culture direct to your Inbox.
Share: