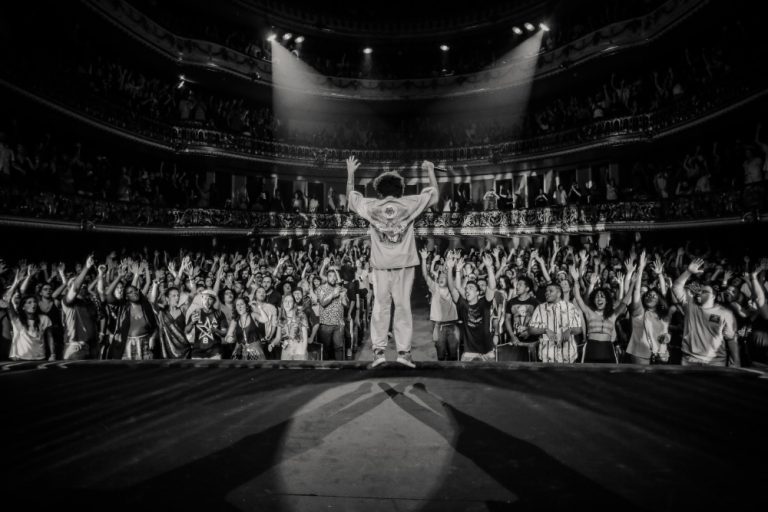 Photo: Jef Delgado
Emicida's 'AmarElo' Documentary Is Necessary and Essential for Brazilian Society
|

15 December, 2020

"Exu killed a bird yesterday, with a stone that he threw today". For some time now, Emicida has shared this Yoruba saying (Yoruba is a language spoken in West Africa, mainly in Nigeria). The enigma contained in it is revealed during the three acts of the documentary AmarElo – É Tudo Pra Ontem (It's All For Yesterday), currently on Netflix. The plot has as its starting point a historic performance at the Theatro Municipal de São Paulo (Municipal Theatre of São Paulo) on November 27, 2019. I was present on that magical day to observe the presence of those who never had access to this place, a venue historically used by the bourgeoisie. To contextualise his arrival there, Leandro Roque de Oliveira (Emicida's birth name) immerses himself in the Black history of Brazil, offering an account of the neglect and exclusion that Black Brazilians suffered following the abolition of slavery. His aim is to rescue the history (erased over decades) of Black people who were essential to the development of Brazil in various ways. Its focus is firmly on São Paulo, his birth city, which was directly and indirectly built, partly-designed and reformulated by Black hands, such as those of the enslaved Tebas, responsible for the stylistic renovation of the centre of São Paulo in the 18th century.

Despite countless reasons and possibilities for wanting to take revenge, the film narrated by Emicida himself (and directed by Fred Ouro Preto) follows another direction to celebrate the lives of the people who set the path, and show that the current reality can only be transformed with the union of all. The singer and composer Mateus Aleluia summarises the ideas: "We were born to live included, not disassociated".

Act 1, "To Plant", begins the hero's journey. Tebas is the one who links the past to the future. The connection goes through the Modern Art Week of 1922 (held in the same theatre), emphasising the work of Mario de Andrade, one of the few non-whites to organise this event that revolutionised the country's artistic and cultural movements, despite many controversies and criticisms. It continues through samba, which went down the hill to win the world with Oito Batutas (Pixinguinha, Donga, China, José Pernambuco, Jacob Palmieri, Raul Palmieri, Nelson Alves and Luiz Silva) and influence Brazilian rap. "Samba is the Brazil that worked," says the rapper. Even though he was influenced, the MC "took time" to make the samba-rap fusion. That changed when he met one of his guides: the legendary drummer Wilson das Neves. Their musical partnership turned into a great friendship that lasted until Wilson's death in 2017. "I cried for days, but the pain of the loss was always interrupted by a funny memory of him".

The insertion of this musical genre, rooted in Black culture in Brazil, into rap only really happened for Emicida with AmarElo (his latest album). This combination, which he calls neo-samba, a nomenclature initially not well received by music critics and journalists (such as myself), and connoisseurs, also has to take into account that this is a rap record with elements of samba, samba-rock, soul and jazz. It is an expansion of the styles embraced by him until now, with a texture that shows all his influences.

In Act 2, "To Irrigate", two intellectual women, linked to samba, stand out: Lélia Gonzales, anthropologist and teacher, and Leci Brandão, samba musician and politician. Lélia was present at the action of the Movimento Negro Unificado (MNU) (Unified Black Movement Against Racial Discrimination), which gathered a crowd on the steps of the Theater Municipal, on July 7, 1978, to protest against racism and police violence. Forty-one years later at Emicida's show and Black Brazilians met again in the same place, but no longer outside it, to celebrate an achievement that was only possible because of the sweat, tears and blood of those who came before. Four members of the MNU who led the protest in '78 were present in the audience and were honoured by Emicida. "So that today we are in that place that was denied to our ancestors, many people sweated and bled on the way".

This return trip is extremely necessary. The film brings up relevant facts that many Brazilians do not know about (due to the "plan" of historical erasure promoted over the years). The journey of all the characters mentioned by Emicida were essential for him to arrive at that moment. "It's like opening a portal and all those brabos [people who have overcome many difficulties] who came before me said: man, come on", he observes. "Life only makes sense when we relate, when we meet". Act 3, "To Harvest", reflects all of this. But it also recalls the legacy of Abdias do Nascimento (actor, poet, writer, playwright, university professor, politician and creator of Teatro Experimental do Negro, abolitionist Luiz Gama and actress Ruth de Souza, the first black protagonist of TV and theatre and the first black artist to perform at the Theatro Municipal do Rio de Janeiro (Municipal Theatre in Rio de Janeiro). The documentary ends by paying homage to the sociologist and politician Marielle Franco, murdered on March 14, 2018 in Rio de Janeiro.

Emicida's visual record contributes to society as it presents the importance of men and women who dedicated their lives to transforming the country. What they have done in the past still reverberates today, and the film is essential for these voices to be heard by more people around the world. "All of our chances of fixing past discrepancies live in the now".

Watch AmarElo – É Tudo Pra Ontem at Netflix


Follow Sounds and Colours: Facebook / Twitter / Instagram / Mixcloud / Soundcloud / Bandcamp

Subscribe to the Sounds and Colours Newsletter for regular updates, news and competitions bringing the best of Latin American culture direct to your Inbox.
Share: