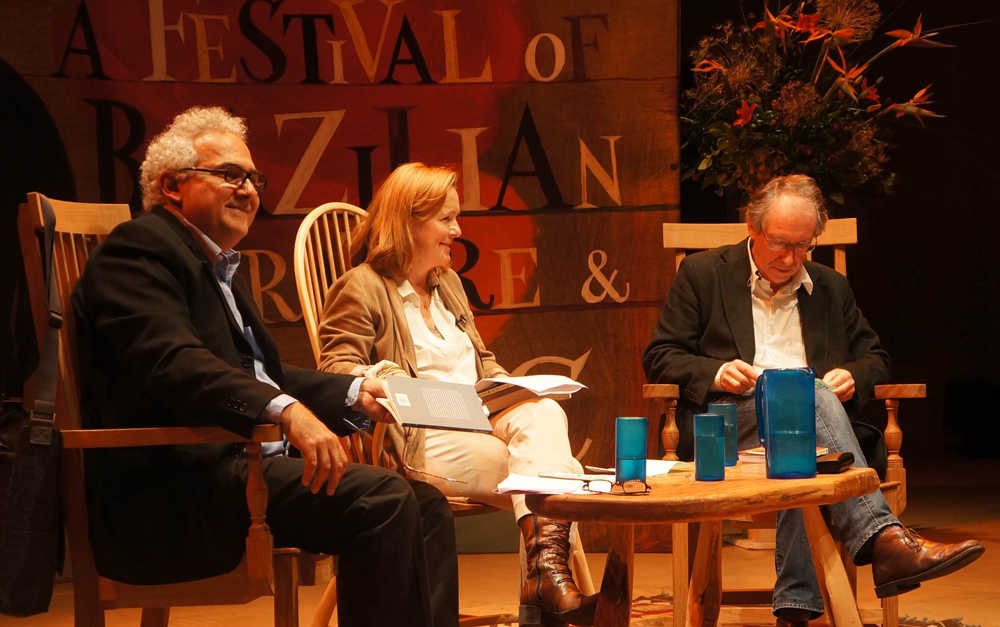 Flipping Brazilian Literature On Its Side
01 November, 2013
Snape Maltings – an ornate/rustic (they can co-exist) micro village built for Benjamin Britten recitals and related hijinks – was the setting for the inaugural FlipSide festival, an event billed as "a festival of Brazilian literature and music." The idea was simple: to recreate the hugely successful Flip literary festival that happens every year in Paraty, Brazil and which single-handedly started the craze for literature festivals in Brazil – Flip was the first event of this kind in Brazil, and now there are hundreds of them.
And truth be told, it kind of worked. Well-known Brazilian authors such as Milton Hatoum, Adriana Lisboa, Bernardo Carvalho and Patricia Melo were joined by UK counterparts Ian McEwan, Will Self and Blake Morrison. Along with recitals of their work and questions about recent releases, many of the writer discussions ended up focusing on identity and the state of Brazil. In this regard, Milton Hatoum was of particular interest, with perhaps his peregrinate life allowing him to distance himself slightly from Brazil, especially from its big cities (which have a life of their own) and give some real insight. When generalising about the Amazon (Hatoum was born in Manaus) it was great to hear Hatoum explain that Manaus and Belém (the other big Amazonian city) are close, being just a four-day boat ride apart. Which put some of the discussions into perspective, as to get an understanding of the current economic and social climate in Brazil at the moment its essential to listen to as many voices as possible. It's for this reason that it was frustrating that the Brazilian author Ferréz was so under-utilised at the event.
Ferréz is an author from the Capão Redondo neighbourhood of São Paulo. The area is known as being on the "periphery" of the city, a loaded word which has both geographic and social implications. Ferréz essentially comes from a working-class background with no academic background. After years of writing poetry and rapping he self-released his first novel, Capão Pecado, in 2000. The novel was written in an honest, direct, untaught style that could only have come from the hand of someone who had lived and been around the marginalised characters depicted in the story. The novel proved hugely important, causing the Caros Amigos newspaper supplement to sit up and take notice of this new literature coming from the periphery and which they would feature in three special Literatura Marginal (marginal literature) editions, with which Ferréz was heavily involved. Lourenço Mutarelli, who has since become an important literary figure in Brazil, has spoken of how his defining novel O Cheiro do Ralo was inspired by the language and viscerality of Capão Pecado. And Ferréz is not alone, there is a huge wealth of talent in this new sub-genre called literatura marginal, which includes Mutarelli as well as Sergio Vaz, Alessandro Buzo and Marcel Aquino.
Ferréz's involvement at FlipSide extended to a reading from the story he wrote for Other Carnivals: New Stories from Brazil, a short story collection edited by Ángel Gurría-Quintana which was published to coincide with FlipSide, as well as a storytelling and rap workshop for kids that I was unable to attend. It was great that he was involved at all in a prestigious event such as FlipSide – and it is a sign that marginal literature is being recognised by an international audience – but the opportunity to have got the opinions on literature of a Brazilian literary outsider, and also to find his perspectives on the protests (which would have carried so much more weight coming from someone who lives in the working-class neighbourhoods that are most affected by the transport price increases that triggered the protests) should have been grasped.
Going back to the actual event for one minute, it should also be said that there was music; an illuminating evening of bossa nova on Friday (in which the performers broke down the musical tricks and influences which gave the genre its distinct sound) followed by slow-burning MPB chanteuse Adriana Calcanhotto on Saturday; as well as film, cultural discussions and plenty for the kids.
The cumulative feeling of the whole festival was that it had been entertaining, but the question about whether we'd actually learnt anything about Brazil still lingers with me. Yes, there were interesting polemics about Brazilian identity (as per Hatoum and Carvalho, and also James Scudamore's talks about searching for permission to write about Brazil) but the discussions on the Brazilian protests, for example, came across as reserved. Even though writers like Melo and Ana Maria Machado were in Brazil during the protests, read all the headlines and no doubt discussed the protests at length, they weren't the ones protesting, and seemed somewhat disengaged from the emotions which led to the protests. FlipSide offered a great introduction to Brazilian literature, but could have gone deeper, and by looking at the social movements in Brazil from more angles could have given a real idea of what the "current" Brazil looks like.
Though Flip was an instant success when it unleashed itself on Brazil in 2003, there is a sense that FlipSide may need a little tinkering before it acquires the same stature. Next time, just please give Ferréz the mic.

Follow Sounds and Colours: Facebook / Twitter / Instagram / Mixcloud / Soundcloud / Bandcamp

Subscribe to the Sounds and Colours Newsletter for regular updates, news and competitions bringing the best of Latin American culture direct to your Inbox.
Share: