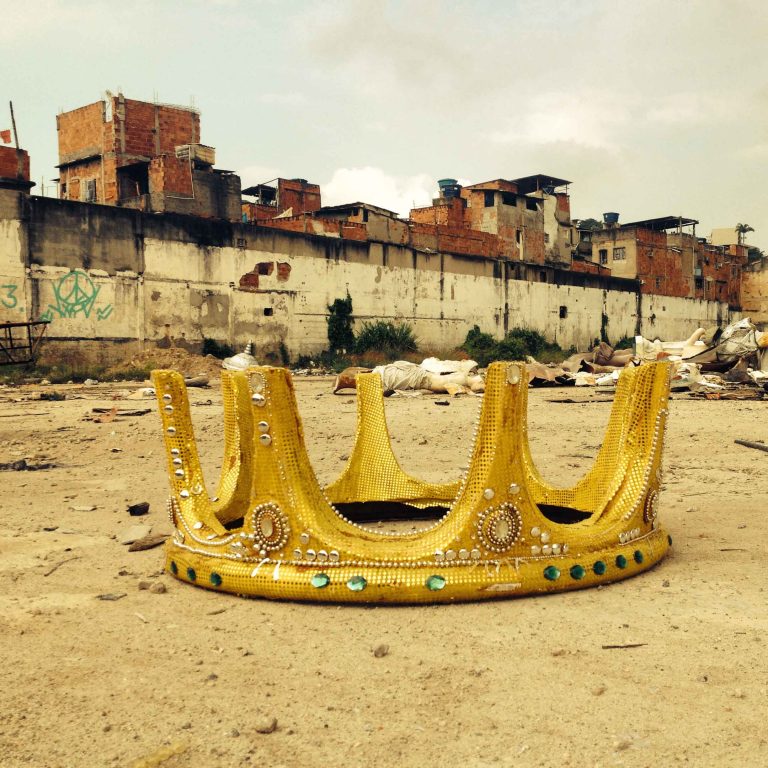 Damian Platt
From Merciful Respite to Lavish Spectacle: A Brief History of Samba and Carnival
28 November, 2020
This is an excerpt from Damian Platt's book, 'Nothing By Accident: Brazil on the Edge'
Today, I like samba but for years I didn't. I couldn't contemplate the complex twisting footsteps I understood to be the samba dance. I felt out of place in expensive clubs where all Brazilians in the venue knew (or pretended to know) all the words to all the songs. I couldn't follow the rhythm. Carnival had me stymied, with its thousands of dancers and sumptuous, no-expense-spared floats; these tacky, often grotesque, creations are watched by rich white Brazilians and gringo tourists paying exorbitant prices to gawp at semi-naked women gyrating on tiny platforms high in the air, helicopters overhead. Samba confused me. Carnival bemused me.
During my first years of living in Rio, I sometimes visited fascinating rehearsals of famous samba schools. I found them lovely to look at, but was baffled. So I watched from the sidelines while regulars – people of all colours, ages and backgrounds – immersed themselves in a collective ritual of music and words. In the months preceding carnival, all schools hold rehearsals where the different groups forming the parade practice and sing that year's official song, called the samba enredo. When I was working in Providência, friends invited me to an open-air night rehearsal for Unidos da Tijuca, a samba school popular in the favela. Unidos comes from another part of town, but for many years conducted their rehearsals on a wide street between warehouses at the edge of the port. Samba enthusiasts in Providência only needed to walk out of their door and down the hill to join in.
Joining a Unidos da Tijuca rehearsal on a backstreet packed with supporters and members of the school, I felt I was finally beginning to grasp the importance of samba and carnival for cariocas. I actually began to relax and enjoy myself! Much less the awkward gringo, I became more the happy foreigner. Under yellow neon streetlights, onlookers chit-chattered around stalls selling barbecued meats and drinks. An MC announced the start of the rehearsal and different components of the school began to walk down the grimy road. They chanted the samba enredo along with singers atop a huge mobile sound system. A beautifully turned out woman carried a flag. She was the porta bandeira (the flag carrier) and she danced in the company of an equally elegant man, the mestre sala (the master of the room). As the couple passed me the unappealing street turned into the setting of a plainclothes ball. A phalanx of drummers followed, rattling machine-gun polyrhythms on an array of percussion instruments: repinique (snares), tiny pandeiros (tamborines) and the outlandish cuíca (a friction drum with a high-pitched wail that sounds like forest animals screeching in the Amazonian night). The work of the drummers was founded on the surdo, the bass drums carried by strong, smiling men. Their beat – bom-BOOM-bom-BOOM – drifted back over the following alas (organised sections, literally called "wings") of the school as they followed time in disciplined groups. Kids I knew from Providência slipped between the singers. As the sound of the drummers faded away, the voices of the choir grew in volume. Now a group of elder women called Baianas passed by. Their song transported me to another world, far beyond the run-down docks and Providência and Rio.
Samba has multiple beginnings but only one root – the experience of millions of Africans who arrived in Rio after the horrors of the Middle Passage. Betrayed, captured, kidnapped, dislocated, relocated and whipped, survivors were left with a body, a voice and, sometimes the will to live. If given time to rest, the more resilient of these people might have taken the opportunity to sweep clear a space in front of their quarters to socialise. Proceedings then began with a ceremonial fertility dance called the umbigada. Dancers approached each other, moving closer until bellies touched. If drums were permitted, elders beat out simple rhythms and spoke about the week's work and events, or told stories of old and of home. They sang in Yoruba and Kirongo, but also Portuguese, because this strange new language was often the only means of communication with fellow Africans, people stolen from different places and tribes at different instants. These precious moments of company and rest served to strengthen them for labour and enabled them to form bonds of friendship and mutual comprehension. Whenever the masters or their employees were present, the speakers disguised their messages with allusion, irony and subterfuge. Rhythm, word and dance converged to form a life-saving means of expression and communication. Little by little, the slaves began to rationalise their shared calamity.
Historically, samba encompasses prayer, dance and devotion – multiple expressions of joy. João do Rio, dandy, chronicler and acute observer of Rio street life in the early years of the twentieth century, used the word samba to describe carnival songs in 1906. He observed that revellers singing a song about a shipwreck managed to combine the joy of celebration with a sad theme. "Only the people of this land of sun can look death in the face without fear in the macabre sambas of carnival," he writes.
The revellers João do Rio saw belonged to a cordão, organised groups that took to the streets at Carnival in the mid-1800s. The cordão is the precursor of the modern samba school. Both slaves and nobles participated in cordões where, disguised as devils or clowns, they followed a group of men blowing whistles and beating drums. João do Rio describes a "pandemonium" of confetti, fireworks and lewd shrieks where alcohol, lança perfume (an intoxicating mixture of ether, ethyl chloride and acetic acid inhaled for pleasure, that remains popular, and illegal, in Brazil today) and cheap scent all contributed to an ambience of promiscuity. He called them "irreducible nuclei of carioca folly […] which above all belong to the people, the earth and the enchanting barbarous spirit of Rio". João's guide ("Cordões" in A alma encantadora das ruas, 1997) explains that the roots of the tradition come from an African pagan rite, the afoxé, a celebration that makes fun of religion. He tells João that the cordão is rigorously hierarchical and orderly, despite its apparent chaos:
"Order in disorder?" João asks, incredulous.
"It's a national slogan," comes the reply.
Such manifestations expressed the irreverent, riotous side of this new multi-racial nation, and they began to attract the attention of nervous authorities, particularly in post-abolition republican Brazil. The historical moment demanded the redefinition of social rules. Rio's cultural and social elite began to look for ways to reorganise the confusion of Carnival, and to redirect the energies of these expanding multitudes into more socially acceptable channels. But the authorities reacted with suspicion, as they always do with popular culture in Rio, especially black manifestations of popular culture. The first sambistas were persecuted, harassed and arrested by police. Such sambistas sang of the malandro, a popular social and cultural stereotype. The malandro is the carioca rogue par excellence; an easy living, sweet-talking hustler, who uses street savvy ­– dishonest if necessary – and cunning to come out on top of those situations where honesty and logic will not prevail. Such artistry is still a recognised, even acceptable form of social behaviour in the Rio of today. Sambistas were obliged to adopt the practice of malandragem to survive as artists. Because former slaves were granted a legal right to celebrate their religious beliefs without persecution, the sambistas transferred their guitars and song to the terreiros, holy places where the Afro–Brazilian religious rituals of Candomblé were celebrated. Here they used malandragem to convince suspicious eyes they were praying, and not singing for amusement. So original samba merged the sacred and profane with illusion; like the slaves, the first sambistas were obliged to camouflage their art, and to infuse their words with irony and double meaning.
Rio's samba schools, the unique social collectives that parade in official competition at carnival, began to emerge in the early 1930s. Their original members were mostly, but not all, of African descent. In the years prior to the rise of the samba schools, repression of unruly and occasionally violent cordões had been turning carnival into an exclusive party for the privileged. The authorities persecuted Afro–Brazilians celebrating informally in public places. So the nascent samba schools provided Rio's poor and excluded with a platform, a voice and a place where, once a year, they could be proper gente (people). Opinion-formers and politicians, quick to realise the potential of samba as an expression of Brazilian 'authenticity', were keen to incorporate the emerging culture into discussions about national identity, and despite its slave origins, samba eventually became, according to carioca musicologist Hermano Vianna in The Mystery of Samba (1999), "an agent of internal 'colonization'. A national music born of indefinition came to define the rule, the only way of being authentically Brazilian". This rule has stuck: even today a 'real' Brazilian is supposed to know how to samba, be they rich, poor, white or black, and when people say that someone "has samba", this means they are quick-witted.
By the 1930s, samba's popularity obliged Rio's conservative establishment to take notice. The first collective granted legal status as a samba school was Estação Primeira de Mangueira. Known simply as Mangueira today, it remains one of the most popular in the city. Sponsored competition took place for the first time in 1932 and continued to grow throughout the 1930s and 1940s. Samba schools presented the authorities with an opportunity to regulate and incorporate the unruly sambistas into the carnival infrastructure. These 'democratic' spaces of participation and collective enterprise, proved from the outset to be formidable political and commercial weapons. Their birth coincided with a period of significant political modification. Rio was undergoing transformation; industrialisation and immigration had led to rapid development, growth and expansion of the city. Samba schools brought together the city's growing working classes. Alongside a widespread desire to promote new Brazilian culture in the context of a developing nationalism, official interest in the schools was also driven by the needs of politicians keen to capitalise on their popularity.
Sinhô, an original sambista, famously said samba is like a little bird: it belongs to whoever grabs it. The music began to emerge as a cornerstone of national culture over the course of the 1930s. The samba schools were powerful spaces for the opportunity of dialogue between the elite and the popular classes. Government subsidies were made available in 1935 (provided specific regulations were obeyed). Businesses were fast to catch onto the commercial potential of the new adventure, and as early as 1936, the Antarctica beer company used the image of a sambista, in traditional malandro uniform of hat, striped shirt and wide trousers, for advertising. Propagandists within the establishment targeted samba schools during President Getúlio Vargas' authoritarian regime (1937–1945), encouraging them to promote right-wing, nationalist policies, and imposing limits on parade content. International themes were banned. Political protest, criticism or allusion to current events could result in disqualification. The Portela samba school adhered closely to official requirements, winning the competition every year between 1941 and 1947, with samba enredo (official samba songs composed specifically for carnival) such as "Glorious Brazil", "Patriotic Motives" and "New World Dawn".
Today the principal objective of a modern samba school is participation in the luxurious, fantastic parade at the heart of carnival. This demands rigorous management and scrupulous attention to detail. The biggest schools, judged on minutiae by extremely high standards, garner supporters like football teams. The most successful belong to the Grupo Especial (Special Group) and parade through Rio's Oscar Niemeyer-built sambadrome. For two consecutive nights all eyes are on the thousands performing in this opulent display, which Brazilian media often refers to as "the greatest show on earth". The parade is a spectacular multimedia experience that combines dance, choreography, lavish decoration, song and music. Locals and tourists pay exorbitant prices for tickets in the stands. Millions watch live on TV. The omniscient Globo TV network holds exclusive broadcasting rights, transmitting live to all corners of Brazil and beyond. The event is Brazil's international public relations trademark and international media reproduce images of this unique party across the globe.
Nothing By Accident is available from Bookshop (US), Amazon UK, Amazon US, Blackwells (UK) and your local bookshop

Follow Sounds and Colours: Facebook / Twitter / Instagram / Mixcloud / Soundcloud / Bandcamp

Subscribe to the Sounds and Colours Newsletter for regular updates, news and competitions bringing the best of Latin American culture direct to your Inbox.
Share: