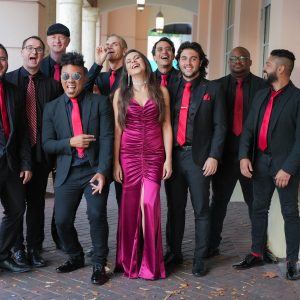 Review
Gafieira Rio Miami, bringing back samba
I'm old-fashioned, I love the moonlight… And I love old-school samba, too – especially when it's performed with such brassy joie de vivre as this is. Bring Back Samba, the debut release by Miami-based Gafieira Rio Miami, is the kind of album that induces a broad grin from first note to last.
Not surprising, perhaps, when you consider the meaning of gafieira. The band's Brazilian founder and musical director, Latin Grammy winner, bass player and composer Diogo Brown explains that "gafieira is not a genre of music. Samba de Gafieira doesn't necessarily mean only samba. There is also a mixture of styles, such as chorinho, pagode, and maxixe. Gafieira is where the sambistas met to dance." A kind of dancetaría, in other words.
For Diogo Brown, his outfit's music is "a cultural rescue of something we had in the '40s and '50s." Back then, the swing music of the American big bands was all the rage. American-style brass and horns were hitched to an indigenous rhythm section and the underclass of Rio would pack up all their cares and woes and head for the gafieiras to dance (in pairs) in much the same way that the socially dispossessed of Harlem might lindy-hop their troubles away to the intoxicating sound of Chick Webb, Count Basie, Lionel Hampton and other such high-octane dance "orchestras".
Listening to this direct and essentially simple music, there's something both charmingly old-fashioned and yet timeless about it – similar to listening, say to Congolese rhumba or Cuban son. Whatever the sub-genre individual numbers might fall into (and "Baile no Elite", to cite just one track, exudes a potent influence of choro), the sum of its parts is the spirit of festivity: a smoother, less frenetic version, perhaps, of the street music you might hear during Carnival. Appropriately, the repertoire is a mix of classics old and new associated with the likes of Elis Regina, Jair Rodrigues, Dorival Caymmi, Baden Powell, João Donato and Martinho Da Vila.
The 11-piece international band, whose engine-room rhythm section is made up of expatriate Brazilians, may not be quite the behemoth that an American swing orchestra once was, but you only have to listen to a number like "Nó Na Madeira" to be captivated by its sheer verve and infectious confidence. With arrangements by the Carioca Ricardo Gilly (who has worked with Chico Buarque, Edu Lobo and Djavan, to name but three) and special guests of the calibre of João Donato (featured on a delicious version of his own composition, "A Rã (The Frog)"), the album just makes you want to swing your partner around the floor of the nearest available juke joint. While bossa nova was a largely white, middle-class phenomenon that could be said to inspire dreamy contemplation, this was – and is – music to get people dancing.
"Every dance hall and bar in the city played this music," Diogo Brown explains. "And then, in the 1980s, the party died. My idea is to bring back the gafieira sound – with a modern sheen." He and his Gafieira Rio Miami big band have done just that: brought back samba. It's out (in physical form) today, so all together now: um, dois, três, quatro!

Follow Sounds and Colours: Facebook / Twitter / Instagram / Mixcloud / Soundcloud / Bandcamp

Subscribe to the Sounds and Colours Newsletter for regular updates, news and competitions bringing the best of Latin American culture direct to your Inbox.
Share: