Review
Gal Costa – Recanto
When she plays live, the veteran Brazilian singer Gal Costa usually reflects her Tropicália legacy, with a smooth band to complement her classically spumy delivery. Her latest recording presents a radically different view. The equally veteran Caetano Veloso has written all of this album's songs especially for Costa, and he also sat in the producer's chair, along with two of Brazil's best, and most adventurous, sonic architects. One of them is his son Moreno, and the other is Kassin, both of them regular cohorts on some of the country's most avant-traditional projects.
Costa and Veloso's musical and personal bond stretches right back to the beginnings of their regularly entwined careers, in the mid-1960s. Veloso has always been concerned with change and renewal, so his heavy involvement shapes these songs into a very current sonic space. He hardly touches Costa's voice, though, mostly leaving it pure and calm in the midst of his minimalist rock and electronic textures. Veloso makes Costa sound like a young, emerging singer, without interfering with her naked vocal heart, her decades-long experience.
The opening "Recanto Escuro" features a skeletal glitch-beat, piano, a faint bassline and, eventually, acoustic guitar. "Cara do Mundo" is stripped rock'n'roll, its synthesiser cut back to the bone. Costa's voice is subtly and respectfully subverted by these sonic frictions. As the songs slink by, it becomes clear that all scabrous electronics are just low enough in the mix not to disrupt the vocal ambiance. There's a very measured pacing of aural incidents.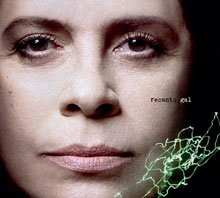 This is a new form of robo-Brasil songcraft. It's as if the late-70s David Bowie had decamped to Rio rather than Berlin, as swirls and curls of subtle tension infuse these stark statements. A helicopter oscillation is introduced towards the end of "Neguinho", a song that's the prime example of these colliding techniques. "O Menino" is dubby bossa, with its stalking guitar and snare drum detonations. Costa's cool restraint is unsullied. "Autotune Auterótico" uses said device knowingly. Samba drums underpin "Miami Maculelê", and the Auto-Tune rears up again, but is it ironically deployed this time? The closing "Segunda" has a folky forró feel, from the north-east of Brazil, with sawing strings and metallically scraping percussion. It provides a relatively traditional conclusion to this persistently probing song-sequence.
Recanto is available from Amazon and iTunes

Follow Sounds and Colours: Facebook / Twitter / Instagram / Mixcloud / Soundcloud / Bandcamp

Subscribe to the Sounds and Colours Newsletter for regular updates, news and competitions bringing the best of Latin American culture direct to your Inbox.
Share: