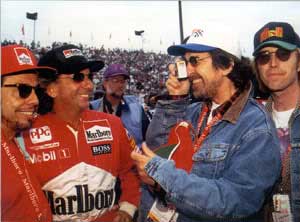 George Harrison in Brazil and singing tribute to Emerson Fittipaldi
29 January, 2011
Following on from our article on Bob Marley playing football in Brazil we now have the story of George Harrison's love for Brazil and Emerson Fittipaldi. This is more of a video-based post than photo-based so apologies for the mis-leading photo; from our perspective it definitely feels like Bob Marley is passing on the baton to George Harrison.
George Harrison came to Brazil in 1979, with the aim of filming a video for his new single "Faster" a song written for his friends in Formula 1 Racing. The song, which would be released in 1979 was dedicated to Niki Lauda and Jackie Stewart. This was a sport George had increasingly been involved with since 1977 as a way of existing outside of the music industry, which he was becoming increasingly distracted with. It was through his love of Formula 1 racing that he would meet Emerson Fittipaldi, a Brazilian driver who had been World Champion in 1972 and 1974. Here is George with Emerson after a race: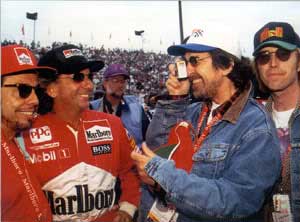 In 1979 when George came to Brazil he did two interviews. The first of these was an interview with Ricardo Pereira for Fantástico, which we can gratefully see here:
He would also complete an interview for Argentine magazine Siete Días Ilustrados. Here's the cover for that particular edition: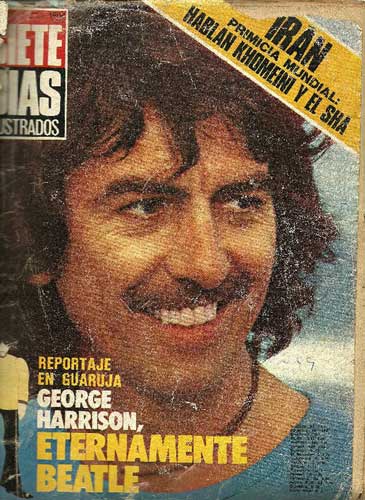 Here are a couple of nuggets from that interview, translated into English:
Why did the Beatles never come to South America?
"Actually, I can not answer that question because always the tours were managed by others. But now I regret that we never came to these latitudes. I am sure that we could have learnt many interesting things about music if we had come to South America."
What are you here?
"I came to Brazil to photograph me for my next album cover, which I think will be a new contribution to modern music. It is called "Faster" and will come out in Argentina in early March."
Interestingly, the photo shoot which accompanied the interview featured Emerson himself.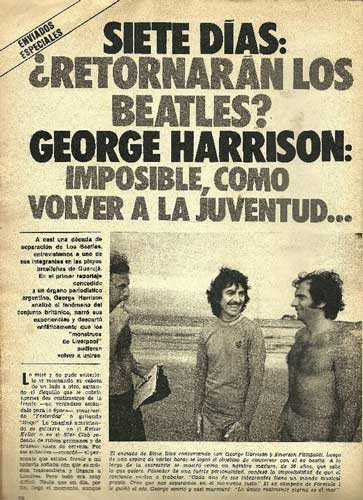 Here's another photo from these sessions, this time in better quality. These photos were all taken in Guarajá, Sao Paulo.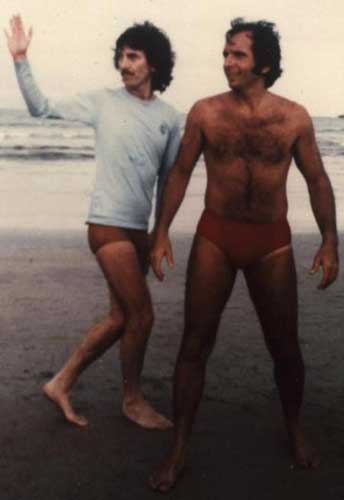 There is also a video of a Brazilian interview also taking place in Guarajá for Brazilian TV, this time with Emerson translating for George:
And to finish off this article, is the best footage of all. After Emerson had suffered a car crash in 1996, effectively ending his career, which at that time was in Indy cars, George sent a "Get Well" message to Brazilian TV show Gente Que Brilha (People Who Shine), which was broadcast on October 31st 1996. Here, he changed the lyrics of "Here Comes The Sun" to "Here Comes Emerson Fittipaldi" for his friend.
It is very clear that Emerson and George were very good friends. After all, he was one of the few people to be with George in his final days before he passed away on 29th November 2001. Hopefully all this footage will give both fans of The Beatles and Brazil something to cheer about.

Follow Sounds and Colours: Facebook / Twitter / Instagram / Mixcloud / Soundcloud / Bandcamp

Subscribe to the Sounds and Colours Newsletter for regular updates, news and competitions bringing the best of Latin American culture direct to your Inbox.
Share: