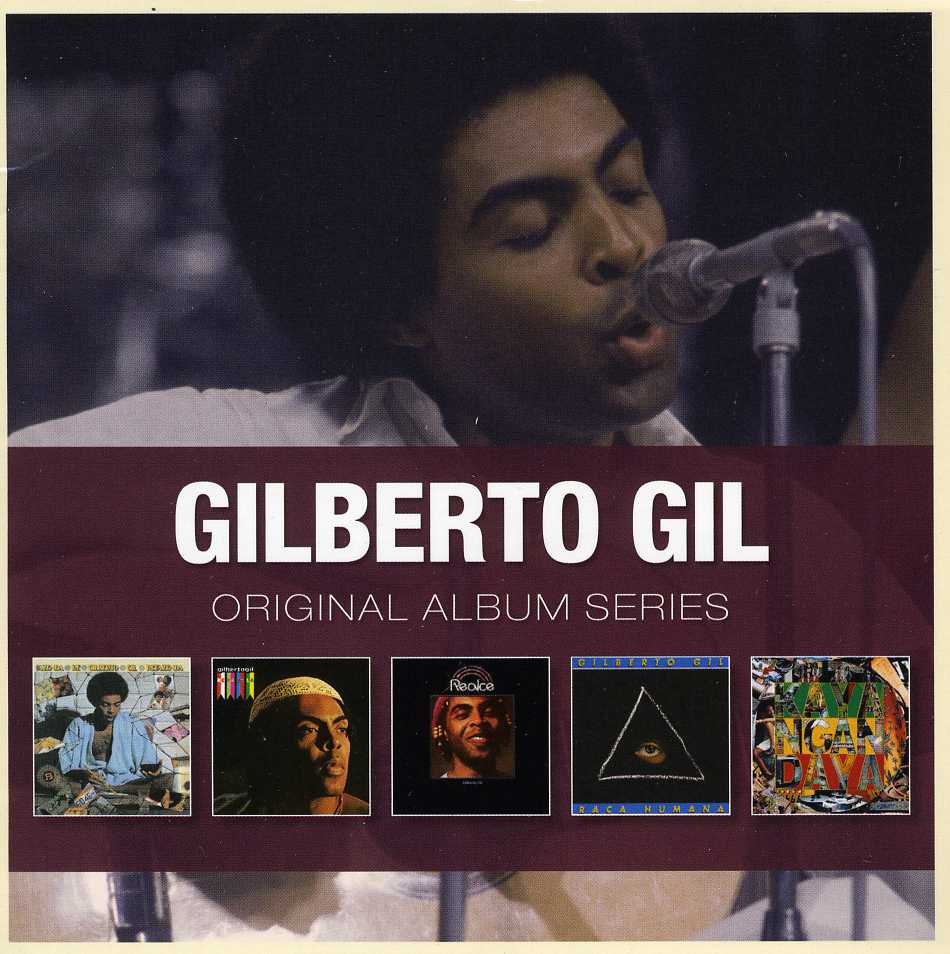 Review
Gilberto Gil – Original Album Series
The albums that Gilberto Gil released with Warner Records have always been something of a mixed bag, representing both the best and worst of his career. Original Album Series collects together five of his albums for the record label (ranging from 1975-2002) for a budget collection which is worth getting for the sublime music that Gil was making in his 70s prime.
Gil's signing for Warner Records represented his push for the mainstream, leaving behind the Os Mutantes collaborations, Rogerio Duprat arrangements and sense of experimentation for a cleaner sound. On his first album for the label, Refazenda, this progression in his career makes perfect sense. For many people Refazenda (1975) represents the best record of his career, and it's easy to see why. Simplicity is key here, with great songs like "Lamento Sertanejo", "Tenho Sede" and the title track simply backed up by a great band, resulting in one of Gil's most well-rounded albums. Key to the success of the album is the relaxed production, giving plenty of room to Gil's vocals and guitar, which sound fresh and vibrant throughout. To this, guest musicians such as Dominguinhos on accordion add some great flourishes which help bring the songs to life.
Gil carried on this formula to 1977's Refavela, another career highlight. In particular, this album saw Gil explore a number of African influences following a visit to Lagos in Nigeria with Caetano Veloso in 1976. The influence of Nigerian highlife can be heard most on "Balafon" but there's also hints on the title track and "Ilê Ayê" (a song about the famous Salvador bloco) in the use of percussion and brass, both of which result in enjoyable rhythmic pop which almost certainly help set the blueprint for a lot of what would become popular "world music", especially in regards to Peter Gabriel's and Paul Simon's collaborations with African artists. Unfortunately some of the slower songs on this album suffer from poor arrangements – "Era Nova" and "No Norte Da Saudade" being cases in point – but compared to the albums that Gil would make following this, all can be forgiven.
Realce (1979) contains one of Gil's biggest singles in the form of his bi-lingual cover of Bob Marley's "No Woman, No Cry", here retitled "Nao Chore Mais (No Woman, No Cry)". At the time this song may have sounded revelatory, but unfortunately the passage of time has not been kind, making it almost impossible to listen without reaching involuntarily for the "stop" button. The song suffers from a horribly over-bearing string arrangement and ridiculous use of synths which somehow seems to bring the worst out of Gil, whose voice sounds completely detached throughout. Realce is unfortunately where Gil's career starts to unravel, a process that would continue throughout the 80s, where Gil decided to leave his roots behind for faux-disco arrangements and in-your-face slap bass, with his own voice turning into a pastiche of disco crooner Sylvester. Realce is a terrible "world fusion" album with an unforgiveable 80s production and lack of great songs, the final track, Gil's aforementioned cover of "No Woman, No Cry" leaving the whole record unrecoverable.
Things got even worse with 1984's Raça Humana. For some reason Gil had now decided that he wanted to be a member of Oingo Boingo, with songs like "Extra 2 (O Rock do Segurança)" and "Pessoa Nefasta" sounding like offcuts from the Beverley Hills Cop soundtrack. Whereas Gil's voice had been a thing of beauty, his "oohs", "aahs" and various scats adding so much to classic songs like "Aquele Abraço" and "Cérebro Eletrônico", here they sound ridiculous, phoned-in, false, like a man who had really lost his way. Gil's obsession with reggae continued here with "Vamos Fugir", probably the highlight of the album purely by virtue of sticking to a simple lover's rock arrangement rather than the clumsily overblown 80s diabolicalness that fills the rest of the album.
Raça Humana was not even the worst album that Gil made in the 80s for Warners, but thankfully the compilers here decided to miss all the other horribleness, instead completing this 5-disc compilation with Kaya N'Gan Daya from 2002. While certainly an improvement on his 80s work, this is also a strange album. For this one Gil relocated to Bob Marley's Tuff Gong studios in Kingston (Jamaica) to record an album of Marley covers and songs inspired by Marley. Featuring The Wailers, the I-Threes and Sly and Robbie, Gil really immersed himself in roots reggae here. While a half-decent album, it's main problem lies in the fact that it feels very much like a tribute and rarely offers anything new, with Gil even giving his voice a new Marley lilt instead of offering his own interpretation. The occasional dashes of accordion give some new flavours, but these are very rare. This is not a bad album, but nowhere near as good as Marley's originals or Gil's non-reggae albums.
The fact that this is a budget release means that buying this is a no-brainer if you're a fan of Brazilian music, whether it's MPB, tropicalia, samba or forró that's your bag. For your money you'll get two of Gilberto Gil's finest albums as well as the option to go on a journey into finding out why reggae is so popular in Brazil – largely thanks to Gil's Marley covers – and also find out what happens when a top Brazilian musician goes wrong (horrible disco madness!) Sounds like good value to us.
Gilberto Gil's Original Album Series is available from Amazon

Follow Sounds and Colours: Facebook / Twitter / Instagram / Mixcloud / Soundcloud / Bandcamp

Subscribe to the Sounds and Colours Newsletter for regular updates, news and competitions bringing the best of Latin American culture direct to your Inbox.
Share: