Good Music in Unexpected Places: An Interview with Juliana R
20 April, 2011
Juliana R or Juliana Erre if you wanted to spell it phonetically is one of the newest singers in São Paulo to start making a name for herself. Her self-titled debut album came out last year and gained her many new fans. It's easy to see why, her songs vary from the angst-ridden fragility of early-Cat Power to more palatable pop and rock sounds.
As well as singing in her solo project, Juliana keeps herself entertained by playing with Edgard Scandurra's Les Provocateurs group and the Quentin Tarantino tribute Tarantulas e Tarantinos. We caught up with Juliana to find out a little more about why she started making music and why the music scene in São Paulo is currently going through such a good moment.
Have you always lived in São Paulo?
I'm from Sorocaba, in São Paulo state, but I've lived here [in São Paulo] for more or less five years.
Do you think that it's currently a good moment for music in São Paulo?
Yes, there are many people producing and collaborating on projects. I think that also there is space to experiment here; you can see shows in typical places or encounter good music in unexpected places. I think this variety is exciting.
Singing "El Hueco" on Estudio Showlivre
http://www.youtube.com/watch?v=50AgIx-JY3o
Were you involved in any musical projects before you made your album?
I started playing when I was 14 years old, in Sorocaba. I had various bands, playing and going to shows. Always I had an interest in making music, it was what I wanted the most, but I was still young and I needed to finish school. After that I moved to São Paulo and I had the freedom to start doing what I wanted.
Are you happy with how the album has been received?
Yeah, I think that it is great for a debut album. The album was in various lists of the best albums of 2010, received some good reviews and it's found it's way into the shops at a good price. I only got a bit upset when the release was delayed, a year after being mastered, and I ended up feeling a bit distant from it, but better late than never!
Why did you decide to sing in English on the album?
I've always listened to music in English, so I composed like this also. I didn't feel I had to force myself into writing in Portuguese, as it wasn't what I heard in my head. Later I wrote in Portuguese because my influences changed and new lyrics started coming.
Singing "If You Could See Me Now" on Poploaded
http://www.youtube.com/watch?v=SlyLxsMNWtU
Do you think that the Internet has helped you with the promotion of the album?
Definitely, through using Myspace I found that many people could listen to my music and arrange to go to shows. It helped a lot. I remember a time when you had to trade demo tapes, find a studio to record, etc. Today, you can make something very good in your own room and put it on the Internet for the whole world to hear.
Who are your influences, both Brazilian and international?
I've always liked Velvet Underground a lot, I think that this is the band that has had the most influence. I also like Jamaican music, Gal Costa, Erasmo Carlos, Neil Young, Francoise Hardy, France Gall. The music of the 60s and 70s is what agrees with the most generally. Today I like The Kills a lot. When I recorded the album I also listened a lot to Cocorosie, Rio en Medio, Juana Molina and Devendra Banhart.
What are some of the places you play a lot in São Paulo, and which is your favourite?
Generally the shows happen in bars in Rua Augusta, or in Pinheiros or Barra Funda. I like Zé Presidente and Casa do Mancha a lot, these are some really cool places.
Performing "Fuga" on Trama
http://www.youtube.com/watch?v=MKAVaD4FK8s
What are your plans for the future?
I hope to sing and play a lot more, especially outside of São Paulo. Maybe not to play here as much. I am also thinking a lot about the next album. I want to start organising it.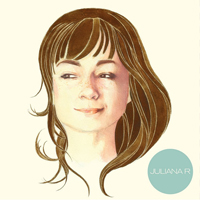 Juliana R's self-titled debut album is available for digital download from ONErpm.com.
www.myspace.com/juliana.r
www.twitter.com/julianaerre

Follow Sounds and Colours: Facebook / Twitter / Instagram / Mixcloud / Soundcloud / Bandcamp

Subscribe to the Sounds and Colours Newsletter for regular updates, news and competitions bringing the best of Latin American culture direct to your Inbox.
Share: