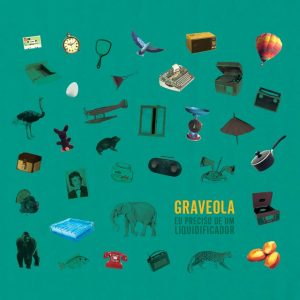 The new album from Brazilian band Graveola radiates with the sunny spirit of their native Belo Horizonte. Eu Preciso de Um Liquidificador is a musical melting pot of positivity and diverse influences, owing in no small part to the swinging seventies tropical and bossa nova scene in the country, which takes in various elements of jazz, funk, rock and soul to create a sound that is delivered in playful, laid back sunbeams.
The enjoyable, retro ride gets under way with the flute and guitar-led 'Blues Via Satelite', a title which goes some way to capturing the essence of what's going on here: this is music beamed in from above, through clear blue skies, far from the stress and strain of modern life. The next tune, 'Pra Parar de Verez', paints a blissful picture of simple charm with its loping clarinet gait.
Excellent songwriting is matched by the exquisite musicianship on show in songs such as the jazz-tinged 'Desencontro' or the trippy 'Farewell Love Song' (the English song names don't extend to the lyrics, all of which are in Portuguese). 'Desdenha' is a nostalgic throwback, all zippy melodies and sweet vocals, that transports the listener back in time to somewhere in 1970s Rio.
At times Eu Preciso de Um Liquidificador plays out like a Latin reworking of The Beatles' classic Sergeant Pepper's album, its colourful tones skipping unapologetically across upbeat rhythms. At others, it sounds like Manu Chao covering 'Bohemian Rhapsody'. Then, in the likes of 'Rua A' or 'Inverno', there are the moments of a smoky romance that remains forever in the precious, unforgettable memories of its early stages.
The melodies gently float on the breeze, reflective of the dreamy idealism that courses throughout Graveola's sound. Much of the album evokes a natural setting, its sunny disposition a perfect beachside soundtrack, but there is also an unmistakably modern and urban feel to the proceedings. Tunes such as 'Lindo Toque' or 'Babulina's trip' carry the taste of the city in their magnetic vigor, but this is the urban landscape of the happy neighbourhood, where kids play in the streets, everyone sits out the front of their homes, flowers bloom and neighbours even say hello to each other.
Each member of the group is intrinsic to the masterful dynamic. Bruno de Oliveira's bass proves the driving force as it struts through certain songs, or drops away in slow, drawn-out moodiness in others. Drummer Yuri Velasco provides the beats while Flora Lopes' percussion brings sprightly exuberance. Singing is shared between José Luis Braga (also guitar), Juliana Perdigao (also truly wonderful on flute and clarinet) and Luiz Gabriel Lopes (plus guitar) in an overall vocal performance that shifts effortlessly from the seductive to the vivacious.
With Eu Preciso de Um Liquidificador, Graveola have made a record of resolute optimism and delightful tunes that excels in relocating the retro Rio mood to today's multicultural musical environment. Its elevated spirit is evident of a band that remains faithful to its musical heritage but that also opens its sound to encompass many other musical directions. A rewarding listen thanks to some exquisite tunes and a distinctly mellow warmth, this is happy stuff.

Follow Sounds and Colours: Facebook / Twitter / Instagram / Mixcloud / Soundcloud / Bandcamp

Subscribe to the Sounds and Colours Newsletter for regular updates, news and competitions bringing the best of Latin American culture direct to your Inbox.
Share: