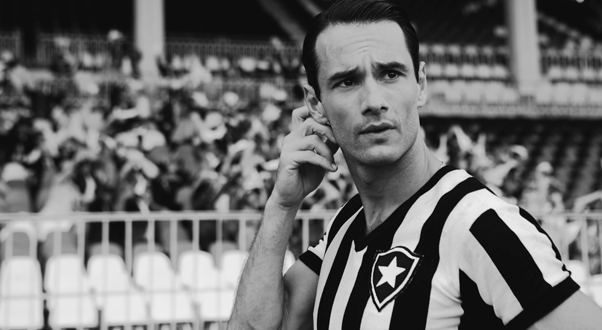 Heleno
03 October, 2013
Heleno de Freitas was clearly a gypsy. He had Rudolph Valentino's face and the temper of a mad dog. On the playing field, he sparkled.
– Eduardo Galeano, 'Football in Sun and Shadow'
Brazil has produced a fair few footballers over the years whose innate talents have been balanced with a taste for the good life. Romario, Ronaldinho and Adriano have all succumbed at some point to temptation in its various guises, often to the detriment of their career. Fame, the key to wealth, power and women, shines like stadium floodlights. Yet none of them holds a torch to Heleno de Freitas, the great Brazilian footballer of the 1940s, the original playboy prima donna, and a man who eventually crashed and burned due to an inability to separate himself from his own superstardom.
Born in 1920, Heleno would light up Botafogo, the Rio de Janeiro club for whom he was a phenomenon. He was also the main man for the national team, convinced that his presence would turn Brazil into world champions. Following the wartime cancellation of the World Cup in both 1942 and 1946, the 1950 tournament, to be held in Brazil, represented the fulfilment of Heleno's self-appointed destiny. Or so he believed.
While he bamboozled defenders and was venerated by the fans, away from the pitch Heleno revelled in a glamorous lifestyle of cabaret clubs and plush hotels, expensive champagne and beautiful women. Notorious for his boozing and womanising, Heleno also possessed an explosive short fuse which saw him fight with teammates, abuse strangers, and engage in increasingly erratic behaviour. It was a downward curve from which there was no way back.
The story is retold in Brazilian director José Henrique Fonscea's biopic, simply entitled Heleno, about the man who seemingly had it all – success, looks, wealth – and lost it. Filmed in black & white, it is a film of two halves, cut and arranged to flit back and forth between the height of Heleno's fame as the darling of Brazil, adored by public and media alike, and the shell of the man he would become, forgotten in a sanatorium, and wasting away in a fog of sickness, dementia and of bitter memories.
The name of Heleno is somewhat overshadowed in the pantheon of Brazilian football, consigned to a footnote by his tragic downfall and the national team's later achievements. One of the film's more poignant moments occurs as the sanatorium inmates crowd around a radio to listen to Brazil winning the 1958 World Cup, inspired by a seventeen-year old called Pele. For the stricken Heleno, lost in the turmoil of his own mind, it only serves as a reminder of who he once was, what he once had, and what he will never be again.
It is the personal story of Heleno that the film focuses on. The social circuit is his playground, even more so than the pitch, but the training ground and the dressing room are the most important settings in the portrayal of Heleno's breakdown. His disdain for teammates and a refusal to train properly, convinced that his superlative ability is enough, reflect a spiralling detachment from reality, the misplaced belief that he is all, and all is him. It is similar in his personal life, as his womanising and unruly conduct exposes a man in thrall to himself. Not only does he believe his own hype, he feeds off of it.
Fonseca has constructed a compelling film, particularly in the stylised black & white tone and excellent central performances from Rodrigo Santoro as Heleno and Alinne Moraes as his wife Sylvia. Santoro excels in conveying Heleno's distorted character, whether as the dandy, spotlight-loving celebrity or the haggard wreck that is hard to watch at times. The drastic physical change is offset by the only constant: intense volatility.
In style and content, Heleno draws clear inspiration from Raging Bull, the footballer's descent following a similar trajectory to De Niro's Jake La Motta (Fonseca nods to Raging Bull in a scene where the enraged Heleno, having missed a crucial penalty, repeatedly punches a wall, just as La Motta does in Scorsese's film). While Heleno doesn't emulate that masterpiece, the cinematic equivalent of Brazil's 1970 World Cup winning side, the greatest ever, it is a worthy addition to the rather slim catalogue of decent football films, and Fonseca keeps it moving rapidly with flair and precision.
Read the Sounds and Colours profile of Heleno de Freitas here.

Follow Sounds and Colours: Facebook / Twitter / Instagram / Mixcloud / Soundcloud / Bandcamp

Subscribe to the Sounds and Colours Newsletter for regular updates, news and competitions bringing the best of Latin American culture direct to your Inbox.
Share: