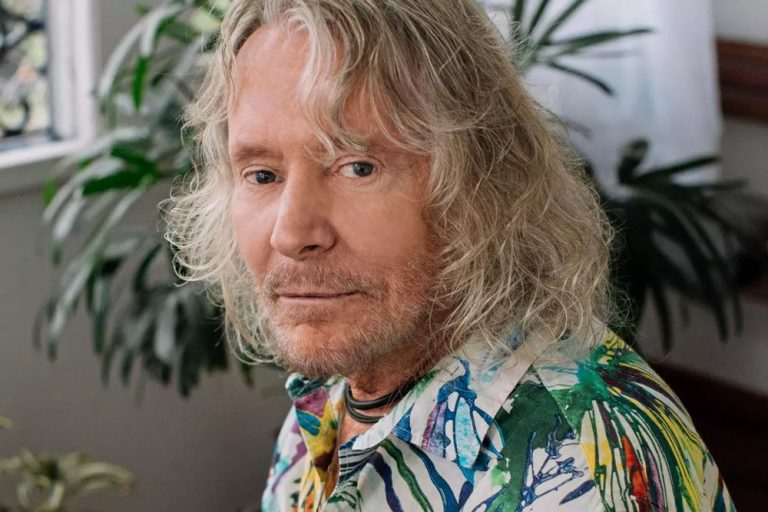 Jorge Bispo
I Don't Like To Keep Repeating: An Interview with Marcos Valle
04 March, 2021
Marcos Valle is 77 years old. In the late 60s he was at the vanguard of Brazilian music as bossa nova spread across the world; in the 70s he made some of the best Brazilian pop albums ever made; in the 80s he added his signature swing to boogie, funk and disco, and the hits kept on coming. Sure, in the early 90s he took a break, but it wasn't to last; by 1997 he was back in the studio as a fever for all things Brazilian in London saw him back in the limelight, this time adding electronic and dance influences to his sound. Since then he has seemingly never stopped, each year bringing a new studio album or a reissue that once more reminds us of his gifts as a musician and songwriter.
When I interviewed him in late 2020 to talk about his new album, a collaboration for the Jazz Is Dead series, it was only during my research that I realised he'd put out three new albums, as well as two reissues, in the previous 12 months, the Brazilian-released album Cinzento completely passing me by. Astonishingly, all of these releases, the reissues included, followed their own path, Valle being that rare artist who can be prolific, versatile and, more often than not, on point.
Here is our slightly rambling conversation where we discuss his recent releases, the unavoidable political landscape in Brazil, and also find out which of his own albums Valle likes best.
Let's start by talking about the Jazz Is Dead album. How did that come about?
Well, they got in contact with me, Adrian [Younge] and Ali [Shaheed Muhammad]. I started to listen to the albums that they had already recorded with other artists [under the Jazz Is Dead banner] and I really found it very interesting the atmosphere of the albums and then we met in Brazil. They stayed for three days and I liked them immediately. They gave me this idea of recording for them. To tell you the truth, in the beginning, I was a little bit insecure because the idea they told me was to record everything, to arrange everything, in four days in the studio. Well, I have never done this. But I understood their intention and it was a challenge, and I like a challenge. So, I went with this idea. Then when I got there in their studio [in the US], I already felt very comfortable. It was a nice studio with all the vintage instruments. Then I fully understood the intention which was to always have the first emotion in recordings. They would always go for the first take, they want your first impression, your first emotion. And I found out how much that was a very good idea. So I did it. Four days, we finished the songs there, the lyrics, the arrangements and vocals, and then I went back to Brazil. But when I heard the result, then I said, "well, I really love this album". You know, it's a completely different album for me.
Sure, there's so many different textures and moods on this album, it goes to a lot of different places.
Yes, they tried to extract from me my music you know? My music is very versatile because I have so many influences, since I was a kid and I was at school, from classical music, but also from Brazilian music, jazz and funk and Black music and rock. All of these influence are in my music. So, Ali and Adrian tried to get a flavour of all of these things, you know? So they were very happy with that, they did it very well.
Was the whole album conceived in the studio, or did you already arrive with musical ideas?
We had some ideas, let's see. There's eight tracks on the album, right? So, four of them, I already had the melodies, not all the singing though, just the ideas. And they were doing the same. So when we got to the studio, we had to develop those songs together. I would develop the lyrics there. To tell you the truth, there was one lyric that I wrote, a whole lyric which I sent in on the last day of the recording. That's how it worked. We had the [melodic] ideas, then we started with arrangements and sometimes those arrangements made us change a little bit of the melody that we had written. We finished everything in the studio, the three of us. It was an incredible experience. Then when I returned to Brazil, I didn't tell you that, they put some more instruments. Not to change anything, but they added some trumpets, a guitar here and there.
How was the experience, in relation to other collaborations you've had over the years, as you've worked with so many different musicians. Did Ali and Adrian bring something different out of your music?
They did. They really did. I felt a little bit with them, some emotion that I had with Leon Ware when I was in Los Angeles. You remember, because Leon Ware was the [musical] partner of Marvin Gaye for a long time. When I lived in Los Angeles from '75 until the '80s, I became close to Leon and we wrote a lot of songs together. That mixture that we got there, the Brazilian thing with the Black [American] music, it was perfect rhythm and blues together with bossa, samba and soul.
With Adrian and Ali, there was something similar. But more than that, besides the feeling of soul, rhythm and blues, it was everything that they brought out of me, like I told you. They gave me this flavour and this idea: "No, keep this. That's good, this improvising that you have done". This feeling of taking your first emotion, that was fantastic. That was something that I thank them [for] very much.
I remember, I called the widow of Leon Ware to be in the studio for two days that I was recording because they loved so much Leon Ware. She was there sitting down when I was recording, and that was incredibly emotional for me. You cannot believe what I felt playing in the studio and feeling the presence of Leon Ware. It was incredible. Beautiful, beautiful.
It's almost like you're going full circle back to your memories of your time in the United States…
Yeah, yeah, yeah. Absolutely.
Let's go from there and talk about Sempre, which came out earlier [2019]. It's an album I've listened to a lot, and is so, so different.
Yeah, totally different. Sempre was recorded in Brazil, with Daniel Maunick, who produced the album with me. Daniel, he is the son of Bluey [Jean-Paul Maunick] from the group Incognito. We started recording at my home where I am here in this moment talking to you. Then we went to his studio and I brought the instruments. It took some time, maybe two weeks in my studio. It was a different way of recording. After that, I recorded another one in Brazil called Cinzento, which means grey. It came out after Sempre. This is different. It's a lot of the grooves that I like to do, these rhythms, but not with a big sound. It's a more acoustic thing. It also took maybe two weeks so it's a completely different thing to Jazz Is Dead.
Cinzento was a big surprise to me because I don't believe it got released in Europe so I didn't come across it until doing some research for this interview.
Yeah, that idea, I had recorded in the '70s an album that I think the people that like my music they love very much, it's called Previsão do Tempo. This album is I think '71, '72, no it was '73. That album also has this feeling of, the rule is not too many instruments, but everything in the right place and there is a political thing because that was the time of the military government in Brazil and censorship of the arts. And we have all seen Brazil at the moment, these problems with the censorship in the arts, with culture. So putting everything together I decided to record this album Cinzento in a way that would bring me a little bit that atmosphere and then when I went to the lyric writers, I did that because Sempre I wrote also the lyrics but in this one, Cinzento, I asked people from other generations, people that I admired, and that had told him In some time that they were influenced by that album. For example, I said well wouldn't it be interesting to have their views, their feelings on the songs, so that was the idea that made the album very interesting to me.
Right, yeah because I saw that there was quite a lot of collaborations on that one, with obviously Emicida and then people like Kassin…
Kassin, Moreno Veloso, Bem Gil, Domenico Lancellotti, Zélia Duncan. That was the idea, to bring these people in with their influences, I said 'let me see what they say in their lyrics' and they brought very good ideas. Emicida is fantastic, he is a poet, he's a rapper, he is a singer, he's great, the partnership worked so well.
So did you did you set them a challenge in terms of asking them to write about what's happening in Brazil at this moment, in the same way that Previsão do Tempo reacted to the military dictatorship?
Yes, yes. Because in that time of the military government and the censorship, it was really strong. If you write something that they think is against the government, they would call you and take the lyrics. That was terrible. But that is not what's happening nowadays. We don't have a dictatorship in Brazil but we have this feeling that they are against the artists because the government went in a different direction. Brazil is more towards the right and they think that the artists are from the left, which is not true. Because for instance, I'm from the centre.
But, it [Cinzento] started with liking the artists, and letting the artists do the right thing. That's the similarity that I find. Some of the lyrics in this album talk about love, which is also very important at the moment. Because what we have in Brazil now because of this division, are some kinds of hate that I didn't find in Brazil in the old times. People who are from one side, they hate each other. It's crazy. So I think love would be nice to be talked about on this album. With Emicida in his lyrics, he talks about these political things and I think it was important that the songs have lyrics that are not guarded by censorship like in that time. Still, we know that culture has not been very well appreciated by this government. So that's what we are trying to bring out with this album.
And in terms of censorship from the government at the current time, has anything like that happened at all with music because I know for instance with cinema, there's definitely been some censorship where certain films haven't been allowed to show, such as Marighella, the new film starring Wagner Moura. Has there been any censorship of music like that, that you know of?
No, no, this I can't I can't tell you. Not to me directly. But let's just say there's been a lack of interest. Even before the virus, many important artists died in Brazil. When João Gilberto died, the president didn't mention anything, nothing about João Gilberto. Totally blank. How can somebody not mention João Gilberto, who was so important for Brazilian music? There were the deaths of Moraes Moreira, Aldir Blanc and many others and it's like nothing has happened, nothing's important. So it's not a censorship but it is like you are saying to your people 'Hey! Forget those artists, they are not important'. That's the shame. That's what I was saying, the lack of interest in culture is not the censorship of cinemas that you mentioned, it's not direct, but the feeling is very sad.
I want to change tact slightly and ask you something which may be hard for you to answer. If somebody was to ask you which Marcos Valle record they should listen to to understand what Marcos Valle is all about, which one would you recommend?
Well, this is a difficult one because as I tell you, sometimes I go in different directions. Sometimes I'm directed by my rhythm feeling, sometimes I will follow my melodies or harmonic feeling so some albums are so different from the others. It's difficult to say because others are about pop, some are more Brazilian or bossa, but if I have to choose one that maybe could give you some of this feeling together would be Garra. Garra, yeah.
It's my favourite.
Really? Yeah, I think there you can find the melodies, the groove, everything. I think maybe Garra is the one, and if you if you like it, that's good. That's great man.
What's your relationship with some of your older songs. I hear songs like "Crickets Sing for Anamaria" and "So Nice (Summer Samba)" almost on a weekly basis through something I'm watching or listening to. Do you still feel a close connection to those songs? Do you play them in concerts?
I do. I do, because you see in my concerts in Brazil or anywhere in the world, I try to combine the new songs. Let's say if I just recorded Sempre in my last tour in Europe, I put many songs from Sempre but I also add the other songs that people are waiting for and that I know like the "Crickets [Sing for Anamaria]", "Summer Samba", "Mentira" and many others. I always try to do something different with the arrangements. My band, [on the] day they ask me 'What arrangement are we going to do today?' Because in that way, I can still have fun while playing. It makes me happy playing those songs. I see the reaction of the audiences so I don't have anything against it. Nothing.
I wanted to ask seeing that you mentioned him already but how did you meet Leon Ware and how did you get involved working with him?
That was interesting. In '75, I decided to leave Brazil because I was feeling very bad about what I have told you, the military government, the censorship. I started to be very sad in Brazil. I didn't want to make music.
Why was it becoming hard to make music in Brazil?
Because the censorship was so strong, you had to be talking to those guys all the time. They would cut phrases, cut here and there. I said well, I have to leave. I didn't know how long I would be away from Brazil. I was married so I went with my wife. We went first to New York because my friend, Deodato, was there. I stayed close to him. He even recorded a song that I wrote there, "Adam's Hotel", he recorded on his album, First Cuckoo. But then I started to miss Rio de Janeiro, the sun and the tropical atmosphere of Rio. So I decided to go to Los Angeles because I think that maybe there, I could feel better.
It was a very good move for me because when I got there, I immediately received a call from Marty Paich who was producing an album of Sarah Vaughan with his son, David Paich, who was from the group Toto. They produced an album only with songs of The Beatles and they asked me if I could join. If I would sing with Sarah Vaughan in one of the songs called "Something" that George Harrison wrote, in a Brazilian way. So I said, 'yes. Sarah Vaughan, she's my hero'. So I wrote the Portuguese lyrics. She sang in English and I sang in Portuguese. She also recorded some songs of mine that I had written. Then I met the group Chicago, and they wanted to record songs of mine, and they did.
One of the songs that I had, the lyric has been written by Robert Lamm. Robert Lamm is one of the vocalists and the founders of Chicago. He wrote the lyrics for a song called "Love Is A Simple Thing" that I had written. Well, Leon Ware heard it. I didn't know Leon, but he fell in love with the song and recorded it. Then, after he recorded it he asked this friend that I knew, to ask if I could go to the studio and listen. When I went to his studio and listened to the record I said 'My God. This is so lovely. Beautiful.' So after that, we became partners. He said 'let's write some songs together' I said 'Absolutely. Let's do it'.
We started to write one after another. Then it became the Rockin' You Eternally album, which is the name of one of the songs that we wrote together. We wrote a lot of songs. That's how I met him and as I have told you, it was very nice. Our understanding of music was like we knew each other for a long time. That was quite an experience for sure and it influenced my music.
You worked with him through the 80s, and you worked with him on "Estrelar" right?
Yes. "Estrelar". "Estrelar" is one of the last songs that I wrote with Leon. He had not recorded that song because no lyrics had been written. I came back to Brazil in '81. Before returning I started to record, for Brazil, a new album. This album is called Vontade De Rever Você, that was before "Estrelar". I started recorded it in Los Angeles. The group Chicago were the band on two tracks, the backing vocals are Leon Ware and Peter Cetera. I brought these two tracks to Brazil and I finished both tracks. I recorded the audio tracks of many songs written by me and Leon. The next album was in '83, and I recorded many other songs that I had written with Leon. Many had been written or had been recorded in English. I recorded them in Portuguese. But "Estrelar", that he had not recorded, so I did it. My brother wrote the lyrics for the song and the song became a hit in Brazil. The song became a number one with children and adults. Everybody loved the song. It became important for me today with the dance floors and on films and television. It's a collaboration of mine and Leon. The groove of that song is very much like a Brazilian rhythm called baião together with the funk [hums a funky bass line]. This combination of rhythms, that's what I like. I love this mixture. I think mixture is so good for music. It brings joy, happiness, and brings new ideas.
But then am I right in thinking that you had a break in recording or releasing albums, shortly after "Estrelar", there was a gap of 12 years, up to the late 90s. What happened?
I'll tell you why. After "Estrelar" that came out in '83, I still recorded another single called "Bicicleta". Then in '86 I recorded another album, Tempo da Gente. The problem is, the record label closed a little bit after I recorded due to money problems. After that, I didn't know what to record because the music was changing in Brazil. The music was going in a direction of being very commercial. And I said 'well I don't know what to record at this moment because this music that they are trying to bring, I don't have anything in common with that.'
So I was waiting, then some invitations came to record old songs with other artists. I said, 'no, no, no. That's not what I want. Let me wait.' At that time what I did was I started to write songs for other artists and waited for the moment that would bring my interest and that's what I did. I didn't know that the right time would come from London, from the DJs, these people that started to discover my music. I never knew. I was in Brazil so I didn't know about that. Who told me? It was my good friend and my partner, Joyce Moreno. Because Joyce was already in that European scene, she already knew what was happening and she came to Brazil, she said 'Marcos, let me tell a story. You must know what is happening to your music. Young people are getting so interested in your music.' She said 'what do you think?' I said, 'that's great'. She said 'Okay. Then wait because the managers, agents they're going to look for you. Many record companies are going to come to you.' Then she told me about Joe Davis, who was the owner of Far Out Recordings. She said 'look, I have an idea. You want to meet him? He's going to Brazil. Can you have a lunch with him and see if you like him?' He came to Brazil and I liked him very much. I made a track for Far Out Recordings. I liked him so much so I said, 'okay. I'm going to do an album with you'. And since then, I have recorded for him maybe six records. After that, I knew that was why I was waiting to record again. I became so excited. Because that was my music, it's what I like to play, what I like to arrange and to do that, I was comfortable again. That was the reason that I waited those years to record.
I think it's amazing how your music, due to all the different styles you've played, keeps colliding with all these moments, styles coming back into favour. There's this big love of Brazilian boogie and disco at the moment, and this thing of bossa nova crossing over with jazz. It's great that you've got this album with Jazz Is Dead where it's showing that your music appeals to all these different sets of people who like different music.
Yes. I like this this idea of change. I don't like to repeat myself. That's why I told you when you asked me to choose one record, I went to Garra. Garra is okay. It concentrates the oldest things but I don't like to keep repeating. If I recorded Sempre with some more dancing, a boogie thing, on the next album, Cinzento, I never would have recorded something that will bring me that feeling of Sempre, because it's already there. Maybe five albums ahead of me, maybe. But because it's already there, I already said what I want, so now I want to put out the other things that are moving me. I think music is a matter of emotion. It's a love for what we're doing and a sincerity to what you are feeling at that moment. Emotion can be, as we mentioned before, a social scene, a political scene, it can be the sound of the beach, the "Summer Samba", it can be sadness. It can be so many things but you need an emotion. I don't like to sit down and write something that I'm not feeling. I don't like that. My feelings and emotions, they take me in different directions. Because I have already made music for dancing, I love it so much, but let me go to another thing.
To tell you the truth, I'm lucky because many projects come to me. It's not like I'm running after this thing. They come to me with these ideas and these proposals. I think it's a consequence of what I have written in the past, all of the music and so they come with this invitation. It's fantastic. This new album, with Adrian and Ali, it's fantastic. Now, I am writing songs with Tom Misch, from Europe. It brings a will to go to the piano, to go to the guitar, let's do it. That's why sometimes the albums go in different directions, because sometimes the people I make music with push me to these places because they are extracting from my music what they are looking for.
Marcos Valle: Jazz Is Dead 3 is released by Jazz Is Dead; Sempre is released by Far Out Recordings; Cinzento is released by Deck.

Follow Sounds and Colours: Facebook / Twitter / Instagram / Mixcloud / Soundcloud / Bandcamp

Subscribe to the Sounds and Colours Newsletter for regular updates, news and competitions bringing the best of Latin American culture direct to your Inbox.
Share: