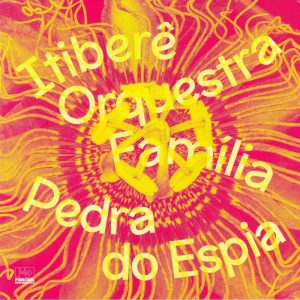 Review
Itiberê Orquestra Família – Pedra do Espia
Back in 1994, I recorded a broadcast on Radio 3 of Hermeto Pascoal live in concert with a big band made up of top London-based jazz musicians. It was part of The Hairy One's European tour and my first taste of the music of a man Miles Davis famously described as "the most impressive musician in the world". His regular bass player, Itiberê Zwarg, was no doubt part of the band in London. The apprentice had been playing with, learning from and absorbing the master's notion of polyrhythmic, poly-harmonic and improvisation-rooted 'universal music' since 1977, the year after Pascoal's most widely-known album, Slaves Mass.
Some 24 years later, in 2001, Itiberê Zwarg led a workshop at the Villa Lobos School of Music with 29 of Rio de Janeiro's (evidently) most-talented young musicians. Originally released that year on CD, the Far Out label has now resurrected this neglected treasure as a vinyl record, download and double CD. "Itiberê Orquestra Família make universal music," Pascoal declared. "This family has fallen from the sky. Their music is excellent, a treasure chest full of harmonic, rhythmic and melodic jewels." He didn't go so far as to suggest that maybe the apprentice had surpassed the master, but I would argue that Itiberê and his young family of musicians have done just that – and arguably created the album that Pascoal himself has never quite managed.
Listening to Hermeto Pascoal's music can be a somewhat frustrating experience. The man is so creative and so prolific – this is someone who set himself the challenge on his 60th birthday in 1996 of composing a tune for every day of the ensuing year (the results were published in 2000 as Calendario de Som, "Calendar of Sound") – that ideas seem to tumble out like a river over rapids. At worst, his music can border on incoherence. With Pedra do Espia, however, his pupil has created something genuinely coherent. All the more remarkable when you consider the running time of more than 90 minutes and the modus operandi used. Itiberê composed and arranged in real time, transcribing the Orquestra Família's improvisations in the spirit of experimentation.
Somehow it all hangs together almost effortlessly from start to finish. On the liner notes to the original release, the composer and orchestrator guaranteed that the collective product would be "surprising in its uniqueness, its harmonic richness, its exuberant melodies and rhythmic variations like nothing you've heard before". True enough, perhaps, although there are echoes of a musical heritage throughout. It explores, for example, the same classical/jazz borderland that Moondog, Gil Evans and George Russell once did. There are moments, too, of pure Frank Zappa that wouldn't be out of place on The Grand Wazoo or "Music for Electric Violin and Low Budget Orchestra". The beautiful wordless vocals of Mariana Bernardes suggest Flora Purim's take on something like "Midnight Sun". The signature combination of voice, strings, woodwinds and percussion recalls Steve Reich at his pulsating, hypnotic best. And, of course, there are the constant echoes of the venerable grand master.
There are 16 pieces on the complete album. Even though the opening "Na Carioca" serves as an initial 'single', it's difficult to separate them. They are more like movements of a symphony than individual numbers, so it's hard to highlight any one at a time. You have to listen to it as a whole and just let it all wash magically over you. Admittedly, over 90 minutes there is the occasional longueur, when you catch yourself drifting off. But then a sudden shift in tempo or a startling key change reminds you of what you miss if you don't keep your eye on the ball. If such an ambitious music reveals the odd flaw, arguably something slightly flawed can be more interesting than perfection. Embrace this flawed masterpiece and you'll be showered with earthly and ethereal delights; different ones every time you tune in.
Pedra do Espia is released by Far Out Recordings.

Follow Sounds and Colours: Facebook / Twitter / Instagram / Mixcloud / Soundcloud / Bandcamp

Subscribe to the Sounds and Colours Newsletter for regular updates, news and competitions bringing the best of Latin American culture direct to your Inbox.
Share: