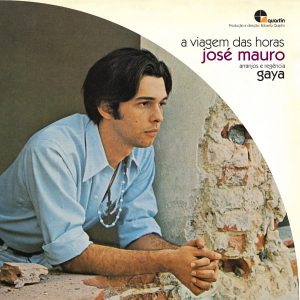 Review
José Mauro – A Viagem Das Horas
When I heard José Mauro's Obnoxius back in 2016, Far Out Recordings' re-release of an album the Brazilian singer-songwriter recorded originally in 1970, I thought I'd never in my life heard anything quite so sad and beautiful – a feeling intensified by the information that he had died tragically in a car accident around the time of the album's completion. File therefore with Nick Drake, Jeff Buckley and other ill-fated artists whose stars had burned briefly but brilliantly in the firmament.
Enhancing the bonus of this subsequent release, also recorded in 1970 at the Odeon Studios in Rio for Roberto Quartin's independent eponymous label, comes the news that José Mauro has been discovered alive and well and living quietly on the outskirts of the city. Rumours of his death were, it seems, exaggerated. Bizarrely, the follow-up was originally released by another label six years after the recording along with several tracks from Obnoxius. Curiouser and curiouser, said the reviewer. The anomaly has been corrected this time around: in its new format, the album includes three never-before-heard tracks as per the original conception.
Like Obnoxius, A Viagem Das Horas is the product of a four-way partnership. Mauro himself wrote the music and sung the songs in his signature mournful baritone, lending each of the 11 tracks a quality of deep yearning and, in his own words, "a sense of beauty, a sense of wonder." Like Procol Harum's Keith Reid, a silent partner, Ana Maria Bahania, contributed poetic lyrics, which underline the sadness of "a generation in transit, searching for another option" at a time when the military stymied artistic expression. Their combined interest in the indigenous hybrid Candomblé religion expressed a spiritual response to a world in which they found themselves adrift. It's a response intensified by the soaring, dramatic orchestrations of Lindolfo Gaya. Fixing it all in place, producer Roberto Quartin assembled a crack team of musicians that included Wilson das Neves and Azymuth's celebrated percussionist, Ivan "Mamao" Conti.
If this in any way suggests an over-egged pudding, it shouldn't. The basic ingredients of the music are Mauro's voice accompanied by an open-tuned acoustic guitar (sounding remarkably like a Dobro on "Morango Encantado"). Strings, so often the syrupy downfall of any such romantic music, are never ladled on but used sparingly to shade and emphasise rather than to suffocate. Similarly, the production exploits space to underline the music's innate drama. Add an occasional solo wind instrument, some understated percussion, a contrapuntal choir here and there and the result holds the listener in a trance-like spell underpinned by an ominous sense of foreboding throughout.
Given its chequered history, it's hardly surprising that A Viagem Das Horas doesn't quite scale the heights reached by Obnoxius. Nevertheless, the title track and others like "Escada de Ferro" and the glorious "Rua Dois" would have graced its predecessor. As a whole, it cements José Mauro's place in the pantheon. But here, alas, the story ends. There is no more long-buried treasure to unearth. The singer devoted himself to guitar teaching and composing music for theatre before his "body pushed [him] away from music, health became a stumbling block." Ana Maria Bahania became a music journalist, magazine editor and prolific author. Roberto Quartin moved to the US, where he would work with Frank Sinatra, among others. What they created in 1970 has stood the test of time as firmly as, say, some of the best of Milton Nascimento's songs. Grab yourself another most welcome slice of this unique and unforgettable music.
A Viagem Das Horas is released by Far Out Recordings

Follow Sounds and Colours: Facebook / Twitter / Instagram / Mixcloud / Soundcloud / Bandcamp

Subscribe to the Sounds and Colours Newsletter for regular updates, news and competitions bringing the best of Latin American culture direct to your Inbox.
Share: