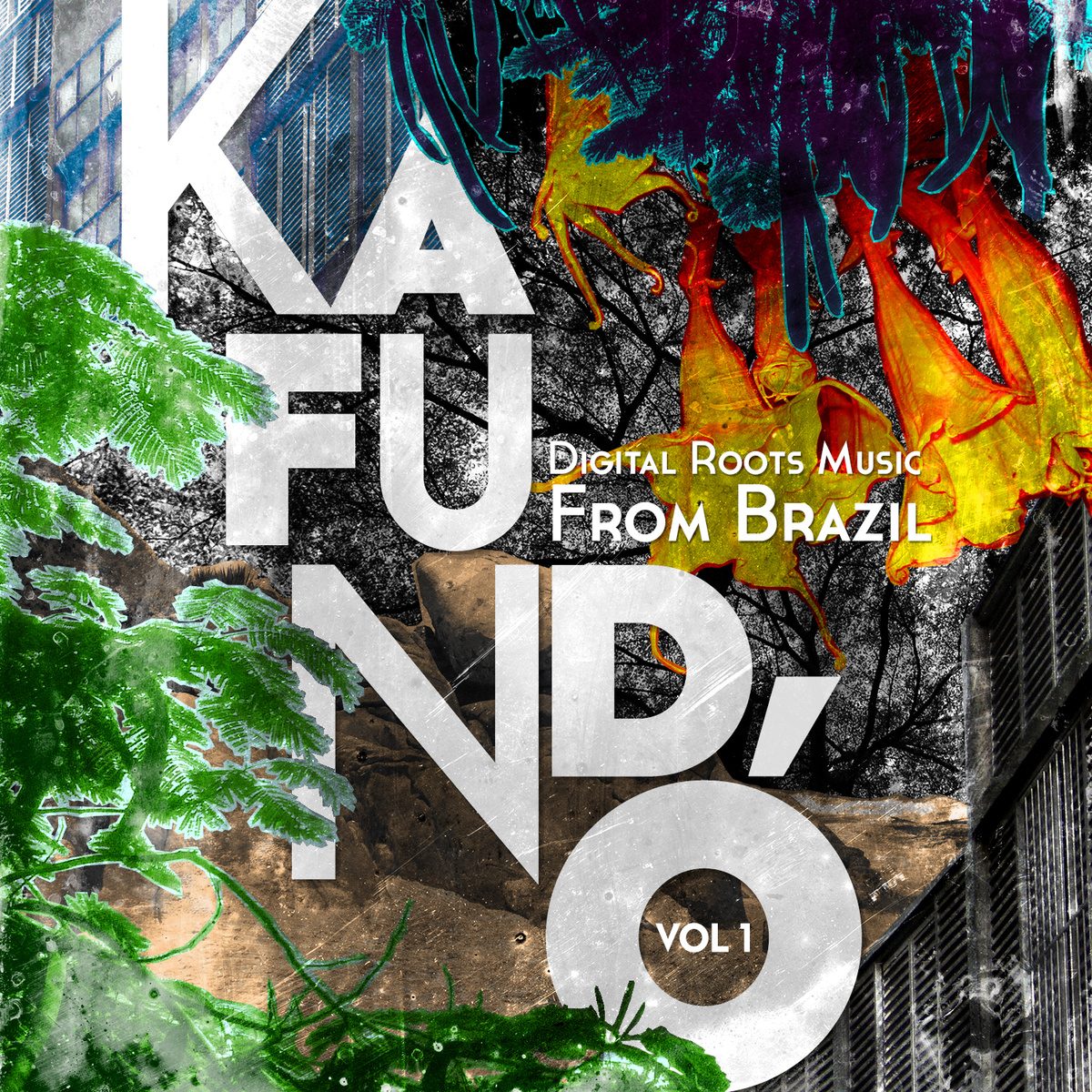 At this point, trying to attach a single name to styles within the global bass/electro-tropical movement might as well be useless, as new and incredibly interesting fusions keep popping up from the urban centres and the peripheries of every major city in the Americas. The uniting factor is the electronic part of the equation, as most of these artists and producers usually resort to the sounds of their own folklore for inspiration, as everyone from the digital cumbia/digital folklorica to the norteño-tec movement in Northern Mexico can attest. But while a lot of these genres have functioned to unite the North with the South, not a lot of them have set out to showcase the influence that the cultural and musical contributions of the diaspora, specifically the African diaspora, had on the creation of many regional genres, and still have on the emergence of new styles. At least, not in the way Brazil has.
That's why Kafundó Vol.1: Digital Roots Music from Brazil – the brainchild of Brazilian artists and music connoisseurs Maga Bo and Wolfram Lange – becomes such an important and indispensable compilation. It's not just for anyone interested in hearing the latest sounds from the different Brazilian scenes, it's also for those who want to learn how they tie back to the music coming from African countries and the greater, and global, African diaspora. Not to mention, it'll make you dance like you just stuck your finger in an electrical socket.
The compilation, the first release for the newly founded Kafundó Records, is an ambitious project for both Bo and Lange. Taking its name from the "cafundó" (Brazilian Portuguese word for "far away and isolated place") it aims to give its listeners a new way to think of spatial politics within cities, specifically to begin to destroy the "favela/asfalto binary", as Dutty Artz, the third party involved in this release describes it, and change the narrative to a more inclusive one. With this in mind, the album opens with the short but hard-hitting drum track by Recife's Combo X, which mixes a little jungle with traditional drumming patterns from Northern Brazil. This paves the way for global tastemakers Tropkillaz with "Kazoombow": a frenetic mixture of trap, bass and Jamaican reggae beats.
[soundcloud url="https://api.soundcloud.com/tracks/152850465″ params="color=ff5500&auto_play=false&hide_related=false&show_comments=true&show_user=true&show_reposts=false" width="100%" height="166″ iframe="true" /]
Unlike other compilations which might feature an array of styles in no particular order, it feels like Kafundó was meant to build up from Combo X's intervention to feature body rocking after body rocking track. After Tropkillaz set the scene, two of the record's stand-out tracks follow: an excellent collaboration between Río de Janeiro's Omulu and American DJ Comrade, and the always amazing music researcher and producer, Lucio K. Omulu and DJ Comrade battle it out (hence the vs.) in "Bagulho Doido" which mixes the newer rasteirinha or rasteira – popularized by MC Romântico with "As Novinha Tão Sensacional" – with funk carioca and dancehall. While Omulu's usually associated with tecnobrega, this track sees him and DJ Comrade uniting to give a harder, more abrasive edge to rasteira. On the other hand, Lucio K continues on his journey to anticipate the wave fusing tecnobrega with zouk bass, dancehall and even batucada on "Bahea!". So, basically he created a track that prays on our most basic instincts to listen for the beat and dance it out. It's too early to tell, but I would say he might be on the way to creating a new genre with this one.
[soundcloud url="https://api.soundcloud.com/tracks/152846916″ params="color=ff5500&auto_play=false&hide_related=false&show_comments=true&show_user=true&show_reposts=false" width="100%" height="166″ iframe="true" /]
From Salvador de Bahia, producer Mauro Telefunksoul and MC A.MA.$$A also take on rasteira, albeit in a more traditional way with "Apache Nagoh (Rasteira Edit)", while Furmiga Dub and MC Atômico, and Ba-Boom do their own fusions with forró, bass and Jamaican dancehall reggae. They round out the first part of the compilation, which hooks you in by providing some of the most danceworthy jams from the Brazilian underground. The second part gets a bit more introspective.
Embolada/rap fusion artist Zé Brown, and Sombra open up the second half, most of which is focused on not only showcasing the genres and fusions, but also the emcees and vocalists that form the scenes. Maga Bo himself remixes BaianaSystem's "Oxe Como Era Doce", keeping the intensity of the traditional baiano rhythms – that inspiring combination of acoustic guitar and drums – mixing it with bass music and bringing out the best in vocalist Russo Passapusso's soft voice. Passapusso also contributes the beautiful and upbeat "Matuto".
[soundcloud url="https://api.soundcloud.com/tracks/152846883″ params="color=ff5500&auto_play=false&hide_related=false&show_comments=true&show_user=true&show_reposts=false" width="100%" height="166″ iframe="true" /]
The compilation ends exactly where it begins, with the beat of the drums. This time they come from Natal born- São Paolo based Neguedmundo. It's the perfect ending to the compilation, which does a 360 and lands right back into Afro-Brazilian beats with "Toca Aí" and Neguedmundo's signature fusion of reggae dub and Northern Brazilian rhythms. He's one of those artists that has made it his mission to showcase musically and socially his Afro-Brazilian roots, a line of thought that fits perfectly with the mission statement of this compilation. While what Bo and Lange have accomplished may seem all encompassing, it's actually just the beginning; an invitation to keep blurring arbitrary lines, socially, musically and culturally. In it's essence, Kafundó can be seen as a cue for everyone: for listeners, researchers, and current and future artists to tune in, follow the rhythm to its wider roots and lead the sounds to the future while still paying respect to the past.
Kafundó Vol. 1 is available from Kafundó Records' Bandcamp, Amazon and iTunes.

Follow Sounds and Colours: Facebook / Twitter / Instagram / Mixcloud / Soundcloud / Bandcamp

Subscribe to the Sounds and Colours Newsletter for regular updates, news and competitions bringing the best of Latin American culture direct to your Inbox.
Share: