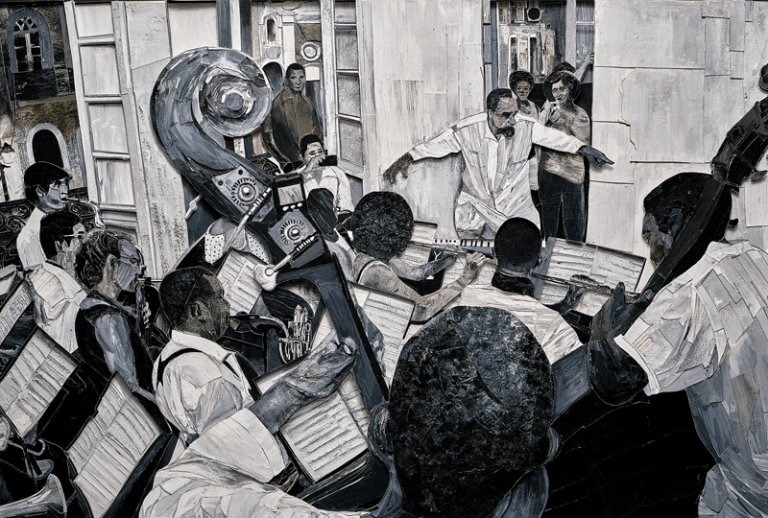 Latin American Jazz Round Up
26 November, 2020
Despite being a year of few gigs, 2020 has still seen some great releases from those musicians who are determined to keep their faithful fans supplied with sonic goodness. In case you missed it, here's a round up of some of the jazz that's been coming out of Latin America recently.
Soul Jazz Records Presents Enrique Rodríguez & the Negra Chiway Band – Fase Liminal
This Chilean spiritual jazz album pulls together influences from the greats of this genre—Sun Ra Arkestra, Pan-Afrikan Peoples' Arkestra, Pharoah Sanders and Alice Coltrane—and adds an eclectic dose of over-blowing chants, touches of Kurosawa's samurai film soundtracks, and some lop-sided percussion grooves. It's a beautifully produced and quite fresh sounding piece, particularly the powerful explorations on the opening track "Donde¿". It's an album that you really can't second guess, brimming full with quirky character – most notably the hoarse cries and shouts that pepper "Descenso" and the abrupt frenzy that erupts halfway through "Acabar de Conocerse".
Robin Jones Seven – EL MAJA
Robin Jones, who released this album back in 1972, has been considered one of the earliest and longest serving exponents of Latin jazz in the UK: he claimed himself that one of this album's tracks, "Batucada Da Vida", was the first recorded samba tune in the UK. Considered a rare classic amongst those in the UK jazz dance scene of the 70s and 80s, El Maja has recently been re-released by DJ Paul Murphy's Jazz Room Records digitally on vinyl. The opening track "EL MAJA" is the standout favourite, charged with clattering percussion and roaring trumpet—you can't help but wonder whether anyone would have the energy to keep up dancing to something this fast paced after a lethargic year of lockdown…
Conde Favela Sexteto – Temas para Tempos de Guerra
São Paulo's Conde Favela Sexteto put out an interesting album in spring this year that slipped under the radar due to its unfortunate timing. Temas para Tempos de Guerra (Songs for Wartime) is a finely crafted work that has some really wonderful musicianship at play, particularly the solos on its closing track "Ogum". It's a nice balance of quite delicate arrangements alongside some moments of more intense experimentation, with each track given plenty of time to be developed and explored fully. The album's warm production is worth a mention as well, it's definitely one for the audiophiles.
Orquestra Afrosinfônica – Orín, a Língua dos Anjos
Jazz, Afro-Brazilian rhythms, a host of talented Brazilian singers and… an orchestra? Led by composer and conductor Ubiratan Marques, Orquestra Afrosinfônica take us on a quite charming journey with Orín, a Língua dos Anjos, blending the familiar melodic and choral styles of samba and MPB with jazz orchestral arrangements. Far from the open-ended spiritual jazz explorations noted above, the pieces on this album are defined by their intricate arrangements, full of spritely and virtuosic melodies that are played in tight unison across the orchestra, and lots of colourful harmonic language embedded within. There's little to no space given for solos on this one, but the real skill to be appreciated here is in its masterful composing and precise execution by the orchestra's 22 musicians.

Follow Sounds and Colours: Facebook / Twitter / Instagram / Mixcloud / Soundcloud / Bandcamp

Subscribe to the Sounds and Colours Newsletter for regular updates, news and competitions bringing the best of Latin American culture direct to your Inbox.
Share: