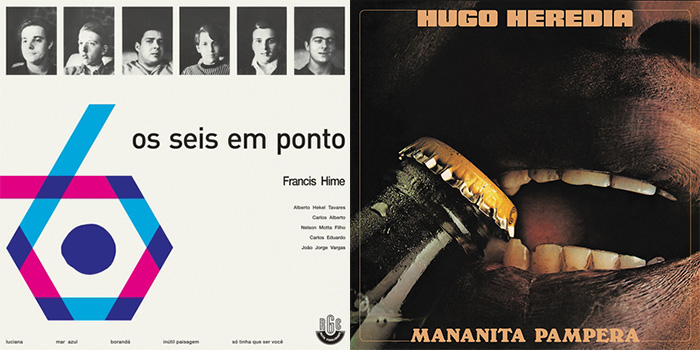 Latin Jazz Round-Up: Os Seis Em Ponto, Hugo Heredia
05 August, 2019
It's nearly always a pleasure to unearth some new-old 60s and 70s jazz from south of the Rio Grande because the pleasure is so rare. Two new reissues have taken rather different routes to reach today's market place: the earlier one from Brazil via Madrid, the later one from Argentina via Germany, France and now England.
Os Seis Em Ponto
Os Seis Em Ponto (1965)
RGE/Vampisoul
***
With original liner notes from no less an authority than Antonio Carlos Jobim, the Spanish label Vampisoul has produced a loving facsimile of a young Brazilian sextet's first album from 1965 for the prestigious RGE label. And my! they are indeed young to be playing with such a light, confident touch the kind of sophisticated music that could be branded as bossa jazz. One of the two elder statesmen at 25, the band's leading light is pianist, composer and arranger, Francis Hime. The other three members of the rhythm section are all in their teens: guitarist Nelsinho Motta, bass player Eduardo Sadock de Sá and 17-year old drummer, João Jorges Vargas. The band's distinctive sound derives from an unusual combination of Alberto Hekel Tavares' flute and Carlos Alberto Cumarão's trombone.
Well as they play, it's probably the carefully-chosen repertoire that lifts the album clear of the average. Jobim himself contributes three lesser-known gems, Vinicius de Moraes shares three with three separate collaborators (including Hime himself), and there are single offerings from Carlos Lyra, Eduardo Lobo, Roberto Menescal and Oscar Castro Neves, a veritable who's who of contemporary song-writing talent. Only really "Samba do Carioca", though, has been hot-wired by familiarity.
Os Seis Em Ponto swing their way through this classy dozen with an élan and feel reminiscent of Sérgio Mendes' Sexteto Bossa Rio and, at a similar time in distant Havana, Chucho Valdés' pre-Irakere Combo. Challenging it may not be, but charm is present in spades. Francis Hime and his youthful cohorts provide a bright and breezy soundtrack to this Brazilian-hot European summer.
Os Seis Em Ponto is available now from Vampisoul
Hugo Heredia
Mananita Pampera (1976)
Côte D'Azur/Jazz Room Records
****
Celebrated jazz-dance DJ Paul Murphy set up his Jazz Room re-issue label for just such left-field finds as this particular album. Recorded in Germany and released on an obscure French label, Murphy unearthed a copy in London and spun it summa cum laude for the punters at his first Jazz Room in Tottenham Court Road. You won't find the original album in a Penguin guide and nor will Hugo Heredia feature in any Who's Who in Jazz, but this find is a real treat.
So who the heck is Heredia? The clue is in the tone of his tenor. When he switches from flute and soprano to the bigger horn, you can close your eyes and imagine that you're listening to the throaty roar of fellow Argentinean saxophonist, Gato Barbieri. Heredia left his native land to go to Europe to further his career. Based it seems in Italy, he struck up a partnership with pianist Vittorio Bacchetta. As Victor & Hugo, they released such dubious material as "The Pink Panther Theme" and the "Love Theme" from Marlon Brando's wonderfully bizarre Western, The Missouri Breaks.
We shouldn't necessarily expect a reissue of any such patent attempts to earn a living. It's the way of the world that this un-commercial creative album sank without much trace. This is artistically adventurous music, recorded with a band that included a German drummer and bass player, a Brazilian-sounding percussionist, Heredia himself and – the icing on the cake – Horace Parlan on piano. Veteran of countless Blue Note sessions, including Headin' South – from which the track "Congalegre" was borrowed for the first, seminal Blue Bossa compilation – Parlan was a polio victim. The disease twisted his right arm and lent him a fairly unique style. At the time of Mananita Pampera, some years before hooking up with Archie Shepp to record a set of rich duet albums, Parlan was living the life of a self-imposed jazz exile in Copenhagen (like two other jazz tyros, Stan Getz and Dexter Gordon).
Unlike the Vampisoul release, the resulting music is fairly challenging; unsuitable for all but the more broad-minded dinner parties. Coltrane is clearly an influence, but not – mercifully – late Coltrane, more the Coltrane of his middle period on Atlantic. It's searching jazz that reaches for the upper realms. If you want to give it a label, you could classify it as "spiritual jazz". Indeed, the closest analogy here is the various Milestone-label groups of one of the genre's masters, McCoy Tyner, whose habitual tenor cohorts often shared Heredia's sonic oomph.
Not that you'd have any idea of what was to come if you listen to the album's brief titular prelude. The breathy flutes and pipes conjure up an Andean feel that is totally confounded by the stand-out "El Beto" that follows. Heredia's flute dances over the throbbing bass, the busy percussion and Parlan's insistent piano vamp (lifted straight from Miles Davis' "Milestones") until the pianist takes off in the same kind of way as Tyner might on a track like "Atlantis". When Heredia comes back in towards the end of this long emotive excursion, he trades flute for tenor. The ensuing "Have You Met Miss…?" (which is either missing the "Jones" or based on the chord changes of the Rodgers and Hart standard) features Heredia's more genteel soprano sax. A brief reprise of "El Beto" rounds off the first side.
The flipside is a vehicle for Heredia's beefy tenor. "Tunida" roars like his compatriot, Gato Barbieri, while "Carmen Pequena" features a long Horace Parlan intro before Heredia asserts himself once more on the big horn. "Al Bebbe Gina" is a suitably vigorous closer: an echo of "El Beto", even down to the hint of "Milestones" once more in the piano vamp.
It all adds up to a terrific album. I'm not sure how Señor Heredia's subsequent career panned out, but hepcats everywhere will doff their pork-pie hats to Paul Murphy for bringing the man's crowning glory back to light. Judging by the teaser on the Jazz Room website, the label's next release promises to be equally interesting and Latin enough to earn a slot on Sounds and Colours.
Mananita Pampera is available now from Jazz Room Records

Follow Sounds and Colours: Facebook / Twitter / Instagram / Mixcloud / Soundcloud / Bandcamp

Subscribe to the Sounds and Colours Newsletter for regular updates, news and competitions bringing the best of Latin American culture direct to your Inbox.
Share: