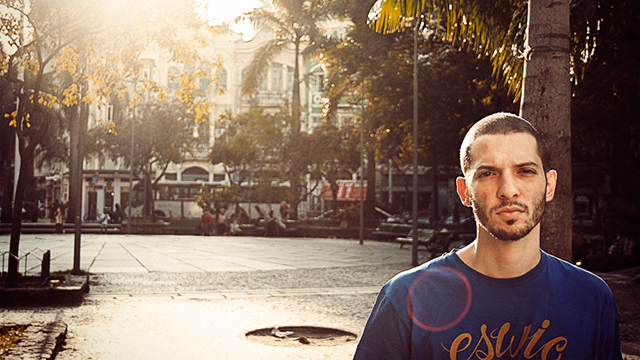 Leo Justi's Guide To The Rio Dance Music Scene
18 June, 2014
Funk carioca is changing. What was the electronic signature of Rio's favelas is morphing into new forms and ideas. At its worst it's become more pop than anyone could have imagined, but at its best, it's been fused with tropical bass, Baltimore club music and the kind of unclassifiable alternative global electronic music that M.I.A. made her name with.
This is where Leo Justi comes in. His pulsating, unforgiving dance-floor version of funk carioca, known as heavy baile, was gaining a name for itself well before M.I.A. heard one of his tracks and invited him to work with her in India, though her invite certainly didn't cause Justi's career to stutter. He's now signed to Waxploitation (home to Danger Mouse and Gnarls Barkley), with a debut album primed for 2014 and the world unknowingly in anticipation for heavy baile to hit. With his experience of playing the clubs of Rio and the producers that are making things happen, Justi seemed like an obvious choice to introduce Sounds and Colours to the world of Rio's electronic and dance music scenes. Here's our interview with the man, preceded and followed by two videos which highlight why we really should be excited by this man's debut album.
What's the scene like in Rio? What are the most interesting nights and artists?
Well I think the best way for me to give a "guide to Rio's night life" is, rather than talking about parties, listing some DJs that do good in the always new parties coming about. My list would begin with the guys from Wobble, Rodrigo S and Marginal Men, for those in search of trap, dubstep, and UK club sound in general, as well as hip-hop.
The new/crossover sounds of baile funk, and US club (Bmore, Philly, Bounce), also dancehall, are best represented by Leo Justi's Heavy Baile party, Johnny Ice and Recalcada's DJ Doug Def.
Indie rock and pop folks can rely on the long established 7 Day Weekend, that mixes indie stuff with hip-hop and pop, as well as Wake Up and Veneno (at Casa de Matriz).
Places: Fosfobox in Copacabana has, in the rough, a scheme like Thursdays for hip-hop/black, Fridays for house/electro, Saturday for pop/rock/indie. Comuna is a place usually very daring in its occasional parties and events, covering a lot of possible styles in music and arts. CAVE is another new venue with an eclectic line-up.
On the hip-hop scene, there is a circuit apart from this "alternative" scene I just described (also considered a GLBT-friendly scene), like the parties Xarpi and Luv, also very established. Hip-hop names in this scene include Cartel MCs, DJ Saddam and DJ Erik Skratch.
On reggae we have mainly Digitaldubs Sound System, specialized in roots and dub, Interferência SS are more into dancehall and Dubatak covers pretty much all reggae.
My advice is, just look up the DJs, parties and places I listed on Facebook, add them to a "Rio" list, and you'll have the hot info coming your way!
Which are the new musical trends that you see as being specific to Rio?
Trap, as dubstep did in 2010-11, is the new shit, giving place now for the "twerk" thing whatever "new" that be… but I'm talking about my scene. In general the club world revolves around the social aspect of night life, booze, girls, etc. In our scene (I mean the parties in Fosfobox, Comuna) trap, nu disco and heavy baile would be trends in vogue.
Does funk carioca continue to have a big influence on music in Rio?
For sure. It never fails (or at least 90% of the time). Cariocas have a secret button in their mind which only baile funk can push.
Who's your favourite musician in Rio at the moment?
I'd say Wladimir Gasper.
[Note, I talked about the parties that are rather serious with a musical thing. There is a million others that are big and popular but not really committed to music. Usually these will demand more $$$ from you too.]
Find out more about Leo Justi at waxploitation.com/leo-justi

Follow Sounds and Colours: Facebook / Twitter / Instagram / Mixcloud / Soundcloud / Bandcamp

Subscribe to the Sounds and Colours Newsletter for regular updates, news and competitions bringing the best of Latin American culture direct to your Inbox.
Share: