Let It Flow: An Interview with Eskimo's Patrick Laplan
22 September, 2011
It's been more than 10 years now since Patrick Laplan left Los Hermanos, but many people still refer to him as their bass player. It's understandable: after he left, the band achieved the critic's approval and a phenomenon that we hadn't seen since in Brazil since Legião Urbana in the 80s, with its members getting a messianic status.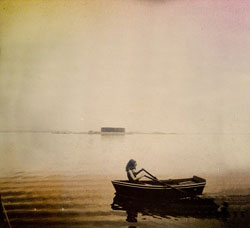 But Laplan didn't stop there. After he left the band, he played with groups as different as Biquíni Cavadão and Rodox, and recorded as a hired musician for many other artists. In 2006, he released with his project Eskimo an eponymous EP with six tracks, a shy attempt to figure out who he was artistically. Five years later, a whole album finally sees the light. With Felicidade Interna Bruta (album cover pictured on right), he shows what he has been doing all these years and says he's finally free from the shadow of his ancient group.
"I used to feel a lot of pressure. Of course I was afraid people would compare my music to Los Hermanos' music", he admits. "But not only that. I was writing for the first time, composing for the first time (with rare exceptions). And I was expressing myself with almost no filter. These were emotions that were truly lived. Even now, I still cry if I sit to read some of the lyrics. And to open that to the world makes you feel an almost bizarre pain. Besides the fact that, at the right moment you 'free' the record, it comes a crazy "postpartum depression"… and I knew it would come. And that freaks you out", he says.
The thing is that he took many years composing the songs of this album. And that's one of the reasons why the songs sound so different from each other. "Of course I changed a lot since I began to make thoses songs – some elements of "A Curva", for example, are from 1999. And I was a guy that didn't like carnival, now I even play at a bloco (carnival street party)", he tells. "It's a supermix of things. It's a crazy album, I had to work hard for it to make sense."
Besides having all the sweet and emotional vocal of Cauê Nardi, the songs have in common some sort of watermark that Laplan – a talented multi-instrumentalist – prints on it. Like a mix of his experiences with bands like Los Hermanos and Tom Bloch, his love for Mr. Bungle and his wish for incorporating new sounds to his work, from samba to tango. He agrees: "It's the same person playing different things, but it has quirks, brands… I don't even notice it anymore. They are second nature, but repeat homeopathically. And some of the elements too: textures, using electronic video game noises, Tim Burton-like noises, 'cute little monster'. It ends up spreading throughout the entire record. And also the themes of the lyrics", he says.
Most of the lyrics talk about love – lost, found, expected. "Nothing is fiction, besides "Harbolita" (that might have a reality background, too). Some of the lyrics, I could swear I was talking about someone else, someone I knew. Later, I realised it was something I wanted to hear from someone. So it gets out of control. Even Freudian slips happen. It was freaking me out when 'the other side' started to unfold", Laplan admits. Also, many songs refer to the sea, as a tribute to his family – the CD booklet has pictures of his grandfather and grandmother. "I have this connection with the sea. My grandparents met at a boat race. My family was often at the sea. My tattoos have something to do with it", he describes.
Until now, they have one video ("Bipolar") and have perfomed a few concerts. Laplan now plays with Marcelo Yuka (one of the founders of O Rappa, former band's drummer), influenced by afrobeat. But Eskimo is the priority. "This album is a watershed in my career", he says, using a sea-related metaphore again. Let it flow.
Felicidade Interna Bruta is available for streaming: eskimobr.bandcamp.com/album/felicidade-interna-bruta-2011
"Bipolar" video:


Follow Sounds and Colours: Facebook / Twitter / Instagram / Mixcloud / Soundcloud / Bandcamp

Subscribe to the Sounds and Colours Newsletter for regular updates, news and competitions bringing the best of Latin American culture direct to your Inbox.
Share: