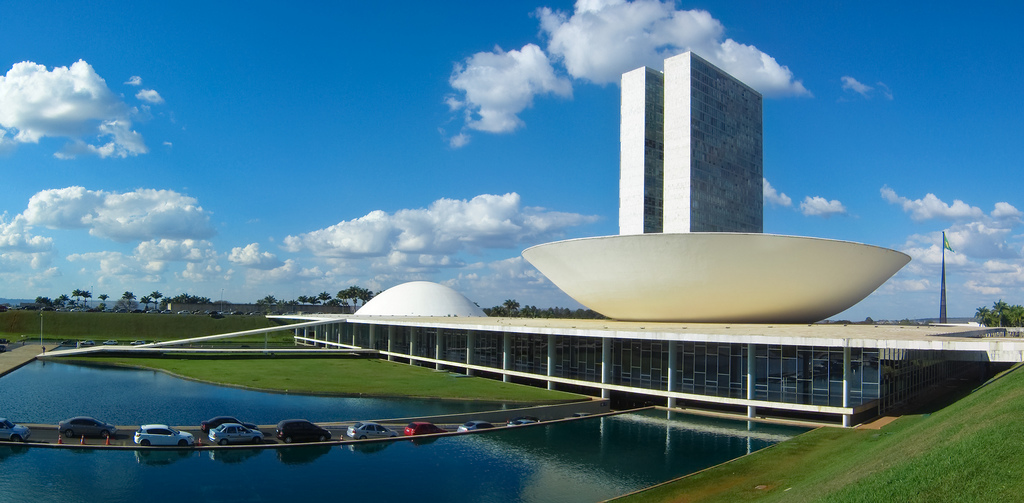 Life Is More Important Than Architecture: A Celebration of Oscar Niemeyer
11 December, 2014
Oscar Niemeyer reshaped Brazil's identity during the 1940s, 50s and 60s. His works are characterised by the abstract forms and smooth curves.
"I am not attracted to straight angles or to the straight line, hard and inflexible, created by man. I am attracted to the free-flowing, sensual curves. The curves that I find in the mountains of my country, in the sinuousness of its rivers, in the waves of the ocean and on the body of the beloved woman. Curves make up the entire universe, the curved universe of Einstein." Oscar Niemeyer
To celebrate the Brazilian icon of architecture on the 2nd anniversary of his death, we'll be looking back at some of Niemeyer's best achievements and milestones achieved throughout his professional life. Born in 1907 in Rio de Janeiro, the Brazilian architect Oscar Ribeiro de Almeida Niemeyer Soares Filho – better known as Oscar Niemeyer – transformed the landscape of many cities with his internationally-recognised modernist designs. He continued to work in the field of architecture until his death in 2012 at the age of 104.
During his youth, he led a bohemian lifestyle and was relatively unconcerned with his future, but by 21 years of age he had met and married a very religious girl called Anita Baldo (herself only 18 years of age) and began working for his father's typography business to support his family. A year later, in 1929, he would begin his career trajectory by enrolling at the School of Fine Arts in Rio de Janeiro to read for Engineering and Architecture. These studies continued into University and, in 1934, he graduated with a BA in Architecture from the School of Fine Arts. Five years later, he took leadership of the project to design the new Ministry of Education and Health's headquarters in Rio de Janeiro. The building was the first state-sponsored modernist skyscraper in the world and it was completed in 1943 when Oscar was 36 years old. It had employed local materials and techniques as well as commissioning works by Brazilian artists.
Ministry of Education and Health, Rio de Janeiro
In 1939, Niemeyer and Lucio Costa – a much more experienced Brazilian architect – designed the Brazilian partition for the New York's World Fair. Impressed by its avant-guard design, the mayor awarded Niemeyer the keys to the city of New York.
In 1940 he began to design a series of buildings called the Pampulha Complex (below), which was to include Brazil's first listed modern monument. When all the buildings were completed in 1943, they provoked controversy but also received international acclaim at the Brazil Builds exhibition at the New York Museum of Modern Art.
Pampulha Complex
1947 was the year when his worldwide recognition was confirmed as he travelled to the United States to be a part of the team designing the headquarters of the United Nations in New York. Yale University invited him to teach and the Harvard Graduate School of Design invited him to be their Dean but because of his Communist Party membership, he was denied a visa to work in the country.
Palácio do Planalto (official workplace of Brazil's President)
Soon after Juscelino Kubitschek became the President of Brazil, he looked for Niemeyer to be a part of his most audacious scheme to build a new capital city for Brazil. It took four years for the city of Brasilia to be completed and when it came to completion, he was nominated Head Chief of Brasilia University's College of Architecture and in 1963 he became a honorary member of the American Institute of Architects in the United States as well as receiving the Lenin Peace Prize from the USSR and on Niemeyer's 100th birthday Russia's President, Vladimir Putin awarded him the Order of Friendship.
"Our concern is political too – to change the world… architecture is my work and I've spent my whole life on a drawing board, but life is more important than architecture. What matters is to improve human beings" – Oscar Niemeyer
Niteroi Contemporary Art Museum

Follow Sounds and Colours: Facebook / Twitter / Instagram / Mixcloud / Soundcloud / Bandcamp

Subscribe to the Sounds and Colours Newsletter for regular updates, news and competitions bringing the best of Latin American culture direct to your Inbox.
Share: