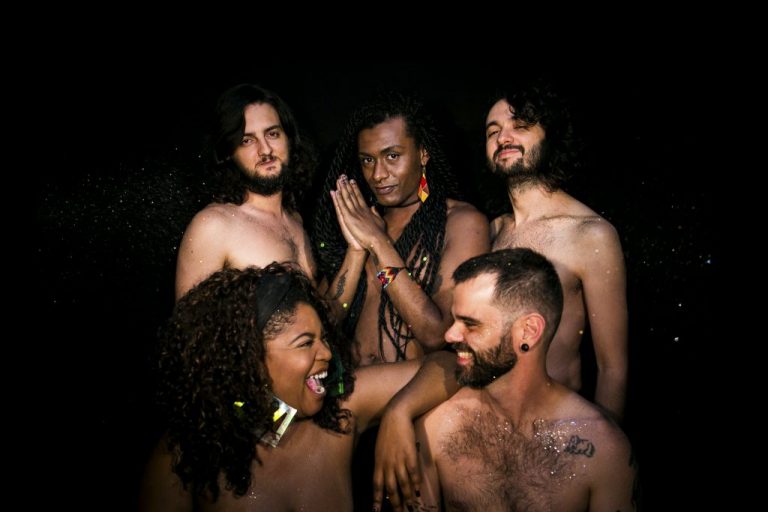 Leila Penteado
Liniker and Brazil's New Counterculture
18 May, 2017
In the video for "Zero" (below), Liniker approaches the microphone in sleek skirt and blouse, turban on her head, sparkling necklace and swaying earrings. She sways fluidly to the bossa soul of her backing band, running her hands down her hips, emphasizing seductive femininity. Her thick moustache disrupts the image. And when she sings, her husky, powerful voice recalls that of Tim Maia, the Brazilian soul superstar of the 1970s. The overall effect is dazzling, and also a little dizzying.
Liniker de Barros is the first openly transgender star of Brazilian music. She has emerged as the heartthrob of São Paulo's nightclub scene and is on the cusp of national and international stardom. She is preparing to embark on a ten-city European tour this summer, then crossing the Atlantic to perform in New York at Central Park's Summerstage on August 5th. The international tour is likely to catapult her to the fame she deserves.
Liniker prefers the female pronoun, because she considers it "more capacious", although she reserves the right to be inconsistent in this. Her defiance of binary norms challenges preconceptions in a nation marked by 500 years of Iberian Catholic inheritance, but she also carries on a tradition of gender ambiguity in Brazilian popular music. Her performance recalls that of Ney Matogrosso, who rose to fame as lead singer of the band Secos e Molhados in the early 1970s. Matogrosso's androgynous style, characterized by dramatic stage makeup, lithe choreography and the vocal range of a gifted soprano, rejected expectations of aggressive masculinity.
Following Matogrosso, rock performers like Renato Russo, Cazuza and Cássia Eller brought open bi and homosexuality to the mainstream in the 1980s. Liniker takes this a step further, wilfully erasing gender distinctions—"messing things up," as she puts it in "Zero," her biggest hit thus far.
Musically, she draws deeply on the Brazilian soul of the 1970s. Brazil's soul scene celebrated hip, self-conscious blackness, rejecting official Brazilian celebrations of racial mixture that often masked deep racism. As Chris Dunn has shown in Contracultura, the soul music of Tim Maia and the androgyny of Ney Matogrosso were two facets of the counter-culture that flourished in the shadow of the right-wing military dictatorship that ruled Brazil at the time. Not coincidentally, the United Black Movement and the gay rights movement became two of the key forces pushing for redemocratization in the late 1970s and early 1980s.
Liniker, a gender ambiguous performer of colour, ties together these two threads of Brazilian counterculture, at a time when that nation's pluralist democracy is once again both endangered and available for reinvention. "I even took what was most normal about us/ and everything fit into the hand-luggage of my heart," Liniker sings in "Zero." Male, female, black, white, turban, moustache, all is not-so-neatly packed in Liniker's hand-luggage—in ways that challenge power and status, rather than reinforce them.
In the same song, Liniker uses the unusual word transpassar, to trespass or pass through, speaking of a "medo de te transpassar," or fear of passing through you, that can also be read as a fear of imposing trans upon you. And yet everything about her performance suggests fearlessness. That is the quality—in addition to her musical gifts—that will make her invaluable in today's Brazil.
Bryan McCann teaches at Georgetown University (and thanks the students of HIST 256 for their insights contributing to this article).
Liniker e os Caramelows's European/US Tour Dates
June 2 – Primavera Pro, Barcelona
June 4 – Primavera Pro, Barcelona
June 6 – Cabaret Sauvage, Paris
June 7 – Yuca, Cologne
June 8 – Bi Nuu, Berlin
June 9 – Rich Mix, London
June 10 – Franz Mehlhose, Erfurt
June 14 – Casa da Música, Porto
June 15 – Musicbox, Lisboa
June 17 – Theatro Circo, Braga
June 20 – TBA, Madrid
June 22 – Tollhaus, Karlsruhe
August 5 – Brasil Summerfest, New York (w/ Elza Soares)

Follow Sounds and Colours: Facebook / Twitter / Instagram / Mixcloud / Soundcloud / Bandcamp

Subscribe to the Sounds and Colours Newsletter for regular updates, news and competitions bringing the best of Latin American culture direct to your Inbox.
Share: