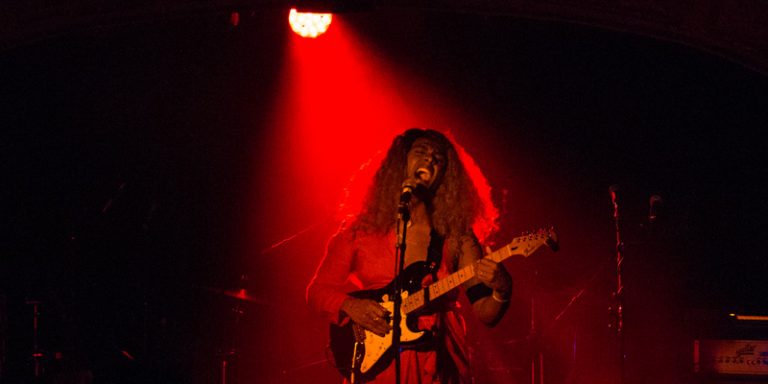 Liniker e os Caramelows Hypnotize Audience at London's FLAWA Festival
22 May, 2019
An eager crowd bustled in London's Omeara, awaiting Liniker e os Caramelows. Invited to close FLAWA, London's first festival of Latin American women in arts, the ambient-lit railway-arch-come-ballroom provided a suitable backdrop for what was to be a memorable performance.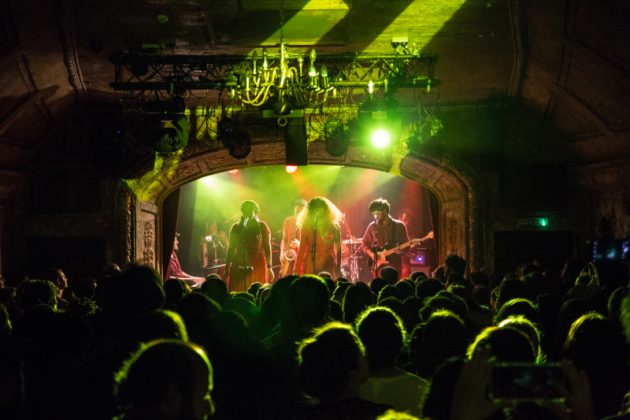 Liniker e os Caramelows rose to prominence in 2015 after the release of a 3-track EP, Cru, produced and released on a shoe-string budget. The collective then returned a year later with their first studio album, Remonta, recorded through the help of an online crowdfunding campaign. In March 2019, they released Goela Abaixo, a 13-track album that provides an opportunity for the many artists involved in the collective to flex their musical skills; a rhythmic experiment that has received international attention and enthusiastic reviews around the world.
It is from their most recent album that Liniker e os Caramelows drew most of the tracks for their performance. The band present was smaller than the ensemble that appears on their studio albums, with trumpets and other instruments substituted by a single dexterous saxophonist (Eder Araújo). However, the 7 musicians present still succeeded in permeating the space with their unique sound that has come to be known as "funzy" – a mix of groovy, funky fusion of swing and ballads. Instant classics such as "Bem Bom", a universal ode to unrequited affection, was delivered with such lyrical finesse and percussive energy that every body in the venue moved together in harmony.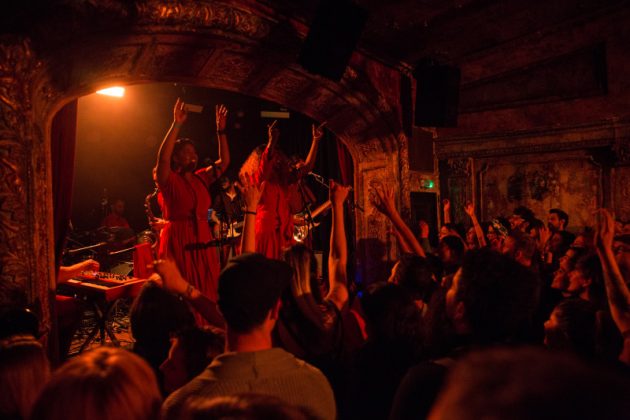 Liniker Barros is the frontwoman of Liniker e os Caramelows. She is a musician, a poet and a Black trans woman at the forefront of Brazil's blossoming trans and queer music scene. With a husky tone that evokes the timbre of Tim Maia, a legend of Brazil's soul scene, and a vocal range reminiscent of Ella Fitzgerald, Liniker riffed effortlessly alongside her bandmates. Despite being in her mid-20s, she expresses her lyrics with an emotional maturity well beyond her years. Tracks such as "Boca", toned down for this performance, were delivered with such sensitivity that you were left with goosebumps. During more upbeat tracks, her fluid sways and rippling arms hypnotized the audience.  
Liniker e os Caramelows hail from Araraquara, typically considered a predominantly white and conservative city just south of São Paulo. One of their greatest accolades has been their influence in turning attention to Brazil's music circuits outside of Rio de Janeiro and São Paulo. Indeed, supporting musical talents from lesser-known areas has become a mission of theirs, and Liniker even took a break from performing to invite a fellow Araraquara musician on-stage to offer us a song.
The song that delighted the crowd most was "Zero". With its famous chorus "Deixa eu bagunçar você" (Let me mess you up) echoing over a sultry, slow-groove backbeat, this audaciously passionate ballad rang loud throughout the space. Not unexpectedly, these sensual, earnest performances were interspersed with moments of rage at Brazil's current political situation. It felt powerful and necessary to close a festival dedicated to Latin American women with Liniker's voice, a woman whose identity means that people like her are often undervalued, threatened and harmed in today's societies. If FLAWA's mission was to create a space to celebrate and honour what Latin American women can do, they certainly did just that by offering the final stage to Liniker e os Caramelows.

Follow Sounds and Colours: Facebook / Twitter / Instagram / Mixcloud / Soundcloud / Bandcamp

Subscribe to the Sounds and Colours Newsletter for regular updates, news and competitions bringing the best of Latin American culture direct to your Inbox.
Share: