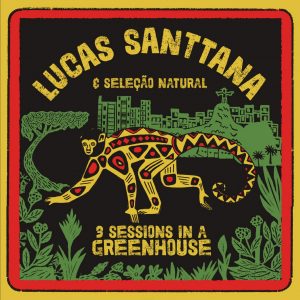 Review
Lucas Santtana – 3 Sessions In A Greenhouse
Experimenting is part of Lucas Santtana's artistic milieu. After listening to his discography, you conclude that none of his projects follow a specific pattern. They do not fit into the structures predetermined by the music industry in this digital age, which in one way or another oblige the artist to label his music in order to enter playlists or be placed on some virtual shelf. The musician from Salvador, Bahia, manages to mix different rhythms from Brazil and the world in one song. This diversity reveals his constant search for new possibilities. A good example of this constant experimentation is his third album, 3 Sessions in a Greenhouse, which was originally released in 2006, but has now been remastered and reissued by Mais Um.
"At the beginning of my career, I was experimenting, trying to figure out my sound. On 3 Sessions In A Greenhouse, I discovered what I am and what I wanted to do in music. All the pieces connected. Everything just felt like the right place at the right time.", says Santtana.
As the title suggests, the songs were recorded in three live sessions, as if playing a live show at the AR studio, in Rio de Janeiro. The whole musical entourage were always in touch to keep the jams hot – as there was no possibility of repetition. "We would work from 10am to 8-9pm, playing all day", remembers Santtana. "Time did not exist. No telephones. Smoking the best weed in Rio, it was like a greenhouse. We had the feeling, we were creating a new sound.". Musicians included his Seleção Natural band, featuring Gil on drums, David Cole on effects, Ricardinho on bass, Leandro Joaquim on trumpet and fluguelhorn, Maurício Zacharias on trombone and Bruno Levi on guitar as well as the Onilu trio comprising of Leo Leobons, João Gabriel and Leo Saad on percussion.
Creating this work in the mid-2000s shows that Santtana was well ahead of his time. The fact is, even today it sounds modern. Obviously, Stefan Betke / Pole's remastering was essential to make the dub aesthetic more intense than it was 15 years ago, taking it to another level. The reverbs are now boosted, giving a certain degree of dirt (or distortions) in the textures, marking it at the ideal level to touch the walls of the sound system. Some elements have also gained more prominence, such as the brass and percussion of "Awo Dub". Ultimately, everything is more vibrant, very close to what was produced in the 1970s.
"It was really important to have Stefan (Pole) remaster 3 Sessions.", says Santtana. "He brought a lot more punch to the original recordings. He also brought a lot of ambience as well. I really see this as a new version of the album. It's not just a re-release. It's bringing something new to the sound, the versions, the mix. This is what the album is all about.".
Compared to the 2006 edition, the atmosphere is different. The differences are not marked, but they completely transform the unlikely, but assertive, psychedelic variations of samba, manguebeat, ijexá and baile funk. Despite having only nine tracks, 3 Sessions has exactly 51 minutes. It is very well organized. The structure was designed so that the listener does not skip any tracks. It makes no mistakes in achieving that. Even so, some songs grab the attention more than others. This is the case of "Tijolo a Tijolo, Dinheiro a Dinheiro", which has all the ginga (groove) of Rio de Janeiro's rodas de samba (partido de alto) and swing to stop anybody from standing still. "Pela Orla dos Velhos Tempos" is tempered by funk carioca from the 90s, this one with a lot of influence from Miami Bass in the 808 beats. The highlight is the partnership with Tom Zé on the samba-rock (a mix of rockabilly and samba, which became popular in São Paulo nightclubs in the 1950s) version of "Agodô, Ano 2000". The union of electronic effects with the cadence of the drums and percussive instruments, especially the agogô, is impeccable. Tom Zé's scats also help give orderliness and energy to the classic. The reinterpretation of "Faixa Amarela", written by samba singer Zeca Pagodinho, but known in Brazil through the voice of Martinho da Vila, is another highlight, a ska with small doses of dub and jazz, with a killer trumpet solo at the end.
In this current moment of humanity, where you cannot go to concerts, parties or dance clubs, Lucas Santtana is good company for breaking out of monotony and dancing indoors. When everything goes back to normal (if there will be a normal), the vinyl of 3 Sessions In A Greenhouse will certainly be present in the repertoire of several DJs in the world.
3 Sessions In A Greenhouse is released by Mais Um

Follow Sounds and Colours: Facebook / Twitter / Instagram / Mixcloud / Soundcloud / Bandcamp

Subscribe to the Sounds and Colours Newsletter for regular updates, news and competitions bringing the best of Latin American culture direct to your Inbox.
Share: