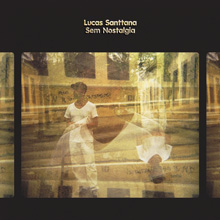 Review
Lucas Santtana – Sem Nostalgia
Sem Nostalgia was released in Brazil in 2009 yet still sounds unbelievably fresh. If there was ever an argument for artistic constraints making the end-product greater then this is it. On Sem Nostalgia, Lucas Santtana (from Bahia, Brazil) set himself the task of only using guitar and vocals – a tribute to Brazilian greats such as João Gilberto, who used exactly that format (known in Brazil as "Voz e Violão").  However, that's only half the story as the end-goal was to see how much he could then stretch that format.
It's with the guitar that many of the innovations occur here. On "Super Violão Mashup" and "O Violão de Mario Bros" he doesn't even play, taking the guitars of João Gilberto, Dorival Caymmi and other masters of the "violão", cutting them up and rearranging them into vibrant squeals, riffs and beats. On "I Can't Live Far From My Music" the guitar is warped into stuttering shapes that resemble Squarepusher's manic songscapes. On "Recado Para Pio Lobato" and "Who Can Say Which Way" the body of the guitar is struck and sampled for the beat.
Yet, there is a constant throughout, which is the voice and one of the reasons why Santtana has always been one of the most interesting Brazilian musicians around. Sem Nostalgia is his fourth album and again showcases his ability for a memorable melody which seemingly cuts through the music around it, quite a feat considering the varying textures with which he has to compete. Strangely, it's perhaps the songs in English which are the most compelling, the affecting "Hold Me In" and "Night-Time In The Backyard" which leave a lasting impression.
Arto Lindsay helped write those last two songs, and also assists on "I Can't Live Far From My Music". He's just one of many collaborators on the album, literally a who's who of the current Brazilian music scene with prominent names such as Curumin, Do Amor, Buguinha Dub and Regis Damasceno helping define the sound of each track.
In a recent interview Santtana spoke about making each song into a miniature movie, something which he has definitely achieved on Sem Nostalgia, and which possibly couldn't have happened without the initial constraints placed on the album. This cinematic effect is at it's most potent on "Cá Pra Nós", a song which starts off simply with voice and a strummed guitar before another guitar – this time processed to resemble a harpsichord – takes over the musical backdrop as Santtana's voice continues with one of the most sublime lyrics of the album. Reverberating backing vocals come and go before the simple strum returns and the song concludes with the lines "com calma te explico, não sei o caminho / calmly I explain to you, I don't know the way."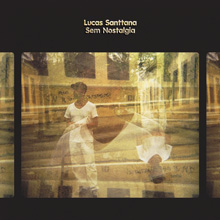 Although this album, as with previous Santtana albums, will be labelled post-modern, it's also an album with real moments of soul and tenderness that in a round-about-way bring the artist back to the great music of Caymmi and Gilberto that originally inspired it. By working "sem nostalgia / without nostalgia" he has found his own way of continuing the legacy of great Brazilian guitar music.
Sem Nostalgia was released by Mais Um Discos on August 29th and is available from Amazon and iTunes.

Follow Sounds and Colours: Facebook / Twitter / Instagram / Mixcloud / Soundcloud / Bandcamp

Subscribe to the Sounds and Colours Newsletter for regular updates, news and competitions bringing the best of Latin American culture direct to your Inbox.
Share: