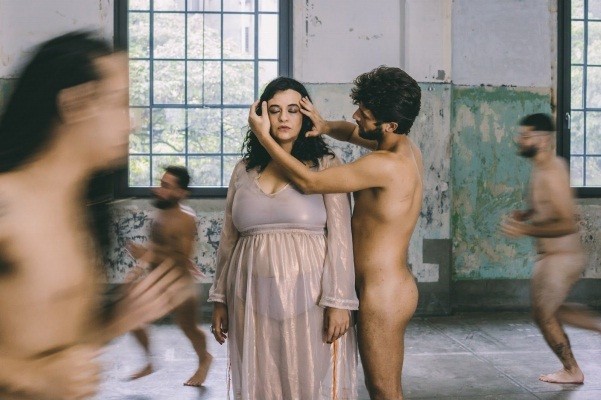 Luiz Gabriel Lopes' 9 Brazilian Songs You Need To Hear from 2018
23 December, 2018
It's become a regular fixture on Sounds and Colours at the end of the year for Luiz Gabriel Lopes – a hugely talented singer/songwriter from Belo Horizonte – to present to us his favourite Brazilian songs of the year, and this year is no different. Luiz has become a fixture in Brazil's contemporary music scene with his solo work, as well as through the band Graveola, and now we even get a taste of a new band, in the shape of Rosa Neon, his latest project, who are included below. Also don't forget to check out Luiz's last solo album, Mana, released last year, and well worth investigating.
Dedé Santaklaus – Elba Ramalho
Known by his friends as the "Kanye West of Sete Lagoas" [the name of his hometown], Dedé Santaklaus is a savage lo-fi genius producer now based in Belo Horizonte. After playing as drummer in a rock band called Absinto Muito, his solo debut shows his versatility as a beat maker and songwriter, with strange-but-amazing tracks that cross a wide range of influences. This video talks about the jokes he hears on the streets because of his hairstyle and clothes, and ends in an amazing cars persecution. Like a cross between Tarantino and GTA.
Tulipa Ruiz – Pedrinho
Tulipa has always had my attention, not just because of her special voice and songwriting, but also because of her awesome visual sense, present on all her productions. Here she creates an amazing video, where naked bodies appear in a very beautiful way, in dialogue with the lyrics, making a special choreography. sexy and poetical, typically Tulipa, each time better. This album, TU, is one of my favorites from her career, and I truly recommend you listen to it carefully.
Djonga – A Música da Mãe
Brazilian rap is exploding in many directions and Belo Horizonte is probably now at centre of it. Djonga, the biggest name in this scene, is an amazing and versatile artist, with a complex sense of the full aesthetic range of his music. This is evident not just in his crunchy punchlines in which he shows great poetical knowledge and assertiveness, but also in his ability to create melody parts with tricky details but that are always very pop. I also admire his conceptual approach to visuals in his music videos, playing with universal rap symbols but always pushing to expand the spectrum of hip hop vocabulary.
Rosa Neon – Estrela do Mar
I'm loving this video of my new band and I truly wanted to share it with you. Welcome to Rosa Neon: dreamy, smooth Brazilian electropop vibes, with many influences we all love from pop music. This video is our second single, and its a groovy dub mixed with surrealistic images and some clumsy/conceptual dancing. We will be releasing a new music video every month 'til June 2018. keep an eye on it!
Xênia França – Pra Que Me Chamas?
This video is a mega cinematographic production, with amazing costumes and choreography, a visual spectacle, a delight for the eyes. Xênia is a great artist from Bahia who explores ancestral and contemporary influences in her music in a very interesting way. There is some spiritual mystery on this video that makes you feel it more than completely understand it. "Explaining to confuse", like Tom Zé said: I think it's a commendable quality.
Trabalhos Espaciais Manuais – Manobra de Dobra em Urano
T. E. M. is a big band from Porto Alegre, Rio Grande do Sul, one of my favorites of this style in Brazil. Although most instrumental bands don't produce many music videos, this one makes for a very interesting experience. The images create a narrative context for the music, in a retro-futuristic way. The band walk through ruins and empty spaces like astronauts exploring an abandoned planet, but in the end they climb up the stage and let the groove happen; once again, against any apocalyptic context, music saves the journey of mankind.
Tuyo – Conselho do Bom Senso
Not just because they're great musically, with amazing beats dressing sweet melodies sang by incredible voices; not just because their energy is really beautiful together on stage; the fact is that Tuyo are my favorite band now in Brazil. They are making the best electropop with bags of potential. This video mixes sexy dancing with animation textures, simple and beautiful. I love it and I recommend you check out their new album, just recently released.
Luiza Lian – Azul Moderno
Luiza's new album expands the research she began on Oya Tempo. In fact, Azul Moderno sometimes seems like a deeper dive into subconscious waters of spirituality, where daily feelings and situations are treated as poetical material for reflection and creativity. Following her singular electropop path, in which acoustic guitar meets dark and mysterious beats with great production (Charles Tixier is once again taking care of these duties), Luiza's bluesy voice flies smoothly over the songs. In this video, a submarine journey is the starting point for an imaginative jump over the stars and galaxies. Lovely and beautiful.
Rincon Sapiência – Placo
Rincon is a rapper from São Paulo whose work grabbed my attention firstly because of his very peculiar writing style, with lots of contemporary pop references. His beats also deserve mention, as they usually mix traditional Afro-Brazilian rhythms with trap and funk influences. This video strikes again his lyrical vision of the slum territories, in which poverty and social tensions live together with landscapes full of colour and beauty. Dancing on the streets with locals and friends, he tells about the many ways everyone has to run for "placo", slang that means "money".

Follow Sounds and Colours: Facebook / Twitter / Instagram / Mixcloud / Soundcloud / Bandcamp

Subscribe to the Sounds and Colours Newsletter for regular updates, news and competitions bringing the best of Latin American culture direct to your Inbox.
Share: