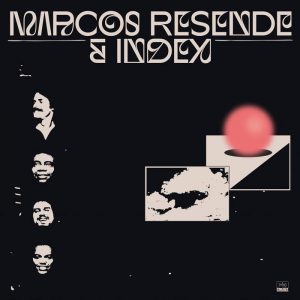 Review
Marcos Resende & Index
A musical prodigy, Marcos Resende learnt to play the accordion at age two and the piano at six. If the name has escaped all but the most zealous aficionados of '70s jazz-funk, perhaps his decision to travel to Lisbon in the '60s to study medicine suggests that there was insufficient fire in his belly to back up such an evident talent. On listening to this album, one hears someone who "coulda bin a contender" to José Roberto Bertrami's crown. The parallels with Azymuth – and particularly their Light As A Feather album from 1979 (both were engineered by the estimable Toninho Barbosa) – are obvious, although at times the best of Marcos Resende & Index's 1976 self-titled debut actually conjures up Herbie Hancock's ground-breaking Headhunters. Certainly "Nergal" is that good. At a little over nine minutes, it's not even long enough – and well worth the price of admission alone. His three trusty cohorts (on drums, bass and reeds) get a furlough while a 14-piece band, which includes the supplementary percussion of Wilson Meirelles and the legendary Café, and a septet of horns (among whom we find Léo Gandelman once more), cooks up a splendidly infectious groove over which Resende solos on Fender Rhodes and Mini-Moog. Almost half way through, there's a thrilling moment where everything slows down for a sinuous section reminiscent of the Headhunters version of "Watermelon Man", before the rhythm section picks up the pace again. Resende gets to solo again, at lightning speed, on the way to a conclusion of big chords.
Far Out's publicity describes this as a "lost album" and tells the story of how label head Joe Davis pleaded with Resende to hear the master tapes for 25 years. Finally, the enigmatic artist handed them over and spent two years working with the label on their restoration before cancer claimed him, tragically mere weeks before the finished album was unveiled. If each of the other five tracks here were of the quality of "Nergal", this would be a lost 24-carat classic. As it is, it's good enough to get me hoping that the label can secure the rights of the group's 1978 follow-up, Festa Para Um Novo Rei. As far as the quartet tracks go, the opening "My Heart" is a feast for lovers of breathy flutes and swirling synths, and probably the most Azymuthian number. The ten-minute "Martina" has some great melodic, dramatic and slap-tastic electric bass moments, but the other three numbers all flatter to deceive as they try to extricate themselves from fairly derivative jazz-funk. Never mind; don't let an old cynic put you off. There is enough fine music here to make this a worthwhile component of anyone's collection. Marcos Resende was rarely out of demand and he would go on to make music for TV and film. It all might have been different if this debut had come out originally on CTI Records. Alas, the deal with Creed Taylor's voguish label fell through. The keyboard wizard never became a household name. But then, if "Nergal" alone serves as his memorial, it's the kind of achievement that eludes most mortals.
Marcos Resende & Index is out now on Far Out Recordings

Follow Sounds and Colours: Facebook / Twitter / Instagram / Mixcloud / Soundcloud / Bandcamp

Subscribe to the Sounds and Colours Newsletter for regular updates, news and competitions bringing the best of Latin American culture direct to your Inbox.
Share: