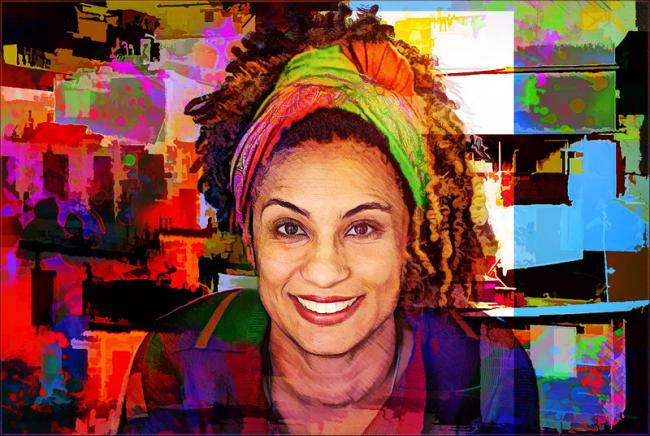 #MariellePresente: A Reading List for Marielle Franco
16 April, 2020
This article is part of a new collaboration between Sounds and Colours and NACLA, an independent, nonprofit organization that works towards justice and freedom of expression in Latin America and the Caribbean.
In the two years since suspected paramilitary hitmen gunned down Marielle Franco—a Brazilian queer Black feminist activist, politician, and single mother—authorities still have not identified the motive for her murder. As she was driving home after speaking at an event on Black women's empowerment in Rio de Janeiro, her killers pulled up beside her vehicle and fired four shots into her head. They also killed her driver, Anderson Gomes. Authorities have dismissed links between Marielle's suspected killers and President Jair Bolsonaro and his sons.
Franco, a city councillor in Rio, called attention to government neglect of poor neighborhoods, like the favela she hailed from, and fought for anti-racism, women's reproductive rights, and LGBTQI+ rights. She was also an outspoken critic of police brutality, militarization, and parastate militias, such as the one linked to her killing.
Far-right president Jair Bolsonaro, elected months after her murder, represents the violently racist, misogynistic, and anti-poor interests that seek to silence social justice advocates like Marielle. In 2018, the year Bolsonaro was elected, femicide and gender violence, racist abuse, and sexual assaults increased, according to a report from the Brazilian Public Security Forum. Militias of well-trained former police officers and soldiers have reportedly expanded in Rio, terrorizing the poor neighborhoods where they establish control. At the bottom of this piece you will find a selection of recent articles in NACLA which further explore Marielle's assassination and the issues she championed.
Recent Developments
Weeks ahead of the second anniversary of her killing, police shot and killed a suspect believed to hold key information about who ordered her assassination. Adriano da Nóbrega, a former police captain with links to Bolsonaro, headed the militia known as the Escritório do Crime, or Crime Bureau, allegedly involved in the murder.
Jean Wyllys, Marielle Franco's friend and colleague and Brazil's first openly gay congressman to advocate for LGBTQ+ rights, responded on Twitter to the news by suggesting that Nóbrega's killing further "blurred" the "line between the Crime Bureau and the Ministry of Justice."
Wyllys is living in political exile after receiving escalating death threats following Bolsonaro's election. As he tweeted: "Death did not put an end to her and it will be her memory that brings down Bolsonaro."
Further Reading on NACLA
This article was originally published on NACLA

Follow Sounds and Colours: Facebook / Twitter / Instagram / Mixcloud / Soundcloud / Bandcamp

Subscribe to the Sounds and Colours Newsletter for regular updates, news and competitions bringing the best of Latin American culture direct to your Inbox.
Share: