Review
Mauricio Maestro feat Nana Vasconcelos – Upside Down
Upside Down is a follow-up of sorts to Visions of Dawn. That album, which featured the trio of Joyce, Mauricio Maestro and Nana Vasconcelos, was recorded in 1976 but lay unreleased until 2009, when Far Out Recordings decided to release it. Upon it's release it seemed to instantly jump to "classic" status, and so Far Out asked Maestro and Vasconcelos to record a follow-up. This is what they came up with.
One of the keys to the success of that first album was Joyce, who sang and provided songs such as "Banana" and "Clareana", which had already become big hits for her in various other guises before the album's belated release. Those songs were breezy pop hits that started that album with a bang. Yet, for many people the real triumph of the release was the central suite of "Memorias do Porvir", "Visoes do Amanhecer" and "Carnavalzinho". That suite was written by Mauricio Maestro, and those who preferred the more free-form, textured approach of those songs, will no doubt love Upside Down.
Maestro takes over vocal duties on the album and largely opts for a scat-like approach, often without distinguishable words, but when he does break into song it is quite effective, as on the opening track "Horizonte" where he shifts restlessly between a simple vocal melody and ad-libbing all manner of vocal sounds. Better is "Upside Down", a beautiful, intriguing track with a strong folk vibe, imagine John Martyn or Nick Drake rather than any Brazilian musician.
As well as guitar and voice, the album is filled with Maestro's string arrangements that swoon along with the music, as well as the rhythmic jukebox that is Nana Vasconcelos. Quite rightly regarded as one of Brazil's finest percussionists Vasconcelos continually adds colour to the songs, never detracting from the song itself, always adding life and vigour. Just listen to "Ancient Truth" to hear him in his element, adding an unusual metallic beat that propels the song into a whole new direction.
Kay Lyra was recruited on the album to take the role of Joyce, adding a female sensuality to the songs, but she is used sparingly. This album is really all about Mauricio Maestro and the songs that he's been writing over the course of his career – the date these songs were written ranges from 1969 to the present day. Possibly it's an album that could have benefited from a few short pop numbers, a la the Visions of Dawn, as some songs can feel on the lengthy side, but this is the only criticism.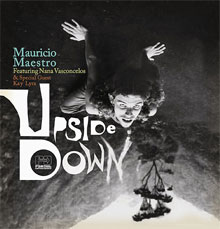 Upside Down is an album that bridges folk, jazz and a myriad of Brazilian styles including the Clube da Esquina movement, Arthur Verocai's string arrangements and the psychedelic 70s music of Pernambuco. Importantly, it finds it's own space within that mix where Maestro and Vasconcelos can deliver their own singular sound, building on the sound of those songs of Maestro on Visions of Dawn and taking them in some new directions.
Upside Down was released by Far Out Recordings. You can buy the album from Amazon and iTunes.

Follow Sounds and Colours: Facebook / Twitter / Instagram / Mixcloud / Soundcloud / Bandcamp

Subscribe to the Sounds and Colours Newsletter for regular updates, news and competitions bringing the best of Latin American culture direct to your Inbox.
Share: