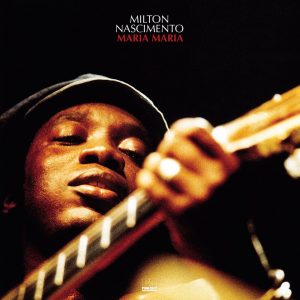 Review
Milton Nascimento – Maria, Maria
I remember pining for the Nascimento of old when reviewing a set of five of his turn-of-the-century albums a few years back, looking back wistfully to albums like Milton and Wayne Shorter's Native Dancer (made glorious by that unmistakable celestial falsetto), as I searched in vain for something of a similar quality. To my ears, he sounded suspiciously like a spent force basking in former glories and the adulation of his many fans. So, what a joy it is to go back to an era when Milton Nascimento was a wizard, a true star – thanks to the Far Out label's re-release (as a double LP) of an album that inexplicably never saw the light of day until the same label released it in 2003 as one half of a double CD package with 1984's Ultimo Trem.
Both halves were conceived as ballet soundtracks. Written and performed in 1976, Maria, Maria, the earlier of the two, dealt with the legacy of slavery in Brazil through the medium of a woman's life story, the daughter of a black slave called Maria (the name of his own birth mother). Milton and his collaborator, Fernando Brant, based the narrative on memories and tales of country women, "mostly things that we witnessed… rather than what we experienced ourselves." Many of the songs, however, have no lyrics, employing instead impressionistic wordless vocals as components of remarkable sonic tapestries coloured by gorgeous choral arrangements, pre-recorded jungle noises and the talents of Naná Vasconcelos. The master percussionist is part of a supporting cast that includes the likes of pianist João Donato, but he is the real co-star of this show.
And it's some show. Full of dramatic twists and turns, Maria, Maria feels more like the soundtrack to a quasi-religious epic film like The Mission. Not only that, by the time you get to the final track, a reprise of the eponymous theme, it feels like you've actually watched the film. It's no accident that Nascimento is a lifelong devotee of cinema and admits that he "only began composing because of enjoying the movies so much". Indeed, he wrote his very first song after watching Truffaut's Jules et Jim five times in a row (!). The solo spoken passages throughout the work suggest that the French nouvelle vague had a lasting impact. Even unequipped with Portuguese, you can imagine the images unfolding before your eyes in a darkened cinema. Some of it is deeply affecting: a woman's cries of anguish in "Lilia", for example – over the backdrop of a clockwork tick suggesting the strikes of a bamboo stick, and the subliminal high falsetto of the beautiful melody that graced Native Dancer – are almost as painful as that infamous scene in 12 Years A Slave.
Such drama, fortunately, doesn't need underscoring with lashings of syrupy strings and pompous brass. All 18 of the numbers add up to a lesson in restraint. If there's a parallel, it's Joyce Moreno's beautiful Visions of Dawn, also conceived in 1976 and also with Naná Vasconcelos. The gorgeous "Trabalhos (Essa Voz)", for example, like other numbers one could cite, achieves its effect with voices, guitar and understated percussion. The dramatic "A Chamada" relies on a wordless female vocal backed by spare acoustic guitar and a bewildering cacophony of monkey screeches and other jungle sounds. A rather more conventional song, "Pai Grande" could easily tip over the edge into Elton John territory were it not kept honest by the fabulous percussion. The stark musical duologue of "Santos Catholicos x Candomblé" dramatises the battle between European and African religions through their contrasting musical forms, and the sublime "Eu Sou Uma Preta Velha Aqui Sentada no Sol" ("I'm an old black lady, sitting under the sun") needs little embellishment.
Admittedly and inevitably, given the scope of such an ambitious work, the album is a tad uneven at times. Almost a masterpiece, perhaps, the flaws are few, while the highs far outweigh any lows and frequently reach the heights that this illustrious singer and composer has been intermittently capable of. Raw, passionate and affecting, this distinguished album makes one wonder why it remained buried for so long.
Maria, Maria is released by Far Out Recordings. You can listen to the album in full below:

Follow Sounds and Colours: Facebook / Twitter / Instagram / Mixcloud / Soundcloud / Bandcamp

Subscribe to the Sounds and Colours Newsletter for regular updates, news and competitions bringing the best of Latin American culture direct to your Inbox.
Share: