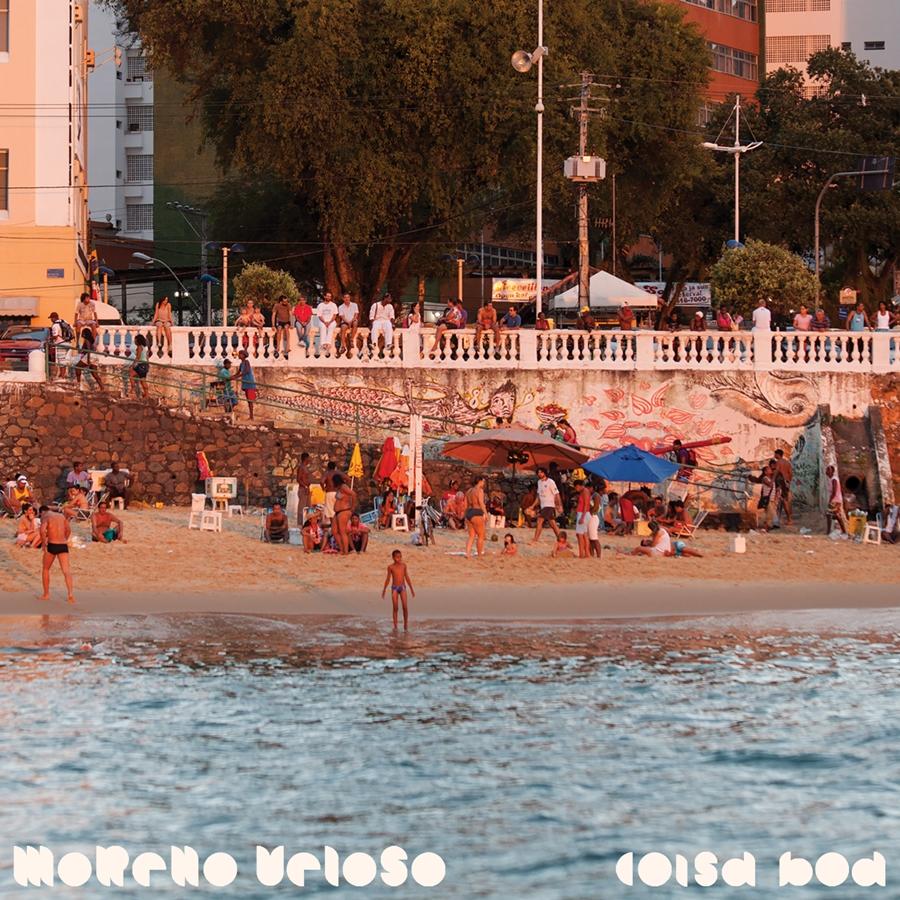 With the confidence of his father, Moreno Veloso has released his first album under his own name (though his ground-breaking album Máquina de Escrever/Music Typewriter from 2001, which was released as Moreno +2, should not be forgotten). Coisa Boa (good thing, in Portuguese), promises to be a step-up to his father's legacy, an album full of child-like nostalgia. Recorded in nine studios across Brazil, New York and Japan, the album is co-produced by Pedro Sá (guitarist in Do Amor and Caetano Veloso's current band) with Veloso's former band colleagues from the +2 group, Domenico Lancellotti and Alexandre Kassin, further contributing to the album.
Moreno's singing is reminiscent of his father's – he sings in an incredibly soft and untouched voice, unembellished by the background music. A theme of childhood occurs throughout the album, some songs portrayed as soothing lullabies that could be heard on the beach-front in Rio or Salvador. At times it's as though Moreno's son has walked in during the recordings to support his father's soft voice. On the title track the electronic sonic backdrop feels token of a youthful summer, while "Não Acorde o Neném" features syncopated clapping to complement a cheerful and innocent chorinho, and the juvenile theme is further exemplified by a sung story of "Jacaré Coruja" (alligator owl) in the form of a lullaby. An intrinsic happiness is resonated by these songs and their lyrics, a longing for going back to childhood memories. It is therefore only fitting that three tracks from the album are featured in Richard Linklater's film Boyhood.
The entire album spreads tranquillity of sound and mind. "Em Todo Lugar" has a soft bossa nova rhythm and style, though doesn't do enough to capture the attention. Impressively the last track has a foreign touch to it, sung entirely in Japanese and in collaboration with multi-instrumentalist Takako Minekawa. The album's tranquillity is only broken by the samba de roda "Um Passo à Frente" and "Não Acorde o Neném", in which one can hear the Bahia it tries to portray and invites the listener to dance. As if this is not baiano enough, the album cover depicts an everyday scene in Salvador's Porto da Barra beach with its dynamics and movements, reflected in the samba and sonic beats of the songs.
Coisa Boa represents a new Bahian form electro-acoustic-bossa-pop, bringing in different musical instruments to accompany Moreno's feather-soft singing voice. There will always be high expectations for Moreno due to his DNA as well as the impact of his work with the +2's. Unfortunately on Coisa Boa he falls short. The album has a Zen-like serenity but sometimes disappoints with irritating stray guitar sounds or repetitive melodies that can become hard-to-bear over the course of a whole song. Given his special voice, a few more classic bossa-nova rhythms could have made the record into something more. A pleasant album but nothing ground-breaking this time round.
Coisa Boa is available from Amazon UK, Amazon US and iTunes

Follow Sounds and Colours: Facebook / Twitter / Instagram / Mixcloud / Soundcloud / Bandcamp

Subscribe to the Sounds and Colours Newsletter for regular updates, news and competitions bringing the best of Latin American culture direct to your Inbox.
Share: