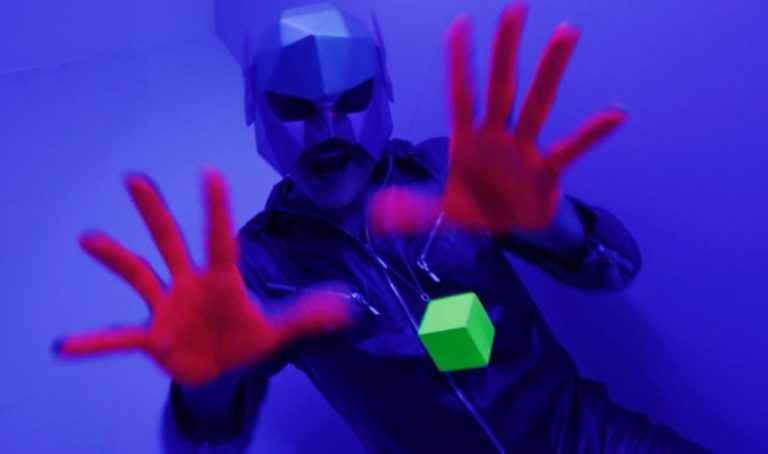 New Colombian Music Vault #11
20 July, 2023
Direct from Colombia! Here are our two custodians of the vaults with some new selections to accompany your summer barbeques.
---
Victoria Saavedra feat. Victória dos Santos – "Palavra Certa" (Jenna Mackle)
The Colombian singer-songwriter, Victoria Saavedra, has been based in São Paulo and mixing her Afro-Colombian inspired roots music to Brazil for almost thirteen years.
Saavedra uses her unique positioning to perfectly fuse both Afro-Colombian and Afro-Brazilian influenced styles with her own more popular take in her work. Uniting both Afro connections between these distinct cultures, Victoria Saavedra's most recent venture features Brazilian singer Victória dos Santos.
Featuring both Spanish and Portuguese, "Palavra Certa" is a dialogue between the two languages of the Colombian artist. Interestingly, its subject deals with the theme of words itself, a romantic look into the weight of our words, even those unspoken, and that raw void between feelings and verbalization.
Dancing between Chandé and Ijexá, "Palavra Certa" showcases the strengthening unification of the distinct companionship of these Pan-African derived Latino rhythms. The playful conversation between both Afro-Colombian and Afro-Brazilian rhythms, linked with the small brass ensemble and charming rhythmic guitar, makes "Palavra Certa" a clean representative of the inherent fusion of Saavedra's musical compositions. 
---
La Muchacha & El Propio Junte  – "El Ofendío" (Jenna Mackle)
A highly anticipated new release from the Bogotana singer-songwriter, La Muchacha, "El Ofendío" takes La Muchacha's work into new, yet familiar, territories. 
This new single is part of her new album coming out 25 August 2023, Los Ombligos. "El Ofendío" sees the artist work with a collective of musicians accompanying her on this new musical journey, taking her sound past the signatory singer-guitarist sound into more complete and richer sound with the addition of double bass (EL Propio Junte) and drums (Camilo Bartelsman). While her sound may have evolved slightly in musical accompaniment, the La Muchacha essence is very much still there with her much-loved voice and social commentary.
In true La Muchacha fashion, "El Ofendío" deals with themes of social and political issues in Colombia, in particular the most recent Paro Nacional (Protest/National Strike) and the numerous abuses of human rights by the hands of the police and the government. "El Ofendío" cleverly approaches these themes through the re-telling of a fictional story based on one character's experiences, drawing upon the true stories of the Paro Nacional. Aside from the musical appeal of the song, the poetic treatment of such fragile yet crticial issues in "El Ofendío" proves once again the mastery of La Muchacha. 
---
Mestizo – "Borrachero" (Jenna Mackle)
If you're a fan of the Ondatrópica project from 2012 with Frente Cumbiero, you'll be no stranger to the collaborative projects funded by the British Council in Colombia. Another fruitful British Council undertaking has led to Mestizo, the most recent musical collaboration between the UK and Colombia. Featuring high-profile artists in the alternative Colombian music scene such as N-Hardem, León Pardo, Diana Sanmiguel (La Perla), Daniel Michel and more, Mestizo represents a well-rounded and versatile mix. Working alongside UK artists such as Steam Down's Ahnansé, the Mestizo ensemble don't just have releases to accredit the joint venture, but a list of successful concerts both in the UK and Colombia, impressing audiences with the virtuoso musical interpretation between two continents. 
A mix of Pacific marimba, salsa, electronic, jazz and rap, "Borrachero" showcases musical traditions from both distinct cultures to produce a a musically yet sure-to-be-widely-enjoyed track. The accompanying music video highlights the effortlessly cool form in which both distinct cultures have unified to create such a memorable project. 
---
La Ruca y El Quinde – "El Alacrán de Mi Folclor" (Jenna Mackle) 
Taking us to more remote territories are La Ruca y El Quinde, a traditional marimba band from Barbacoas in Nariño. One of the most well-known bands in this small region, La Ruca y El Quinde are showcasing the traditional Afro-Barbacoas sounds to marimba music lovers across Colombia. As part of the Pacífico Creativo project, led by Kike Riascos from Herencia De Timbiquí, the music video for "El Alacrán de Mi Folclor" exhibits the beauty of Afro-Colombian culture from the South Pacific. Marimba, dance, traditional dance and the alluring landscape of Barbacoas, all feature in one of the finest quality visual and sonic representations of a generally unfamiliar part of Colombia. 
---
Felipe Orjuela  – "Romboy (La Glorieta)" (Jenna Mackle)
"Romboy (La Glorieta)" is an instrumental track that perfectly brings us to the sonic characterization of an alternative Chapinero, Bogotá.  
Romboy is the third single from new-on-the-scene Felipe Orjuela's debut album. The multi-instrumentalist artist dips his toes into the variety of alternative music waters that Bogotá has to offer: cumbia, psychedelic, electronica and a high-energy spirit made for late-night dancefloors. Featuring electric guitar, funky bass and kaleidoscopic keys, "Romboy" is a 4-minute dive into the wonderfully eccentric musical world of Felipa Orjuela. 
---
Monsieur Periné – Bolero Apocaliptico (Marco Pisciotti)
Monsieur Periné's latest album, Bolero Apocalíptico, has been making waves since its release just over a month ago. Mexico, a country that has warmly embraced the band, played host to the album launch, further fuelling the band's desire to expand their musical presence in the region.
One of the album's standout tracks, "Prométeme", holds a powerful message that reflects the reality we have been living in for a long time. Its accompanying music video sheds light on the pollution of the Bogotá River and its impact on local residents, serving as a poignant reminder of the environmental challenges we face.
With 12 captivating tracks, Bolero Apocalíptico takes listeners on a musical journey. Monsieur Periné not only calls for societal change but also celebrates love in all its forms. Songs like "Tu y Yo" narrate the story of two friends who fall in love, while "La Hora" explores the bittersweet end of a polyamorous relationship, serving as the album's closing anthem.
The album surprises listeners with unexpected collaborations, such as the compelling duet with Puerto Rican artist Guaynaa on "El Caudal." Additionally, Monsieur Periné showcase their versatility by including songs in Portuguese and French, expanding their artistic horizons. Collaborations with renowned artists like Vanessa Martín, Pedro Capó, Natiruts, and Ana Tijoux further elevate the album's eclectic sound.
---
MAR – Cherry Bomb (Marco Pisciotti)
MAR recently unveiled her highly anticipated debut album Cherry Bomb via the renowned God Willing Records. With an electrifying blend of pop and reggaetón, MAR has established herself as a standout talent in the Colombian music scene. The album serves as a milestone in MAR's artistic journey, showcasing her infectious energy and poignant songwriting.
Cherry Bomb encapsulates the transition from innocence to rebellion, offering a resonant voice for women navigating empowerment in every facet of their lives. MAR's vision is beautifully captured through a fusion of urban beats and pop melodies, infused with the essence of her hometown, Medellín. Her music effortlessly captivates the listener, evoking a refreshing sense of authenticity and relatedness.
Having already made waves with successful performances in Bogotá, Medellín, Cartagena, Bucaramanga, Miami, and Madrid, MAR's music transcends borders, resonating with a diverse audience. With upcoming live shows across various European cities this summer, MAR's impact is set to extend even further. Cherry Bomb is an arresting musical experience that captures the essence of youth, empowerment, and artistic individuality. 
---
Gabriela Ponce – Posmodernillo Depredador (Marco Pisciotti)
Gabriela Ponce, also known as Gabriela Ponc, is a singer and songwriter hailing from Pasto, who has found her artistic home in the vibrant music scene of Bogotá. She effortlessly navigates the city's academic circles and explores the enigmatic pathways of its nocturnal musical landscapes. In these corners where repetition is frowned upon, Gabriela's sound resonates, captivating listeners and leaving them entranced. Her songs are more than melodies; they are ethereal spirits that shimmer with life.
For Gabriela Ponce, music is not mere decoration or a task to be checked off a high school curriculum. It transcends the confines of occupation or profession; it is a state of being, an undeniable part of her essence.
Keep an eye out for her ever-evolving journey, as she continues to challenge the norm and break new ground. Register the seismic impact she creates with each note and lyric. Beyond her solo endeavors, Gabriela Ponce lends her extraordinary vocals and clarinet skills to BUHA 2030 and Verbalia. Collaborating with the likes of Lucio Feuillet, La Peña Latinoamericana, Urdaneta, Juan Pablo Luna, Casi, Pedro Ocampo, Anamaria Oramas, Palacio Vidreda, and many others, she finds her artistic home within these creative circles.
Stay tuned for updates from Gabriela Ponce's musical odyssey, as she blazes her own trail and leaves an indelible mark on the Colombian music landscape.
---
Sat Colibri – "Madre" (Marco Pisciotti)
Sat Colibri, the Bogotá-based artist, presents his latest song "Madre," a heartfelt homage to mothers and femininity. Serving as the lead single from his second studio album titled Canciones Infinitas, "Madre" is an anthem of gratitude and humility.
In this era where femininity has become more visible and men are increasingly comfortable expressing their emotions, Colibri presents a song that seeks to pay tribute to mothers and femininity as a whole.
"Madre" is a song that speaks of the gratitude we owe to the ones who gave us life. It acknowledges the mistakes we make with them and how their love has the power to forgive our faults. It beautifully captures their understanding, dedication, and infinite respect for their children. "This song was born as a gift to thank my mother, as a moment when a song was the only and perhaps the best gift I could give her. But after sharing it, I realized that it goes beyond expressing gratitude and humility to my mother; it extends to femininity as a whole," reveals the artist.
Furthermore, he emphasizes the importance of expanding the concept of "mother" with this song, encompassing not only biological mothers but also those who care for any form of life. It celebrates the "Mother of Mothers," highlighting the crucial role they play in the universe and in nature.
"Madre" by Sat Colibri is a moving tribute, acknowledging the immeasurable love and significance of mothers while embracing and celebrating the essence of femininity in all its forms.

Follow Sounds and Colours: Facebook / Twitter / Instagram / Mixcloud / Soundcloud / Bandcamp

Subscribe to the Sounds and Colours Newsletter for regular updates, news and competitions bringing the best of Latin American culture direct to your Inbox.
Share: