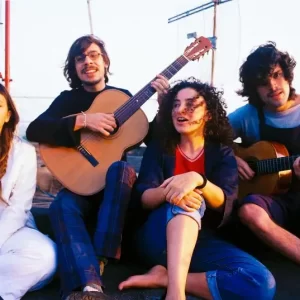 Review
Nunca Tarde – Album round-up (Moriah Plaza, Bala Desejo, Eliades Ochoa, Yasser Tejeda and many more)
As usual, there have been far, far too many interesting new releases and reissues to review in detail. This column, therefore, allows me to keep my head above water by flagging up just a few deserving albums that shouldn't be overlooked. Despite the title, I'm going to start by going right back to February…
Àbájade: Latopa (InOuïe Distribution)
This one I chanced upon in the Unknown section of my MP3 Player, which is always problematic as there are no details about the artist, only the song titles. Easy to overlook, in other words. The first few notes sent me scurrying for further information. It's billed as "Afro-Cuban music made in France", but that hardly does this fine album justice. Perhaps some of the passion and intensity derives from the fact that it was recorded live in the studio using analogue equipment. As far as I can gather, Àbájade are an eight-piece group whose music was born on the streets of Havana and the clubs of Paris. The album's seven titles are a mix of original compositions and songs dedicated to the orishas of the Santeria religion. With colours of jazz and soul, this is seriously good, seriously deep Afro-Cuban music.
---
Moriah Plaza: Moriah Plaza (Batov Records)
From Paris to Berlin – via the Dead Sea. Yes, you read that correctly. As children in Tel Aviv in the 1990s, the group's co-founders Tamir Chen and Moosh Lahav fell in love with samba and bossa nova, and developed a fascination with lift muzak! Not that their self-titled first album has anything to do with elevators. It's elevating if anything: a lovely dreamy mix of bossa, soul and light jazz characterised by Lahav's lilting flute and Chen's tasteful keyboard sounds. The album was made in close collaboration with fellow Berliners and gen-u-ine Brazilians, poet and singer Cecilia Erismann and singer-songwriter (and founder of the Tropical Disco Club), Flavia Annechini. There's a lot to like about this album and even an old cynic like me wouldn't contend the claim that it's "the perfect summer soundtrack for music lovers around the world."
---
Bala Desejo: Sim Sim Sim (Mr. Bongo)
There's no doubting the authentic Brazilian credentials of this quartet from Rio de Janeiro. Mr. Bongo was supposedly "blown away" on hearing Bala Desejo – renowned for their live show – and the label has now picked up on them for international release of their award-winning debut. They have worked with luminaries like Gal Costa, Caetano Veloso and Milton Nascimento, but have managed to fashion their own distinctive sound. This is one of several marvellous songs on a fairly brief but thoroughly invigorating blend of Tropicália, MPB and '70s psychedelia. Yes, Yes, Yes! More soon please.
---
Eliades Ochoa: Guajiro (World Circuit)
Here's someone else with his own distinctive sound. Guitarist and vocalist Eliades Ochoa was a mere quinquagenarian when took part in the Buena Vista Social Club venture. Now he's a 75-year-old elder statesman. Indicative perhaps of his time of life, it's his most personal album yet. "It's really the story of my life and each song has a lot of meaning," he explains. Maybe so, but put a blindfold on and you'd recognise who it was from the first few bars. Eliades Ochoa is dependably fresh, dependably good.
---
Yasser Tejeda: La Madrugá (ONErpm)
Another Caribbean guitarist now. Yasser Tajeda has featured on one or more of my singles round-ups – and quite rightly so. The New York-based Dominican artist's joyful blend of his native merengue and bachata traditions and those of West and Central Africa helps to give La Madruga the kind of simple, infectious feel on certain tracks that one associated once upon a time with Zimbabwe's Bhundu Boys. On this particular song, the third single from the album, Tejeda says: "The point I am trying to make is that even though we worry and want to control our surroundings, everything is going to be all right. I want the song to remind us that sorrows are healed when we sing and dance." Excuse me while I don my dancing shoes…
---
Various Artists: ¡Saoco! Vol. 1 (Vampisoul)
Since I'm in a dancing mood and while we're on an island trip, one of my all-time compilations has just been reissued by Vampisoul. When this came out as a double CD in 2012, Puerto Rico's bomba and plena traditions were still new to me and I was only just finding my way around Cortijo y su Combo and the likes. Crammed full of fascinating detail and wonderful photos of album covers, the accompanying booklet is a gem. As for the 30 tracks covering the period 1954 to 1966… well, they add up to a sheer percussive delight. Anyone interested in the roots of salsa must not – I repeat not – miss this second time round.
---
Various Artists: Sabroso Go Go (Munster Records)
If you THRILLED! to Vampisoul's 14 Magníficos Bailables compilation towards the end of last year – a sampler of some of the delights to be found in the vaults of Peru's MAG Records – then you definitely won't want to miss its sister label's current pick of musical exotica from the same source. This time the focus is on the Sixties and Seventies and the generically bizarre: ye-yé cumbia, guaracha-infused twist, rock 'n' roll mambo and all kinds of other musical hybrids from that exciting era of rapid change. Here be the likes of Lucho Macedo, Lost Kintos, Los Vikingos and, to start things off in the way it aims to continue, the man with the name-to-end-all-names, Carlos Pickling. This one should be left in a time capsule for the delectation of future civilisations.
---
Matthias Bublath and Michi Ruzitschka: Duo Norte Sul (self-released?)
On a rather more sober and dignified note… The debut album by these two European jazz virtuosi is a very tasteful homage to Brazil's rich musical culture. And if the idea of a pair of Europeans "doing" Brazil sounds a trifle inauthentic, their credentials are impeccable. Matthias Bublath is one of those rare beasts, a specialist on the Brazilian 7-string acoustic guitar, while Austrian pianist Michi Ruzitschka spent two decades in Brazil, immersing himself in the country's music. The album is a mix of original compositions and reinterpretations of Brazilian classics, all played with class, verve and a symbiotic sense of communion.
---
Joaquín Cornejo meets Markandeya: Vision Versions (Earthly Measures)
But enough already of such cerebral stuff! Here's something that's the kind of equivalent of Aero, the chocolate bar with air-bubbles – although I don't want to suggest that you get the equivalent of less chocolate for your hard-earned money. I've been enjoying this off and on for some time and have kept meaning to bring it to your attention. Señor Cornejo is an Ecuadorian producer and DJ based in the nation's capital and on his second vinyl release he re-imagines the Colombia-based Swedish producer Markandeya's Vision Dubs. The original is fairly laid-back and spacey in its own right, but Cornejo goes into interstellar under-drive and the result is the aural equivalent of a flotation tank. Don't get me wrong, though, I rather like to deprive my senses from time to time.

Follow Sounds and Colours: Facebook / Twitter / Instagram / Mixcloud / Soundcloud / Bandcamp

Subscribe to the Sounds and Colours Newsletter for regular updates, news and competitions bringing the best of Latin American culture direct to your Inbox.
Share: